Vestax has teamed up with software maker Algoriddim to produce an entry level all-in-one digital DJ controller that will be sold exlusively in Apple stores throughout the US and Canada. This release, along with the massive push for DJ Hero, officially marks the entry of controller DJing in the consciousness of the mainstream market.


PRICE: $249.95 (includes Djay 3)
RELEASE DATE: November 8th in all Apple Stores (US and Canada)
KEY FEATURES:
Built-in soundcard
Touch-sensitive jog wheels
Mic input
Mix record function
Discrete headphone output
USB power
Dimensions: 14"(w) x 9.5" (h) x 1.5"(d)
Controller Weight: 3.2 lbs
IN THE BOX:
Spin (DJ MIDI controller)
Microphone
USB Cable
Algoriddim Djay 3 Software with license key


CONTROLLER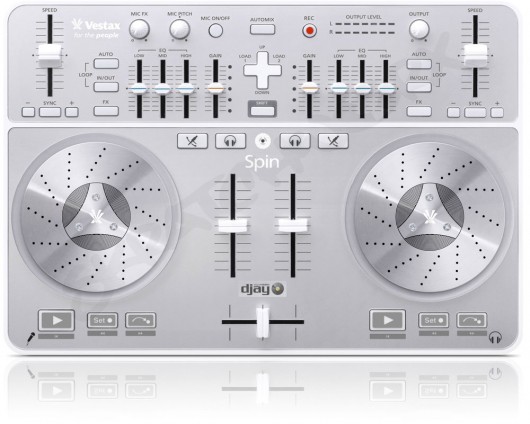 Vestax is a well established manufacturer of DJ mixers with more than 15 years of experience in the field. The company created the VCI-100, which was the first respectable DJ MIDI controller in the market and set the standard for this new product type. Vestax refined the concept of an all-in-one controller with the VCI-300 and now created Spin, an basic entry-level version of both controllers with less expensive parts. All three of the mentioned controllers are paired with specific pieces of software that match their hardware functions.  The VCI-100 is paired with Traktor and offers the most features, FX controls and a higher build quality. The VCI-300 offers fewer features but a more spacious layout that matches Serato Itch.  The Spin controller enters the market with the most basic feature set, offering a simple way to spin two tracks using the consumer targeted Djay software.
SOFTWARE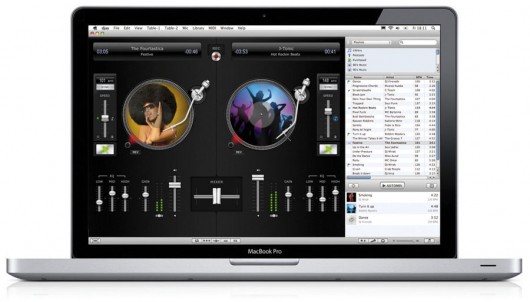 Algoriddm's Mac-only software, Djay, pairs up with the Spin controller. While Djay is very limited in advanced features and functions, it does offer the basic controls required for DJing in a very simple interface. The graphical design plays off the turntable paradigm, allowing you to drag music files directly from iTunes onto the two decks, which spin the artwork and can be physically "scratched" with the mouse or controller.
SOFTWARE FEATURES:
Drag-and-drop iTunes interface
Automatic tempo and beat matching
Mix recording
Beat-matched looping
Auto-gain
Live microphone input with pitch and echo effect
Audio effects: speed change, reverse, time-stretching, pitch-shifting, echo, reverb, Audio Units
Export history of played songs as iTunes playlist or PDF
Cover artwork on virtual vinyl
Supports all major audio formats, including MP3, AAC, WAV, AIFF, Audio-CD and songs purchased from the iTunes Music Store
SYSTEM REQUIREMENTS:
Mac OS X 10.4 or higher
Intel processor (1.8GHz or faster recommended)
1GB of RAM
THE INSIDE SCOOP
DJ TechTools got an exclusive sit-down with the VP at Vestax, Charles Ono, to ask him a few questions about the Spin project.
Q: Are the jog wheels and soundcard the same quality found on the VCI-300?
A: No; they are different from those on the 300.
Q: Will the buttons and faders feel similar to the VCI-300?
A: They are a little lighter but fairly similar.
Q: Is this product MIDI-compliant and usable with other software?
A: It is a full MIDI controller. I am sure that the folks at TechTools will come up with something cool!
Q: Does Algoriddim have any plans on expanding the Djay software features, or will it remain a simple interface?
A: They are showing signs of becoming a solid player in digital DJing. The look and feel of the software really matches the Apple feel and will probably stay that way, but they have some great stuff up their sleeves.
Q: When will it be available in other countries?
A: Right now this product is exclusive to Apple in the US and Canada. It may be available in other markets some time in the future.
Q: What do you see this product and DJ hero doing for the controller market?
A: The controller market is still very young and growing. It's now considered one of the major platforms in the pro DJ market, but it has not entered the general population's awareness yet. This product and DJ hero will bring the awareness of controller technology to a much wider audience who has no idea about the available technology.
TAKE AWAY THOUGHTS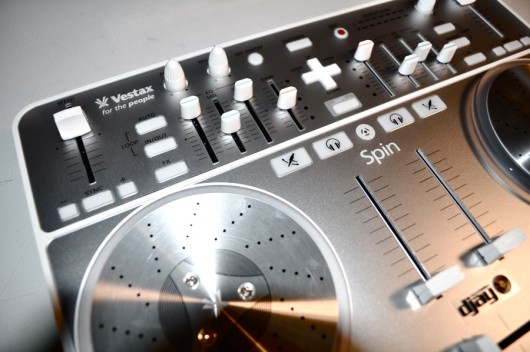 The spin controller is an easy choice for the entry-level DJ. It offers a simple way to begin spinning your iTunes files without a lot of fuss. DJs looking for a good controller may consider using this as a lower-cost alternative to the VCI-100/300, but keep in mind you certainly get what you pay for. The jog wheel, faders, buttons, knobs and plastic case all reflect the price and are certainly much more consumer quality than pro.
While many hardcore fans of this site may see these latest developments as a watering down of the craft and art of controllerism, we welcome such products with open arms. They may not be the most progressive DJ controllers out there, but products like Spin create an easy path into the realm of greater creativity. DJ Hero and now Spin are going to help introduce a wide range of people to the power and fun of playing with music you love.