Today we uploaded a minor 2_5 update to our popular VCI-100 mapping. We are also working on a major 3_0 update that will change around core concepts and streamline the controller. If your a VCI-100 owner, you need to read this post and give your feedback on the ideas. If you have other controllers, check out the new concepts and try to incorperate them into your own mappings.
A brief history
Nearly 2 years ago we introduced the VCI-100SE and mapping version 1_0. In it we created many things on the hardware that were not possible in Traktor 3 like bi-polar filters, direct FX select and fader fx.  Our goal was to make the fun performance tools in Traktor 3 more accessible and easier to use through smart hardware design.
In Version 2_0 the mapping shifted from simplicity to greater flexibility as Traktor Pro directly incorporated many of our concepts from the SE.  The mapping has been a great success but we have found many ways over the past year to make it even better.
Now with Version 3_0 my goal is to combine the best of both versions into a mapping that will be fairly permanent and truly stand the test of time. While many controllers have come out since the SE was first released- ours still remains one of the very best interfaces available today for Traktor Pro. The goal is to keep it that way.
New Concepts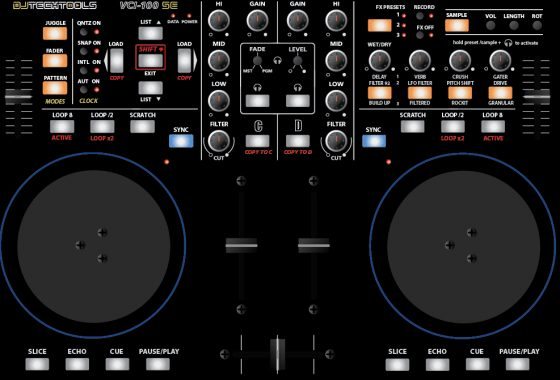 In the performance state its critical to make the distance between inspiration and creation as short as possible. Any and all barriers to creativity must be removed to enable creative flow when deep in the mix. While Traktor Pro contains un-ending creative potential, accessing them in a quick and intuitive way is often difficult.  For that reason, its best to have a few utilitarian mix tools ready to go at any time with the push of a button. These include:
ECHO + Freeze- for the fast transition
SLICER- for a quick build up
8 COUNT SAMPLER- too keep a loop going and free up a deck instantly
2-4 PRE SET FX GROUPS- That you know will sound great with no config required
INSTANT ACCESS TO COMMON FX- with no routing required
All of these utilities are going to be present in the new 3_0 mapping. Generic controllers usually offer 4 buttons and 4 knobs for the Traktor FX section. While this may seem like the right control set to offer, its a pain to use in reality. For example, getting a simple echo requires:
figure out which fx unit to use
load the echo
route the deck you want to that effect
fine tune the echo settings
turn on the echo
find the freeze
activate freeze
In the new SE mapping every deck will have a echo button which does everything for you in one press. hit play while holding down the echo to freeze the track. Its that simple. We spend hours fine tuning the dozens of commands each button sends, so you dont have to think when a critical part of the mix comes.

Instead of generic buttons and knobs, we are bringing back single press FX presets. Hold down the preset you want and press the desired decks headphone cue button. This will load, route and set up the FX for that deck. Then just turn on fader FX to rock the FX with large tactile controls or use the 4 knobs above the presets to control them. Along with 8 single FX, we will offer 4 preset groups of 3 FX that sound amazing together in fader FX mode – here is just one example.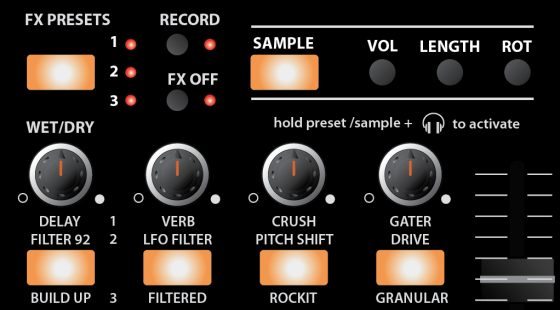 Your Turn
Right now these concepts are not final and still need to be proven/tested. Your feedback is going to be critical in deciding what the final 3_0 mapping and brand new overlay will look like.
COMPLETE THIS SURVEY TO PROVIDE YOUR FEEDBACK
next, if you have not already- sign up on the TSI beta list to get the beta TSI's for this layout.
Overlays

If you already own a VCI-100
Just place the new overlay right over the old one. Watch a video on the application here.
If you that want to buy an SE in the next 4 weeks or have purchased one in the last 2.
we will send you an updated overlay on the house. Just email us your order number.
For those with Arcade Editions
We will be producing arcade versions of the overlays that fit around the buttons so you can put the new one right on top.
Arcade versions purchased in the next 4 weeks will also get complimentary overlays.