Here is a list of all new products that were released or announced at Namm 2010. There were a lot of interesting developments in the controller world including a 4 channel Serato mixer, the compact APC 20, and a first look at the Xone 2D. Read on for the full list and give us your feedback on which products look the most interesting. Based on buzz, we will create in depth videos and reviews of your favorites and post them tommorow.
4-Deck Madness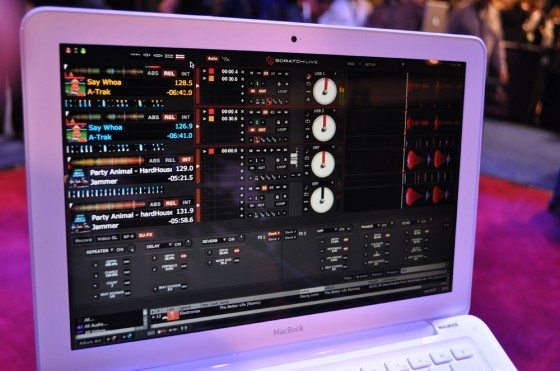 Serato scratch (above) and Serato itch (bellow) have added 4 decks to the new beta versions of their software.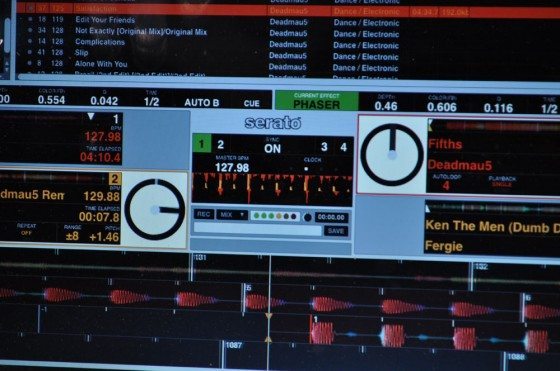 MORE BUTTONS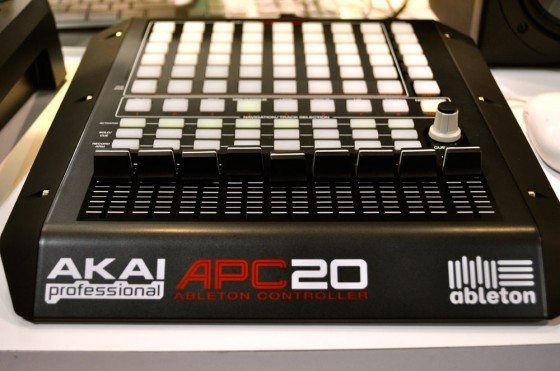 Based on the success of the Launch pad, Akai has released the APC 20 — a scaled down version of their APC-40, which debuted at NAMM last year. For all of you who thought the APC40 was too big or too expensive, the APC20 delivers similar operation and the same pre-mapped ease of use either the standalone editions of Ableton Live or the included APC Edition of the software as the APC40 did, but in a smaller size. Scheduled to ship in April, the price was not announced, but it will be easier on the wallet than the $399 APC4o.
THE BRIDGE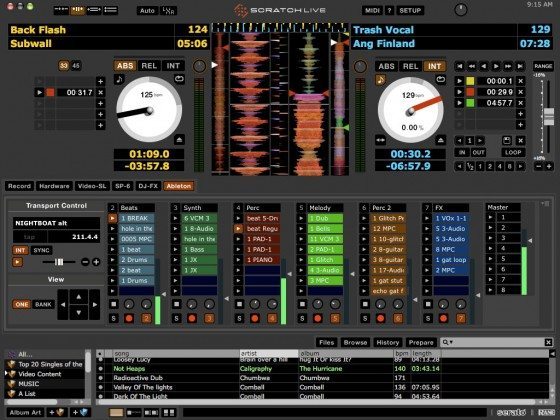 We finally know what the Ableton/Serato combo is. In a nutshell, you can record your Serato sets in Ableton for later editing or drag Ableton sets directly into Serato and scratch them in a Serato deck. Thats enough ammo to ensure no 2 Serato djs sound the same again.  More info and videos later today.
A MORE PORTABLE NS7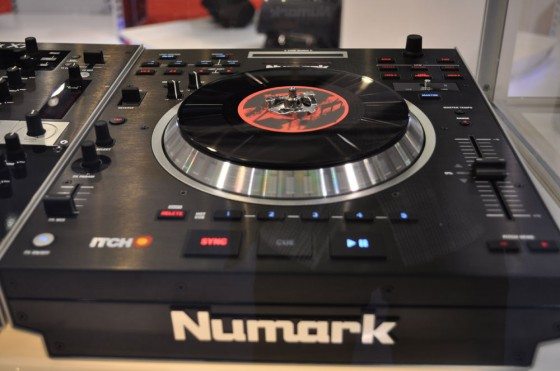 Numark has broken up the Ns7 into more portable parts that can be mixed to suit your needs. Sadly they are still just as heavy as a turntable. The new model is called the V7.
RANE GOES BIG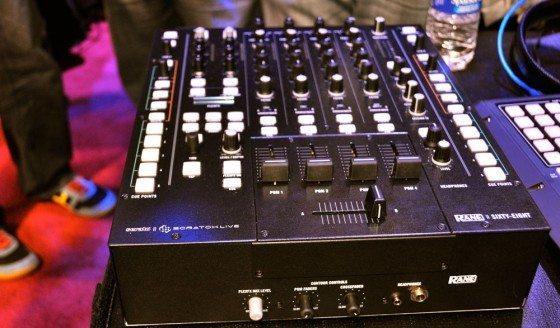 To match the new 4 deck version of Serato Scratch, Rane offers a significantly larger, 4 deck version of the TTM-57SL which is looking a lot like the Pioneer favorite. Offering more tactile cue points and dual USB inputs this will be a Serato must have if you can afford the steep price tag.
XONE:DX REVEALED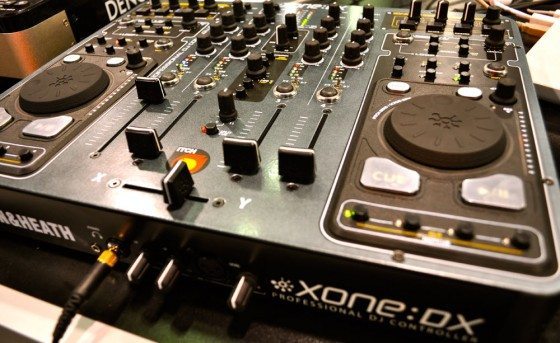 Allen and Heath is finally showing off its 4-deck Itch mixer. It looks solid and we are anxious to play but the cue point buttons and jog wheels leave much to be desired. The Xone:DX will include the updated 4-deck version of Itch for a price that has so far only been quoted as 999 British pounds. Its 20-channel USB 2.0 soundcard supports audio quality up to 24-bit/96kHz, while the same USB port can also send up to 168 individual MIDI control messages. With four individual channel strips in the mixer section, and two full-featured control decks that toggle between controlling Decks 1/2 and Decks 3/4 respectively, the Xone:DX is suited to command all four deck of Serato Itch — including its effects functions — right out of the box.
ANOTHER VCI-ALIKE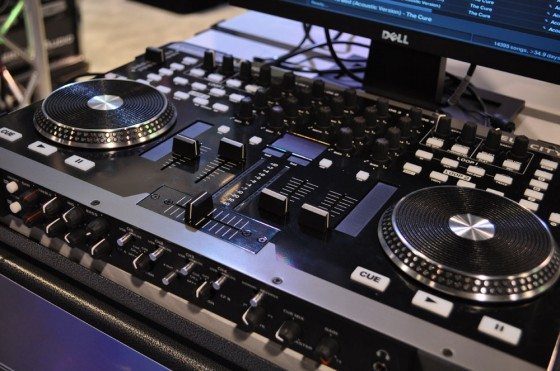 American dj has managed to win the CPSI award (most controls per square inch). Still, even though the front panel looks like a cockpit- we are strangely intrigued..
A SPIN FOR TRAKTOR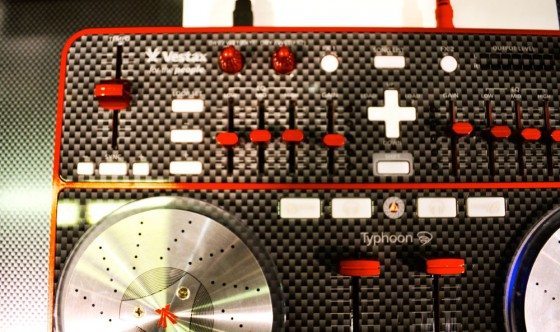 Those that wanted the controversial Vestax Spin to work with Traktor need wait no longer. There is a now a Traktor version called the Typhoon.  Note to self, never print white text on carbon fiber- may cause temporary blindness.
SCRATCH SIDEKICK
For all you Serato Scratch DJs who rock two turntables and a mixer, the DN-HC1000S USB MIDI controller is here to provide some supplemenary controls more geared toward performance than a computer keyboard. The DN-HC1000S gives you controls for track selection, looping, sampling, cue points, tap tempo and more. This USB MIDI Sub-Controller will have an MSRP of $199.
RAW ROUND TWO

This update to the EKS Otus incorporates some of the most popular feature requests for the older version. For example, Otus RAW includes two long, robust pitch sliders patterned off of the venerable Technics 1200 turntables and four velocity-sensitive pads. Like before, the Otus RAW can be used as a single or dual-deck controller and is highly configurable.
BACKUP SINGER
To be available this May for an MSRP of $460, the Korg Kaossilator Pro lets you play synth phrases on its x-y touchpad in freeform mode or while locked into a musical key or one of 31 scales. It includes 200 program settings, including drum kits, analog-style synths, piano, guitar and vocoder patches to be used with the mic input. There's an arpeggiator that also responds to the touchpad, and a sophisticated looper lets you saved recorded loops to SD cards.
VESTAX VFX-1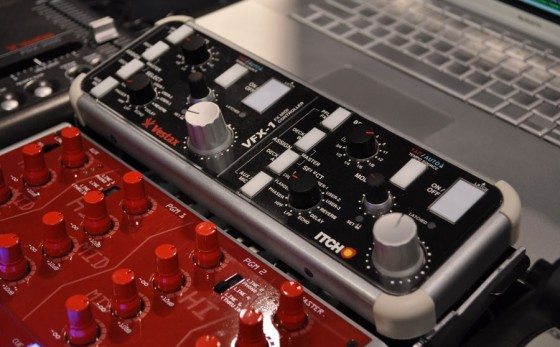 Vestax is now officially showing their VFX-1 controller in what looks like the final configuration. The horizontal layout above seems to make a lot more sense to my eyes personally.
AND MORE TOMORROW!
Did we leave something out that you would like a more in depth look at? Let us know in the comments and we will be back tomorrow night with in depth videos and all the essential product data.