By: Philip Matthews
An iPad pretending to be a full on hardware synth?  Has the time come when our beloved hardware is replaced by software?  Anybody who has used a software synth is rolling on the ground laughing now but Korg may get the last laugh. They have released a digital version of their much-loved electribe for only 10 bucks, making us wonder how serious is this thing?
What is it really?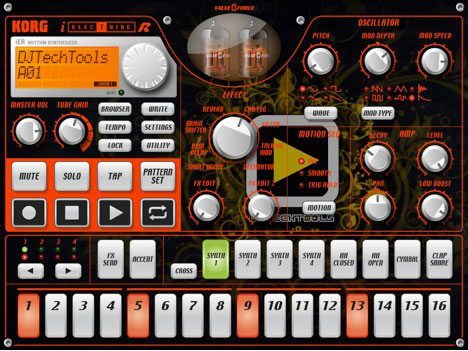 The iElectribe is a 8 voice rhythm synthesizer. In short you can synthesize up to 8 different voices and sequence them into a maximum of 64 steps (essentially 4 bars of 16th notes). So don't let the default red anodized skin of an ESX fool you, it is not a sampler. Rather the native color should have been blue for the EMX that it more closely resembles.
Beyond the 8 voices (called parts), there is an effects section. The effects can only be run one-at-a-time, but, like the synthesizer, can be animated (motion sequenced) to provide different effects and effect settings at different parts of the pattern. You can, however, chose which parts and which sequences are effected.
Patterns can be copied, completely modified (editing tool set included) and saved. They can be called up in any order on the fly, with or without tempo lock, in a user selectable quantization. Therefore a performance (pattern set) can be laid out to put longer pieces together for more varying ideas than 8 voices would imply.
Can It Produce Quality Sounds?
[audio:http://djtechtools.com/wp-content/uploads/2010/05/Techno-6-Basic.mov]
I tested it  through an AK1 in Traktor as an Audio Through on an Internal Mix and the sound was so-so. It sounds like a low bit rate song when mixed with a 320 kbps MP3.  On the other hand, recording in GarageBand produced decent results. The audio quality does not seem as muddy and played with a couple of AppleLoops it was fun to grow the same pattern into something more useful. Dropped into a higher end DAW, the patterns could definitely be used professionally (especially compared to some of the loop packs available out there…).
How good are the preset patterns?
I would rate the presets (64 in total) as examples more than workable patterns. They can be used to give you an idea of how different parts could be broken down and stay within a genre. The differences between say two minimal patterns is too vast to have a good flow between the two for use in a performance. But by copying one to a blank memory slot (there are 64 blank slots) modifying it, then copying it again to the next blank slot, modifying it, etc, would allow you to build a performance set to make a complete "song" (the iElectrible does not have its hardware cousin's song function). The only drawback is that the pattern select feature that lends itself well to performances only allows selection of the first 64 patterns, so you will need to move some of the factory presets into blank slots to get the full benefit of the feature.
The other 32 memory slots contain "templates" of different genres (you can overwrite any of the presets to give yourself more slots). These are interesting in that you get a pre-biased canvas for ideas. The parts in the template that are already laid out tend to be mostly drum parts so that you can build a bass and/or melody over it. Of course, you can tweak and do what you want to the drum part too (make minimal-hardcore? yeah).
Can you actually play this thing?
Load a pattern, mute all but the kick, press play, wait 4 bars, bring in the HH and snare, wait 4 bars, bring in the bass, wait 4 bars and bring in the melody, wait 4 bars and drop the bass while tweaking the melody part on the mod and pitch, bring back the bass, start throwing some effect to the bass and melody, drop all the drum parts and the bass, more effects, switch pattern, etc. Yeah, you can play it.
The feel of the controls during playback is maybe one of things that is questionable (age old tactile screen thang). For those with a lot of DAW experience, you will quickly want to switch the knob feel to linear from the default rotary. Now you touch the control and drag up and down for changes. For large wholesale changes the feel is quite good, but to move to a precise setting on the fly is not intuitive.
So what is good for?
As a production tool, it can be used to sketch in a background that you will build from. As a performance tool it can be used to do some tricks and interludes. But I feel the real strength of the app is as a mobile idea sketchpad. Want to see if that little groove playing in your head would sound good to a hammering DnB drum line or if that glitch noise that you think would drop in great syncopated to a soft throbbing tweet? Here is a tool in you back pack that will give you that open avenue of creative possibility.
Should I be running out to buy this?
If you don't already have an iPad, no. But if you do this is a really cool app for anybody who has used an Electribe and can appreciate how smooth of an idea sketchpad it is, or an Electribe noob who would like to explore some new possibilities.
About The Author: Philip Matthews (Pilmat) is a regular contributor to the forum. This is his first article for Dj TechTools so show some love in the comments!