The controller world will, once again, get shaken up very soon. In its next Ipad update, IOS 4.2-  now available to developers and ready for public any day now, Apple will officially support MIDI input and output to the Ipad. Are you ready for dozens of midi controller apps equipped with gyroscope, acceleration and multi touch functionality? I know we are! Read on for the Dj TechTools inside scoop on this exciting new development.
WHAT DOES THIS MEAN FOR THE DJ?
I am most excited about the potential of connecting devices like the Midi-Fighter, which consume very little power, to the Ipad which now has access to a full Itunes music library. Together these two could be a micro dj world that promises to be a lot of fun in a very light package! Direct MIDI support means you may actually be able to use existing MIDI equipment, where previously any hardware connected to the Ipad required a special license and had to pay a steep fee!
Alternatively, if you already own an Ipad- you may have soon have access to dozens of virtual controllers that can be endlessly configured and tuned to suit your needs. The new CORE midi functionality on the Ipad means that developers can easily make midi controller apps that work with your dj software. There are some limitations to touch based controllers though.  As we all know, djs love their knobs and faders but the Ipad also brings a lot of exciting new controls to the table including:
gyroscope
acceleration
multi touch functionality
Almost none of which exist on existing hardware controllers meaning this next round of Ipad "dj" apps might be taken a lot more seriously.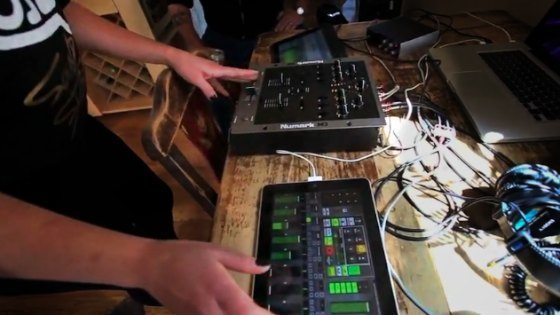 Sources tell us:
You will be able to send MIDI over a network (Wifi)
Latency can get troublesome over a crowded network
Latency can be an issue with interference in the signal
Computer to computer networks and dedicated airport express set ups should work the best.
This would work right away using traditional midi over network systems that already exist in MAC OS
MIDI IN and OUT will be available over USB
This will require the camera adapter
USB power will be very limited so the IPAD won't be able to run power hungry Midi controllers
A powered USB hub could be used to solve this issue
While using the USB/camera adapter, you can't charge or transfer juice, so the Ipad may run out of power rapidly depending on the app.
This will all be done via a very similar API to the desktop computers using standard MIDI communication. That means a properly set up app should just show up as a standard MIDI device in your dj software. Configure, map and jam away. Long gone are the early days of sketchy intermediary programs that bridge the gap between Ipad and MIDI. Woop Woop!