The MC6000 is Denon's flagship 4-channel MIDI controller and mixer hybrid that allows full control of your DJ software while allowing line input and phono sources to pass through for a seamless, all-in-one unit. With a full 4 channels of mixing power, some might wonder if it is a worthy challenger to the s4. We take a look at how it fares.
This is a guest review by Joey Santos, aka Floordestroyer
Product Reviewed: Denon MC6000
Price: $950USD (MSRP), $799USD (common street price)
Communication: MIDI over USB (requires power supply) / Mac and Windows, Standalone hardware mixer
Available: Now!
Ships with: Virtual DJ 7 LE (America & Canada), Traktor LE (Europe & Asia Pacific)
THE GOOD
Solid, compact metal construction and out-of-the-box integration with Traktor and VDJ7
Lots of input and output options for virtually any club/mobile application
Hefty jogwheels and classic Denon rubbery-button feel
48khz/16bit soundcard with built-in mic preamps, comparable to prosumer USB audio interfaces.
Can be used as an actual standalone analog mixer
THE BAD
Cramped surface compared to other 4 channel controllers
No loop length display ala Kontrol S4
Won't run via USB bus power alone
No inherent DVS support as of this writing
THE BOTTOM LINE
Denon sets the bar high with this top quality, road-worthy 4-channel mixer and controller. Although more of a mobile/club DJ unit than a tool for controllerism due to its more compact (and therefore crowded) design, the MC6000 still delivers in that respect with its plethora of buttons and knobs. My only gripe is that every encoder and knob on the unit is a bit too near each other that folks with larger fingers may find it a bit annoying. It's also quite heavy for a portable controller, which could be a good or a bad thing depending on your back and physical prowess.
UNIT OVERVIEW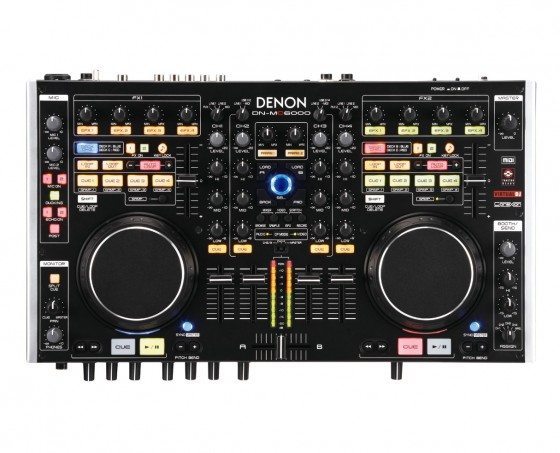 The MC6000 has four solid 45mm faders and cue buttons for each channel with Bass, Mid, Treble and Gain knobs that can be used as is, or it can be set to send MIDI data for software mixing by flicking a switch at the back of the unit (more on that later). The EQ's are what you'd expect of a traditional hardware mixer in this class: no-nonsense, very quiet and musical. A crossfader sits below the channel faders, assignable through independent channel A-B Thru switches. At either side of the unit is an identical set of controls containing Denon's highly touted jogwheels that are a joy to use. Although smaller in size than its closest competitor the Kontrol S4, the MC6000's jogwheels are sufficient for scratching, skipping through parts of a track or searching quickly through your playlists. The usual suspects are all present (Cue, Play, Sync, Pitch Bend, etc.), as well as the Deck Change button that glows Blue when you're controlling your primary deck (A/B) and Red for your secondary deck (C/D or Sample Deck). The bottom of the jogwheels also light up correspondingly, allowing you to be constantly reminded of what channel it is you're working with.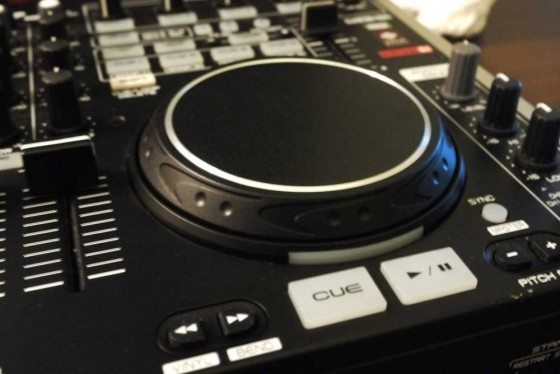 There are four cue point buttons for either channel, which probably won't be enough for complex cue point juggling, but Denon does include the option to switch cue banks by pressing the "Sample" button, wherein they get loaded into Cue Points 5-8 if you're using Traktor. Unfortunately, switching is a clunky experience and nearly impossible to use if you'll be juggling cues between both banks. As suggested in Markkus' review of the Kontrol S4, a dedicated grid controller like the Midi Fighter will still be a more practical option for die-hard controllerists.
The MC6000 allows you to browse through tracks on the fly via its browsing knob surrounded by four rubber buttons for quick loading onto your decks so you don't have to keep reaching for your laptop's trackpad. The knob doesn't feel as solid as the rest of the unit, leaving a flimsy and cheap "plasticky" impression.
IN THE CLUB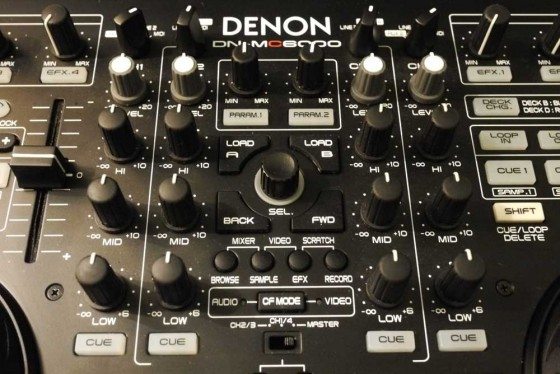 The MC6000 works not just as a controller, but as a club mixer as well. Its myriad inputs leave you pretty spoiled for choice; there are a pair of balanced XLR and unbalanced RCA outputs for the master section, and you also have a pair of balanced TRS outputs in the Booth section just in case the soundsystem at the club or event you're hooking up to requires it. This guarantees your system is compatible at every gig you play at, unless they're using some ultra-obscure PA system technology.
The Mixing Mode switch at the back of the unit that allows you to turn the MC6000 into a full-on hardware mixer utilizing its on-board EQ's, Trim pots and faders, ensuring tweaking consistency between your DJ software and other audio sources. If you perform with other musicians or use a variety of instruments in your live set, set them up to one of the four faders and you have full control of their volume as well as some tone shaping capabilities.

There's also a knob at the lower right portion of the unit that allows you to choose the source audio for your Booth output. You can switch from Channels 1-4 or even the Master, making it a flexible monitoring option; you can either switch it to master for booth monitoring, or select from one of the unit's 4 channels to send to another room at the club.
A handy feature for DJ's who use mics during sets is that the unit has two mic inputs built in, which means you can have two MC's going at it while YOU get to control their levels. In other words, no more worrying about your overenthusiastic drunk buddy-turned hype-man stepping all over your tunes. Aside from being able to set the volume of the microphones, they come with their own 3 band EQ as well!
ADDED VALUE
Although it isn't explicitly stated in the manual, you can actually use the MC6000 as the heart of your DJ production studio if you pair it with a DAW like Pro Tools or Logic thanks to all the input choices it gives you and its USB connection to your computer – just map out all the knobs and buttons you want to the functions you want to have tactile control over.
You have a pair of line inputs that you can switch to phono if you want to hook turntables up to them, and there are a pair of extra aux inputs. The MC6000 gives you all necessary control for switching sources at the top of each fader channel.
SUMMARY
Denon tries its best to please both club DJ and controllerists by packing in a load of features and trying its best to be everything to everyone, which makes it a versatile albeit less of a specialist-type tool. If you're a mobile DJ, this has some clear advantages over the pack; notably, you'll be glad you won't be caught flatfooted by output incompatibilities with your event's soundsystem and connection limitations. If you find yourself leaning towards controllerism and the experimental side of digital DJing, you might want to look at something more suited instead – you'll thank yourself later when you don't accidentally press buttons and twist knobs you didn't intend to.
Tech Editor's footnote: Many of you guys have asked why Denon products don't appear on the site, and whether we intentionally don't publish data about their controllers. Not at all! We just don't really have any relationship with Denon, as they never get back to us. Ever. The reason there's no video of Ean putting the MC6000 through its paces is that we don't have one… Denon, we know you read the site – so please, if you want your products featured- you know where to find us! 🙂