The Vestax PAD-One was announced quite a while ago but was kept simmering in the oven for months before being released for general consumption. We recently got our mits on the final version (with some juicy extra features) and have been testing it in the labs. Along with a rock solid build quality, after touch sensitive pads and reliable soft touch detection this pad tastes way better than the low end similar on the market.
Here are a few of the reasons we like the PAD-One
GREAT CONSTRUCTION!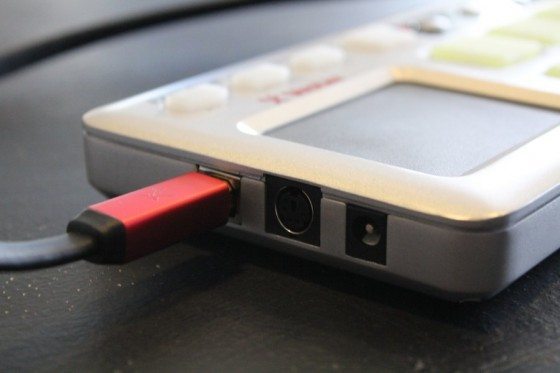 Anyone that has owned a Korg Nano pad knows that they are very inexpensive ($50 +/-) but you should probably plan on buying several as their average life span seems be measured in months or possibly weeks. The pad one sought to solve that problem by building the same format controller in a more robust manner that would last years. Have they succeeded? Well, at first glance – yes. The all metal enclosure and high quality silicon pads certainly give me a lot more confidence in the durability of the product. We have only had it for a month, but in that time no problems have shown up and it's working perfectly.
AFTER TOUCH!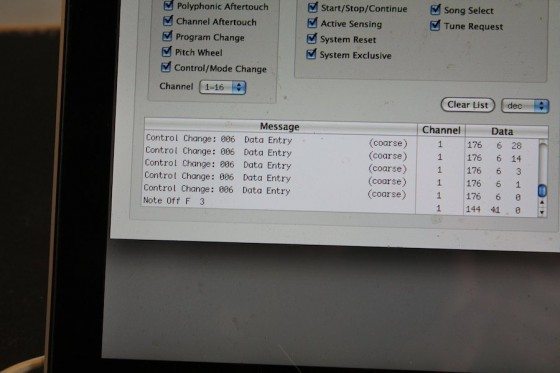 The pads not only send out velocity sensitive notes but they also send out a single after touch CC with further pressure on the pad. Why should you care? It gives triggering effects and notes more character with analogue expression right on your button. Imagine:
turning on a effect with the button and then modulating the value with after touch.
triggering a cue point and then bending the key parameter for a pitch bend.
EASILY EDITABLE NOTES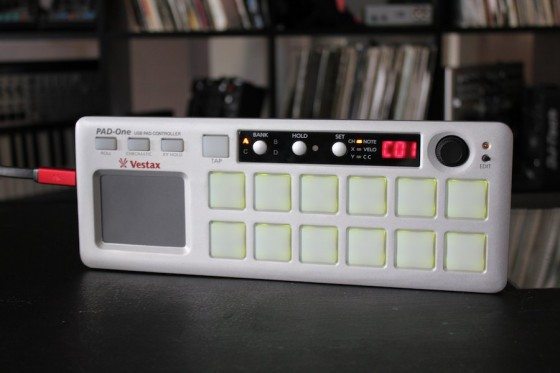 With a handy edit button, you can quickly change the note values for each pad making it really easy to customize in a few moments. I have been using the PAD-One a lot to program drums lately. The rubbery feel of the pads is more bouncy than all the other controllers, which lends it self well to drum triggering and planning.
QUALITY X/Y PAD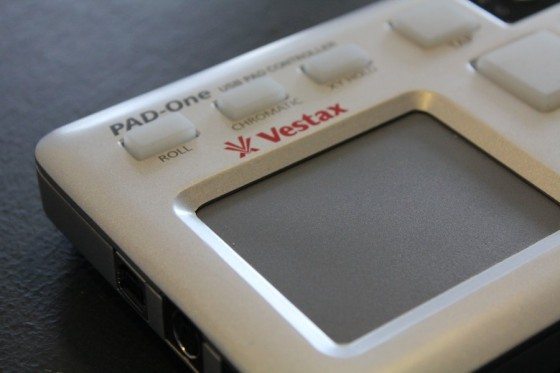 The X/Y pad on the PAD-One is really responsive and customizable. It has a nice firm feel, as opposed to some X/Y pads which truly feel very flimsy.
SWEET FEATURES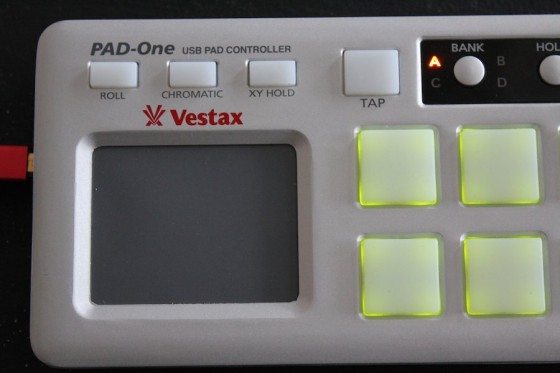 There is a roll feature for the buttons that allows for fast triggering of notes in automatic succession. The tempo of the roll is controlled by the TAP button and the rate is controlled by X/Y pad. One possible use case is:
triggering cue points in rapid succession in a true roll style drum build.
SPECS
Product: Vestax PAD-One.
Weight: 1.6 Pounds.
Price: $199.
Available: Now.
Key Feature: High quality components and performance of pads.
Downside: Heavier and more expensive than competing products from Akai and Korg.