Do you find yourself going through your iTunes library again and again looking for something interesting to listen to? You're not alone. Most of us have been using iTunes for years and, over that time period, most of our musical tastes have changed. Even if you go through your library every few months and delete music you're not listening to, it's still easy for your library to become stagnant.
Enter the online music streaming service. By utilizing sites like Pandora, Slacker, Rdio and Spotify, you can rejuvenate that music library and find new and interesting music. Continue reading after the jump to learn more about these services, what they have to offer, what they're lacking and how they can help freshen up your DJ set.

Pandora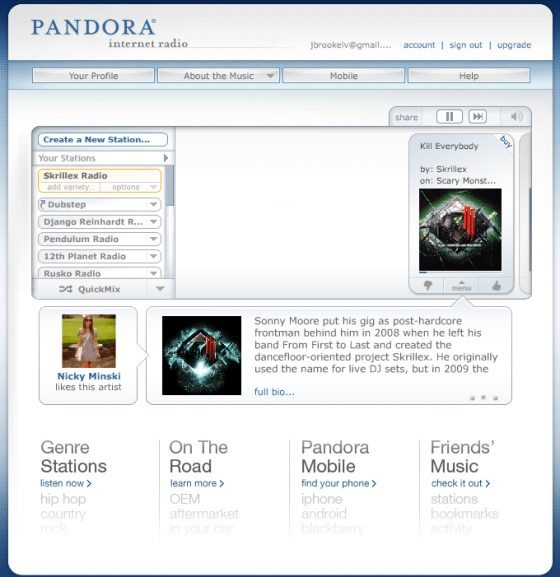 If you're a music fan and haven't heard of Pandora, you must be living under a rock. Started in 2000, Pandora has changed the way people listen to music on their computer (and on their mobile devices for that matter). Pandora has done one thing very, very well, and that's simplifying the music discovery process.
Go to their site, type in an artist, and away you go. No wading through your bloated iTunes library, no switching between radio stations, no real work at all. If you like a song, give it a thumbs-up. If not, give it a thumbs-down. It really is that easy. Bookmark tracks or artists you dig to look up later, or skip a song if you're tired of it. The simplicity of Pandora is what really drives it home.
The Good:
Create up to 100 stations.
Paid membership ($36/year) removes ads, plays higher quality files (192kbps), allows use of Pandora One desktop app, custom skins, more skips.
Supported on most mobile devices, including iPhone, iPod Touch, certain Blackberrys, Android, Palm Pre/Pixi and iPad.
Integrated with some home music systems.
The Bad:
Limited to 6 skips per hour, 12 per day for free users.
Time out period, Pandora will stop playing music if you don't interact with it for a certain amount of time.
Slacker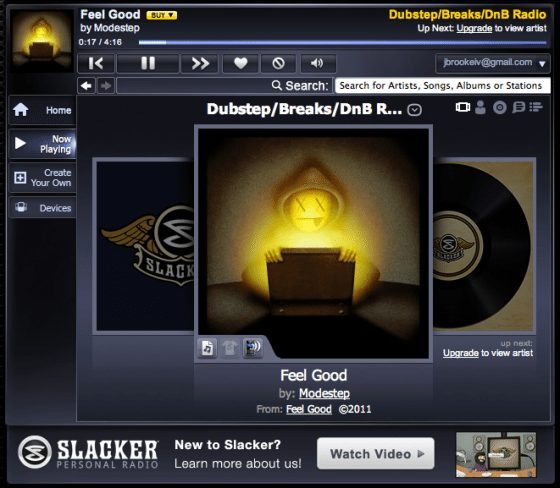 Slacker is another music streaming service that has been around for a few years. When Slacker first started, they offered their own music player (which I owned and enjoyed), but after mobile devices, such as the iPhone and iPod Touch, began to dominate the market they scratched the player and focused on their music streaming service.
Slacker offers over 100 pre-made radio stations managed by real life DJs, which ensures the music sticks to a certain genre (this can be an issue with Pandora). They also allow you to fine tune the stations to fit your tastes by setting things like popularity of the tracks played, year the track was released, and whether the track is one of your favorites. They also give you the option of turning off the DJ, which means you won't have anyone interrupting your music with news, etc.
By far, my favorite feature of the Slacker service is the addition of mobile caching. This allows you to save the stations to your device for listening while disconnected from an internet source. This is great when travelling, camping, or any time when you have spotty service. One caveat is that this feature is only available to paying subscribers.
The Good:
Over 100 pre-made stations spanning numerous genres.
Supported on iPhone, iPod Touch, iPad, Android, BlackBerry, Windows Phone 7, Nokia and Palm devices.
Paid subscription ($3.99/month) includes viewing the "up next" artist, unlimited song skips, no ads and complete song lyrics.
Integrated with some Sony, AR and Logitech home music systems.
Mobile app allows you to cache a station for listening while disconnected from an internet source.
The Bad:
Having to pay to see the next song is very annoying, especially if you're in charge of music at a party/cookout and are using the service as a DJ substitute.
Limited to 6 skips per hour.
More expensive than Pandora (Slacker's closest rival).
Rdio
Rdio is a relative newcomer in the music streaming scene, but they are taking it by storm. Before I go any further, I'd like that say that, in my opinion, Rdio is the best music streaming service out there at the moment. I have been a full paying member ($9.99/month for web and mobile access, $4.99/month for web-only access) for almost a year now and use Rdio every day on my computer and on my iPhone.
What sets Rdio apart from the other popular music streaming sites like Pandora and Slacker? First of all, on demand streaming; this means that you can pick any track available on Rdio and play it at any time, as many times as you want. Second, caching; you can cache any track, album or playlist available on Rdio to listen to even when disconnected from the Internet. This essentially eliminates the need to buy music (except for DJing, of course).
If I like an album, I cache it to my phone. That way, it is available at any time, whether I'm connected to the Internet or not. This is great for discovering new music. I typically browse the New Releases page on Rdio a few times a week, pick a few albums that look interesting (based on reviews, recommendations, album art, etc.) and sync it to my phone.
During my commute or when I'm hanging out at home, I'll throw on the new albums to see if I like them. I've discovered countless new artists this way over the last year, and Rdio has really helped rejuvenate my music library.
Another thing I love about Rdio vs. Spotify (who is Rdio's real competitor at this point) is the fact that you can stream from their website, whereas with Spotify you have to download their desktop app. This is great if you want to listen to music when you're away from your main computer (at work, a friend's house, a library, etc).
The Good:
Awesome iPhone app and web interface.
Caching of entire albums and/or artist catalogs.
Nicely formatted New Releases page.
Play any song at any time.
The Bad:
Price. $9.99/month for web & mobile access, $4.99/month for web-only access.
Must pay to access the service, there is no free option (they do offer a 7-day free trial).
Spotify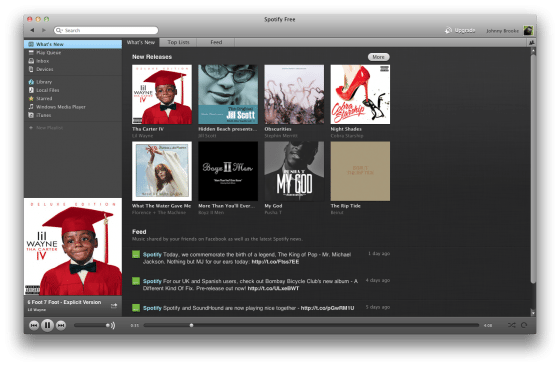 Spotify has been generating a ton of buzz lately, and for good reason. The music service has been operating in Europe for months now, leaving those of us in the U.S. chomping at the bit. Spotify has finally opened their doors to US customers (the free service still requires an invitation), and it appears as if they are gaining a significant following very quickly.
Spotify's service highly resembles the Rdio service I detailed previously, so I won't go into as much detail here. Spotify allows you to play any song at any time, and allows you to have a "Library" that includes music housed on your computer and music from Spotify's online collection. Their pricing structure is the same as Rdio, $9.99/month for web and mobile access and $4.99/month for web-only access.
One caveat, however, is the fact that Spotify has a free option. This allows you to play any of the tracks from their library for free, but Spotify interjects ads occasionally. This is huge for those people who don't mind listening to ads but do mind paying for a streaming service. One thing to note is that you are still limited to using your computer with the free service, and you won't be able to play your collection on your phone.
The Good:
Very nice desktop app.
Huge music collection.
Great social/Facebook integration.
Free listening option.
The Bad:
No web-based streaming version, must download desktop app.
Free version is still invite-only.
Why These Services Are Important For DJs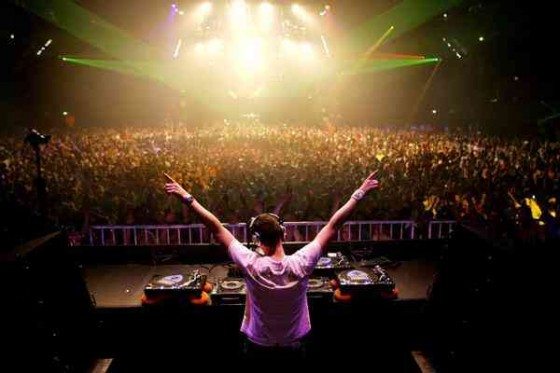 Keeping your set fresh is one of the most important aspects of your DJ career, particularly if you have a weekly DJ gig at a local bar or club. The last thing people want to hear is the exact same set as last week, and that's really where the services mentioned above come in handy.
Did a particular artist's song set the crowd in motion during your previous week's set? If so, check out similar artists in Rdio or Spotify, or even setup up a station in Pandora or Slacker based on that artist. You are almost guaranteed to find something new to add to your repertoire.
Another reason to use these services is because people tend to get tired of songs they hear too often. If you are listening to the radio for inspiration, chances are a lot of the people in your audience are listening to the same station, especially if you live in the same city. If you add too many songs from Top 40 radio, people are sure to get bored, so make sure to include some deeper or more obscure cuts to spice up your set. Slacker has a setting for this in each of their radio stations, and you can actually choose to only hear less popular tracks.
The Bottom Line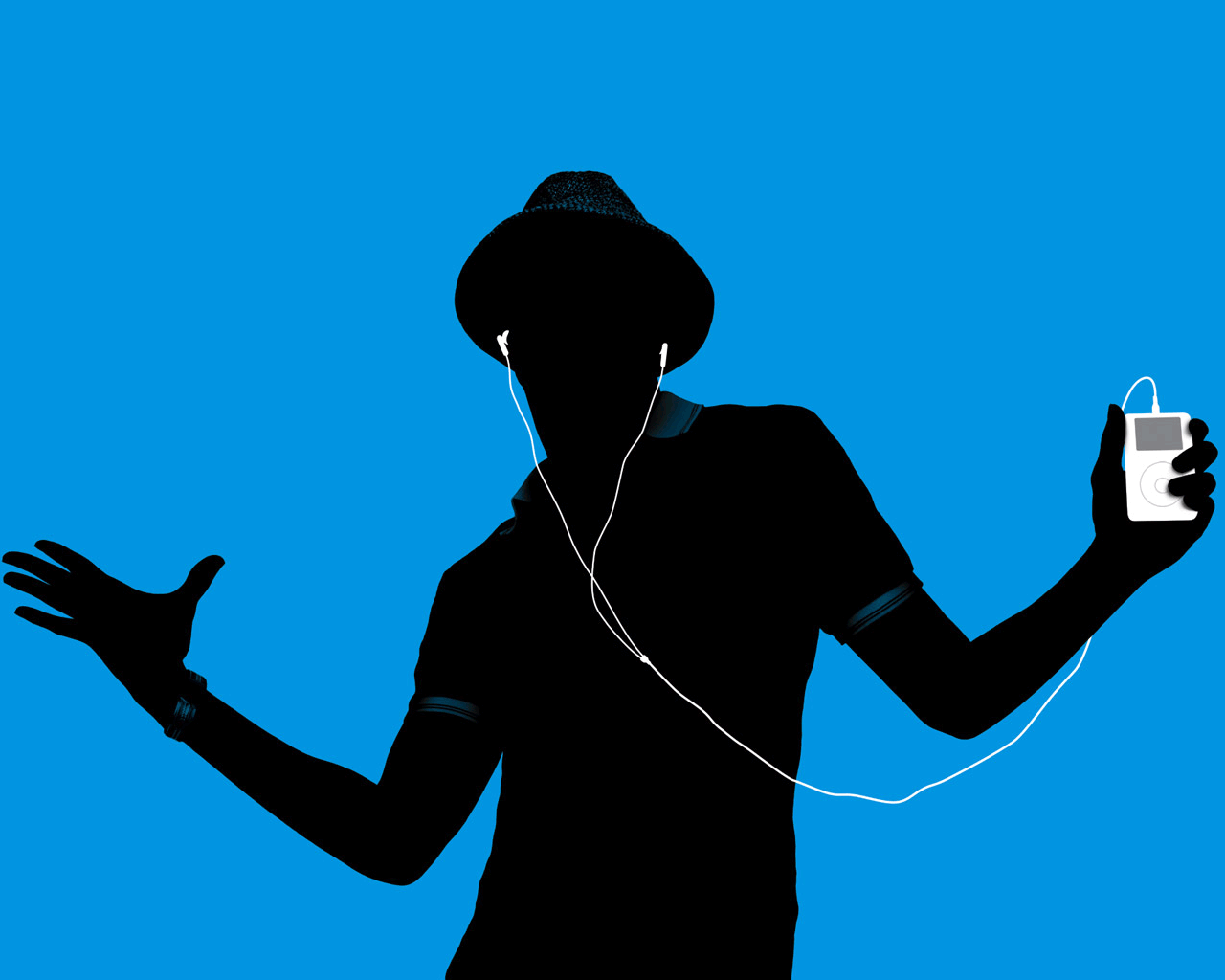 If you find yourself listening to (or playing, in the case of the DJs among us) the same music over and over again, try some of these sites. Most of these services offer a free version or trial, so there is no reason not to give a few of them a shot.
Do you have a favorite streaming service among this list? How about a service we didn't mention (I'm looking at you, Grooveshark users)? Tell us in the comments.
Want to dig a bit deeper? Check out this article on Music Discovery tools. 
About the Writer: Johnny Brooke owns and operates Dubstep 101, a site dedicated to posting fresh dubstep tracks, news, interviews and more.