Today we're proud to announce the long-awaited release of our tri-dimensional controller, the Midi Fighter 3D. The first run of the devices have shown up to DJTT headquarters, and are on sale now. We couldn't be happier with how they've turned out and are excited to put them in the hands of incredible DJs and producers around the world – like yourself! Read on for extended details on the controller's launch.
THREE DIMENSIONAL SIGHTINGS
The Video above is the first known documentation of a 3D in it's natural wild habitat.  Bandesnacci, who won an early 3d in our last Ableton pack contest., expertly chopps up Korn after only a few days with the unit.
JUST THE FACTS SIR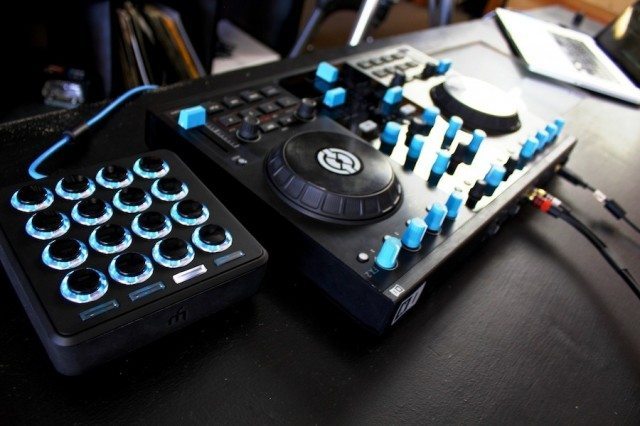 Product:  Midi Fighter 3D
Manufacturer: DJ TechTools
Price: $249.99
Availibility: Now Shipping
Official Mappings: Traktor 2.1+, Ableton 7+
Key Features: Five degrees of motion control and RGB LED backlit arcade buttons
Software Compatibility: Any MIDI-controllable software
Ships With: Midi Fighter 3D, High-quality USB Cable, Certificate Of Authenticity
Where Can I buy it? *Grab one in the Dj TT online store*
HOW TO USE THE 3D
We got a lot of feedback that our launch video was impressive but did not really explain what the unit can do. In this video Ean walks us through the controls and how they work.
MIDI FIGHTER CONFIGURATION UTLITY
Dj TechTools has created a professional utility that makes it really easy to customize the 3D and all other Midi  Fighters. To download it just click here.
 HOW TO USE MULTIPLE CONTROLLERS IN TRAKTOR

Setting up accessory controllers like the Midi Fighter in Traktor along side other devices can be tricky to set up. In this video Ean shows the proper way to combine multiple mappings and how to map the 3D.
THAT'S A WRAP!

Big thanks everyone who made this launch happen – the amount of people who have contributed to this project over the past year and a half  is not a small list. To our design teams, our testers, our programmers, our consultants and contractors, to all of the DJTT staff past and present, and of course to you, our friends and fans – thank you. We couldn't have made it possible without your help.
*The Midi Fighter 3D is available now.
But don't forget about the MF3D's tried-and-true predecessors: the Midi Fighter Classic and Midi Fighter Pro!