Traktor's 2.5 Remix Decks Will Have Limited Controller Function… For Now (Updated)
We have been following this story carefully over the past two weeks and now have the official word on the status of the Remix Decks in the upcoming release of Traktor 2.5.  Three important features, including clip color, sample launching, and scrolling will only work on May 30th (the release of 2.5) with the F1. NI has told us that they plan to re-vamp the Controller Manager "sometime in the near future", but for now the F1 will be the only controller which can access these important functions at launch.
Editorial Update (Wed: 1:37PM PST)
We had an exhaustive conversation with key people at NI today to really drill into the details of this controversial topic. There was some confusion because NI's public statements left out the fact that they plan to integrate these features in the future. DJ TechTools also didn't give the Traktor team sufficient time to provide feedback on the article prior to publication. Here are the facts as we now understand them:
The Kontrol F1 and Remix Decks were designed in tandem, much like the s4 and s4 version of Traktor software
Three different features that power the F1

have not

been built into the mapping interface
There has

not

been a decision by NI to limit controller capacity in Traktor, and inclusion of these features is planed at some point
As we've covered previously, the free 2.5 update does bring improvements and features to all Traktor users including:
Improved CDJ integration through HID
Some improvements to the control manager
Improvements to tempo detection and sync modes
Fixed more bugs than in any previous release
New controller functionality over the top four sample decks.
Let's drill further into the limitations…
The 12 Lower Slots Cannot Be Triggered Via MIDI
We first noticed that something was amiss last week when reading over Native Instruments' "Traktor On The Record". A user asked about mapping all 16 cells of the Remix Decks to their Maschine – and here's NI's response: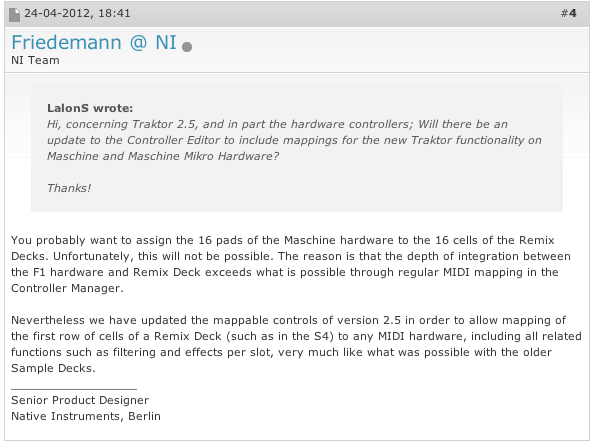 This means that the only control MIDI hardware will have over the Remix Decks will be functionally identical to the current Sample Decks in Traktor 2.4. Admittedly, that functionality itself has been improved over the current Sample Decks, as the Traktor team has revamped the beat detection, sync and playback algorithms for a much tighter experience in the Remix Decks. However, 16-pad controllers will only be able to trigger the upper 4 samples in each Remix Deck.
Jim Mazur, the F1 Project Leader explains:
"This was a very conscious decision to focus on integrating the F1 perfectly. We basically decided it would not be possible to do this in an open fashion, and really nail the nuances that we really wanted to go into with the F1… The last thing we want is any stability issues because we tried to do too much."
Remix Deck Scrolling (or playing multiple groups) is not enabled

In the new Remix Decks, you can have up to 4 different "banks" of  16 loops/samples and the F1 allows you to scroll between them – opening up 64 sound clips to trigger in one single remix deck.
When asked to clarify on the level of control that the other Kontrol products (S2, S4, X1) will have over the Remix Decks, NI elaborated: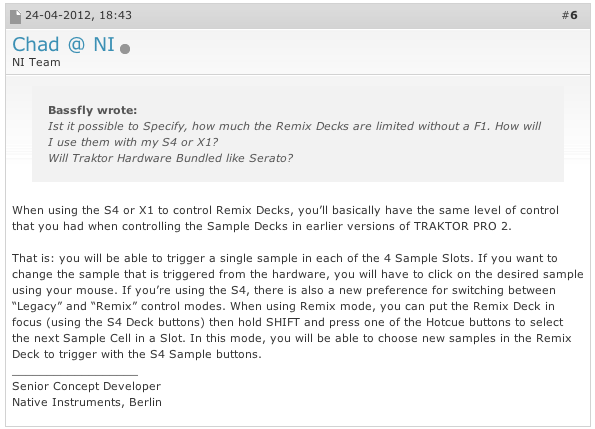 So, for the time being, switching between banks of samples will require the mouse until this functionality is added to the controller manager or you own a F1. S4 users will be able to trigger the next sample in each Remix Deck bank, but as of right now it seems like that is the only controller with any navigational control.
Lack of Color Feedback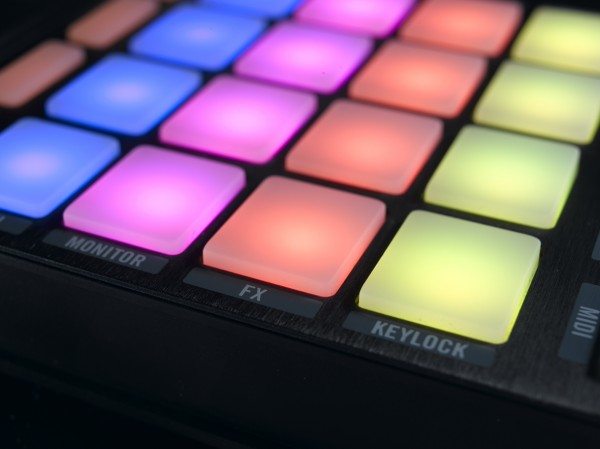 A lot of our readers have been asking if they will be able to map the colors of their Launchpads, APC 40s/60s, or Midi Fighter 3Ds to the colors in the new Remix Decks. We've been informed that this will not be possible through MIDI and has been excluded from the controller window. While there are limited numbers of controllers boasting RGB lighting, more are sure to appear in the future and right now they will not be able to display the colors of the clips.
Many members on the DJTT forum have expressed deep disappointment:

In the interest of full disclosure: we obviously have a horse in this race. Our new Midi Fighter 3D would be perfect for the Remix Decks. Not by design, as we did not know they were coming- just a happy accident. The Kontrol F1 is great for clip launching but performance minded DJs that want to play clips and manipulate FX at the same time will need other tools.
It's a core belief here at DJTT that one tool or workflow doesn't work for every DJ, so we really hope the software this community loves will stay open to future creative possibilities with all controllers.
WHEN WILL THE CONTROLLER WINDOW UPDATES COME? 

When pressed for more details about the release of the update to the controller window (which this community has been requesting for years now) we were told:
"Now is basically the right time to have that discussion [build the open API] … for now we need to create the new controls, test and implement them. We are definitely looking into this."
It will come out in a future 2.0 update
It will not be in a 3.0 update
There is no specific timeline as the best implementation needs to be explored
We certainly hope NI works carefully with communities like DJ TechTools to figure out the best way to build on a great tradition and keep innovation rolling!
GOOD NEWS FOR THE HACKERS?

Inspired by the comments, we asked a cheeky question:
"What would happen if the community hacked something together to open these features up to other controllers, would that be blocked?"
far from legal permission, but they didn't seem too bothered by the idea:
"Jim: Traktor kind of has a heritage of people hacking into it…"

"Terry: Honestly if anyone got close to the functionality of the F1, we would like their job application…"
Sounds like a good challenge to us!
Share Your Thoughts On This
When it comes down to it, you, the international community of DJs who read articles, play gigs, and buy controllers, are the ones who empower companies. We want to open up this controversial decision to you all for a good general debate.