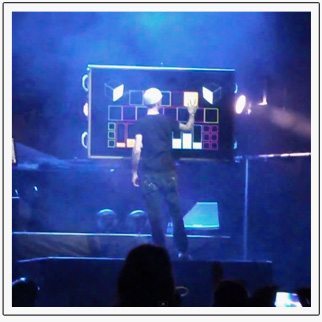 Over the weekend at Toronto's Veld Music Festival, Deadmau5 showed off part of brand new live performance setup (see below for full video) that features a massive touch screen with controls for individual note triggering as well as loop triggering and level/parameter adjustment. While visually very similar to a performance of his at Earl's Court a year and a half ago (which featured a touchscreen Holodesk), the interface and technology here are clearly different.
Deadmau5 also announced over the weekend that he'll be cooling down in terms of new high-intensity projects, so it could be a bit before we see more of this interface onstage.
WARNING: Turn down your volume before watching this video, as it has highly distorted sound! 

More Info: