Richie Hawtin, Loco Dice, and Ean Golden To Embark On CNTRL Tour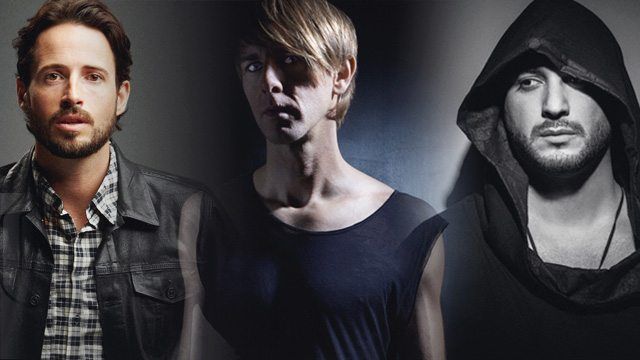 At DJTT HQ, we're constantly asked when controllerism-focused artists will come to your towns across the US and Canada – and we're excited to share the news that Richie Hawtin, Loco Dice, and Ean Golden have all teamed up to build an incredible joint tour, CNTRL. The tour starts at the end of October, with dates along the US East Coast, Midwest, and Canada (West Coast dates might be coming in 2013!) – details inside!
The CNTRL tour will be focused on showing how advancements in music technology can lead to incredible and dynamic onstage performances and in addition to Richie, Loco, and Ean, a number of guest artists will be popping onto various dates through out the tour, including Carl Craig, Kevin Saunderson Seth Troxler, Victor Calderone, Josh Wink, and Paco Osuna.
The tour combines daytime seminars at major colleges and universities with a performance later that night at a venue near the campus – meaning if you've been looking to learn from some of the controller greats, this is your perfect opportunity. Here are the curriculum details from the press release:
Richie Hawtin on using technology to control creativity
Loco Dice on old-school DJ-ing with modern technology
Hawtin's sound technician Johannes Krämer on the importance of sound quality
Ean Golden on digital DJ-ing and controllerism
Q&A with CNTRL artists and special guest speakers
I talked to Ean briefly and asked him what he's pumped for about this tour:
"It's about exposing the younger generation of EDM fans to the deeper side of electronic music through creative technology. I'm really excited to go out on the road and meet fans and see what people really care about."
Check out the full list of dates below:
Mon 10/29 Buffalo, NY TBA // Town Ballroom*
Tue 10/30 Syracuse, NY Syracuse University // Westcott Theatre*
Wed 10/31 Boston, MA Berklee College of Music // RISE*
Thu 11/1 Washington, DC American University // EchoStage*
Fri 11/2 Philadelphia, PA Drexel University // Electric Factory**
Sat 11/3 New York, NY New York University // Webster Hall***
Mon 11/5 Montreal, QC McGill // SAT****
Tue 11/6 London, ON UW Ontario // London Music Hall****
Wed 11/7 Windsor, ON University of Windsor // Boom Boom Room*****
Thu 11/8 Toronto, ON TBA // The Hoxton*****
Mon 11/12 Detroit, MI Wayne State University // TV Bar******
Tue 11/13 Urbana, IL TBA // Canopy Club******
Wed 11/14 Ann Arbor, MI University of Michigan // Necto ******
Thu 11/15 Dayton, OH University of Dayton // Masque
Fri 11/16 Chicago, IL Columbia College // The Metro*******
Sat 11/17 Madison, WI TBA // The Majestic Theater*******
Sun 11/18 Minneapolis, MN Slam Academy (with UMN EDM Club // The Loft at Barfly*******

*Indicates date with Richie Hawtin, Loco Dice, Paco Osuna, Ean Golden
**Indicates date with Richie Hawtin, Loco Dice, Josh Wink, Ean Golden
*** Indicates date with Richie Hawtin, Loco Dice, tINI, Ean Golden
**** Indicates date with Richie Hawtin, Loco Dice, Victor Calderone, Ean Golden
***** Indicates date with Richie Hawtin, Loco Dice, Carl Craig, Ean Golden
****** Indicates date with Richie Hawtin, Loco Dice, Seth Troxler, Ean Golden
******* Indicates date with Richie Hawtin, Kevin Saunderson, Gaiser, Ean Golden
More Info:
CNTRL on Facebook | Facebook
CNTRL tour dates and writeup | Resident Advisor