Over the weekend, the internet blew up with video and heated discussion about turntablism prodigy DJ Shadow getting kicked off the decks in Miami for playing music that was "too future". Today, we explore why some nightclubs have become dangerous places for DJs to try new genres and tracks, and share five solid tips that all DJs can use to ensure their club gigs go smoothly.
SHADOW BOOTED FROM THE DECKS
I don't care if I get kicked out of every rich kid club on the planet. I will never sacrifice my integrity as a DJ…ever #AllBassesCovered

— DJ Shadow (@djshadow) December 16, 2012
A quick summary of this weekends events as a recap – DJ Shadow (whose Twitter bio reads: "I play for smart kids") started his set at the Mansion Nightclub in Miami Beach, and about thirty minutes in was asked to stop by the club management for playing "too future" music. There's even a video of it happening (some very not safe for work language in it, you've been warned):


Editor's Update (12/21/12): Looks like Mansion has issued an apology:
"We offer our most sincere apologies to DJ Shadow and his fans for his set being cut short at Mansion this past weekend. This error should not have happened and will not happen again, especially as we pride ourselves on creating an environment that cultivates and respects innovators such as DJ Shadow. We have learned a lot from this error and made changes within our organization to ensure that Mansion's vision, and the vision of our guests, will never be compromised again."  -Mansion Nightclub, Miami
2012 has been filled with similar incidents happening to high-profile DJs, including Mansion's ejection of Dennis Ferrer, the widely-noted booting of Mark Farina from the decks of Marquee Dayclub in Las Vegas and last weekend's removal of Tommy Sunshine from W.i.P. in New York City. But what exactly causes these incidents? Our friends The DJ Gospel might think it's the apocalypse, but there's a better explanation if you follow the money.
So @djshadow, @dennisferrer and @djjazzyjeff215 get booted from DJing, and @parishilton is asked to DJ. Mayans may be right #ATITG

— The DJ Gospel (@TheDJGospel) December 17, 2012
WHEN DANCE MUSIC AND CASINO NIGHTCLUBS MERGE
I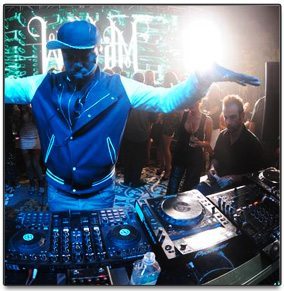 f you've been living under a rock, the last few years have seen an immense rise in the popularity of electronic music and DJs have stepped to the foreground of pop culture. We've seen DJs and producers have success all over top music charts, on award shows, and in producing pop music. This success has translated to superstardom for many – and as festivals with electronic music headliners increased in number and attendance, it's been clear to venues of all types that there's a significant amount of money to be made.
Las Vegas and Miami are both party destination cities – where casinos and nightclubs thrive on the business of out-of-towners coming to their city and partying all night long. If there's a popular performer in America, you can bet that a casino in Las Vegas will try to book them – as the New York Times reported earlier this year, the new stars of Vegas are DJs. Miami has seen a similar growth in electronic music tourism, perhaps best exemplified by October's announcement that the Ultra Music Festival will expand to two weekends.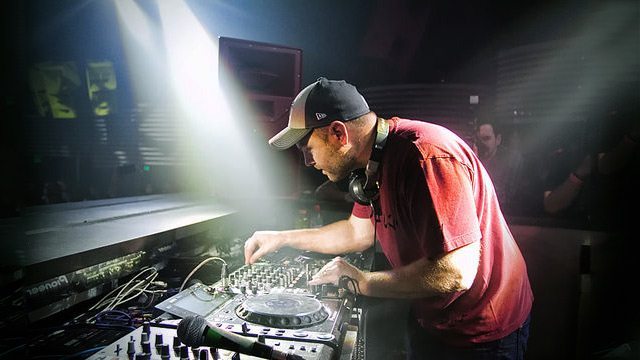 But just because more DJs are being booked to get feet in the doors of venues doesn't mean that they're the biggest money makers once a nightclub opens. As Tommy Sunshine aptly noted in his letter to Vibe after last weekend's incident:
Basically their #1 priority is their "clients" who spend money in bottle service & what they say dictates the music direction. The DJ's who have to play to people who act this way don't deserve this kind of abuse.
For many of the big spenders in nightclubs, they're not there to hear Shadow's forward-thinking sounds. A quick perusal of pictures shot at the Shadow gig on Saturday night gives a good indication that the crowd on the dancefloor was into DJ Shadow's performance – but they also reveal that Hugh Hefner was in attendance.
The club already has all of the cover charges from the crowd once they're in the door – but if a big-spending VIP like Hefner isn't into the music and complains, the club and/or promoters will likely take notice (for the record, Hefner could be a huge Shadow fan – he's just an example of the types of VIP patrons that spend money on bottle service in clubs like Mansion).
Editor's Addition: The question that arsises – as pointed out in our comments by James 'Pioneer' Burkill , is what obligation do nightclubs have to the fans that are coming in to see that artist? A proper venue and promoter should do their homework and have an expectation of what type of night the act that they're booking will thrive in.  At the same time, the artist's management should have a role here as well, not only in making sure their artist is treated right during an event, but in making sure that they avoid the types of clubs that have a reputation for this kind of behavior.
FIVE TIPS FOR PLAYING AT NIGHTCLUBS

Ultimately, DJing at certain venues can become a delicate balancing act for many working DJs. There's a responsibility to maintain and enhance the environment, mood, and atmosphere of a club night – but that has to be weighed against your own personal artistic integrity and what the limits of your willingness to become a human jukebox is.
1) Play Appropriate Nights/Venues: This is one of the biggest tips a DJ looking to increase their bookings should heed. If you're not comfortable playing a gig where the crowd might need non-stop top 40 to keep anyone on the dance floor, then don't take a gig that's going to be advertised as such.
Doing your homework is a big part of this tip – you should go to a club on the night that you'll be playing and see what works and what doesn't. This way you'll have a good understanding of what the normal crowd is like at the venue and can plan accordingly.
See more tips on taking DJ gigs outside of your normal comfort zone.
2) Communicate and Network: As the DJ, you want the nightclub staff to be on your side in any situation, so make sure you know them. Talk to and learn the names of the promoters, the owners, the managers, and the security – as they'll be the ones who will come up and let you know if there's any issues before things get serious. Ideally you'll get honest feedback from them about how the night is going from their perspective, and if you're friendly with them, they're unlikely to come up and give you the axe without any warning.
3) Be prepared to change: It's easy to get into a DJ booth and get separated from how the music sounds to the audience versus how it sounds to you. Be ready for feedback from the audience, because like it or not, it's coming. You can be ready for this – if you did your homework and investigated the club previously, you'll know what types of tracks to keep in reserve in case your selection isn't going over well.
4) Turn the other cheek: If things go poorly and you're asked to leave the decks, keep your cool. If it's appropriate, you can let the crowd know that you're done , like Shadow did in the video above – where the crowd's reaction made it clear that they were not happy that this happened.
Remember that your best booking asset as a DJ are your connections, so don't let the fact that you've been asked to leave the decks affect how you act towards the other DJs, the crowd, etc. These people might not agree with the decision to end your set – but even if they do, don't act brashly and risk damaging your reputation just because this gig didn't work out.
5) Live to fight DJ another day: No matter what happens during your gig, odds are pretty good it won't be your last. Figure out what went wrong – was the music not right, or was there just a over-complaining VIP? Don't let being asked to step down from the decks be your last DJ performance, but look at it as an opportunity to learn more about what types of gigs you want to be playing.
Have you ever been told off for your musical selection and been asked to hand off the decks during a major gig? We want to hear your stories and advice in the comments below.
Header photo and Hefner photos credit to George Martinez for the Miami New Times.