If you're passionate enough about music to become a DJ, you likely love it enough to get your tracks legally. But what is a DJ to do when money is tight and they want legitimate music? Simple! Sign up for a record pool. We last reviewed online record pools over three years ago, so today we're taking another look at the lay of the land with a comparison review of four popular online pools.
What is a record pool?
"A music pool or DJ pool is a regionalized and centralized method of music distribution that allows DJs to receive promotional music to play in nightclubs. The music industry sends its newest releases to the pool of DJs; in exchange, the pool provides feedback on each release as well as exposure in their clubs." – Wikipedia.org
These days most pools provide unlimited downloads of high quality digital music (MP3s) for a set monthly price. In return for the music DJs are often required to provide feedback on either individual tracks or on a group of tracks before being able to download them.
Record pools are both a market research and promotional tool for record labels so they often have rules requiring the members to be working DJs (clubs, radios, etc) so that they get a return for their music in the form of play time in front of a wide audience.
Over the years I have been a member of a number of different record pools – including back in the day when they actually sent you records! I wanted to go over four popular online record pools to give you an idea of the services they provide and to get you started on picking the right one for you.
Introducing The Pools
In case you don't have five minutes to read the whole article, we're starting out with a quick summary of each – click on the titles to jump to each individual review!
ZipDJ: a pool with over 1,000 major record labels behind it, unlimited downloads, 320Kbps MP3s, batch downloading, with a wide variety of music genres.
DJCity: one of the most recognizable pools online, unlimited downloads, 320Kbps MP3s, sells vinyl and gear, with a focus on the mainstream.
Late Night Record Pool: a smaller name online with a focus on hip-hop and open format DJs, mostly 320Kbps MP3s, unlimited downloads, and an impressive back catalogue from years of operation.
Digital DJ Pool: home of the $1 trial membership, mainstream music focus, unlimited downloads, and one of the lowest prices in the market.

ZipDJ
Website: www.zipdj.com
File format: MP3
Bitrate (Kbps):320 with the rare 256.
Price: $50/month; $420/year (+ more options)
ZipDJ is the only pool I've ever been a member of where I can get my music for both the club and for festivals/raves/after hours. The selection of house, tech house, and techno on ZipDJ is unbelievable for a record pool. They also have a huge selection of drum & bass, dubstep, breaks, and trance among others. ZipDJ also has the largest selection of Top 40 remixes I have ever seen; in direct comparisons with other pools, ZipDJ comes out with more remixes per title in the majority of cases.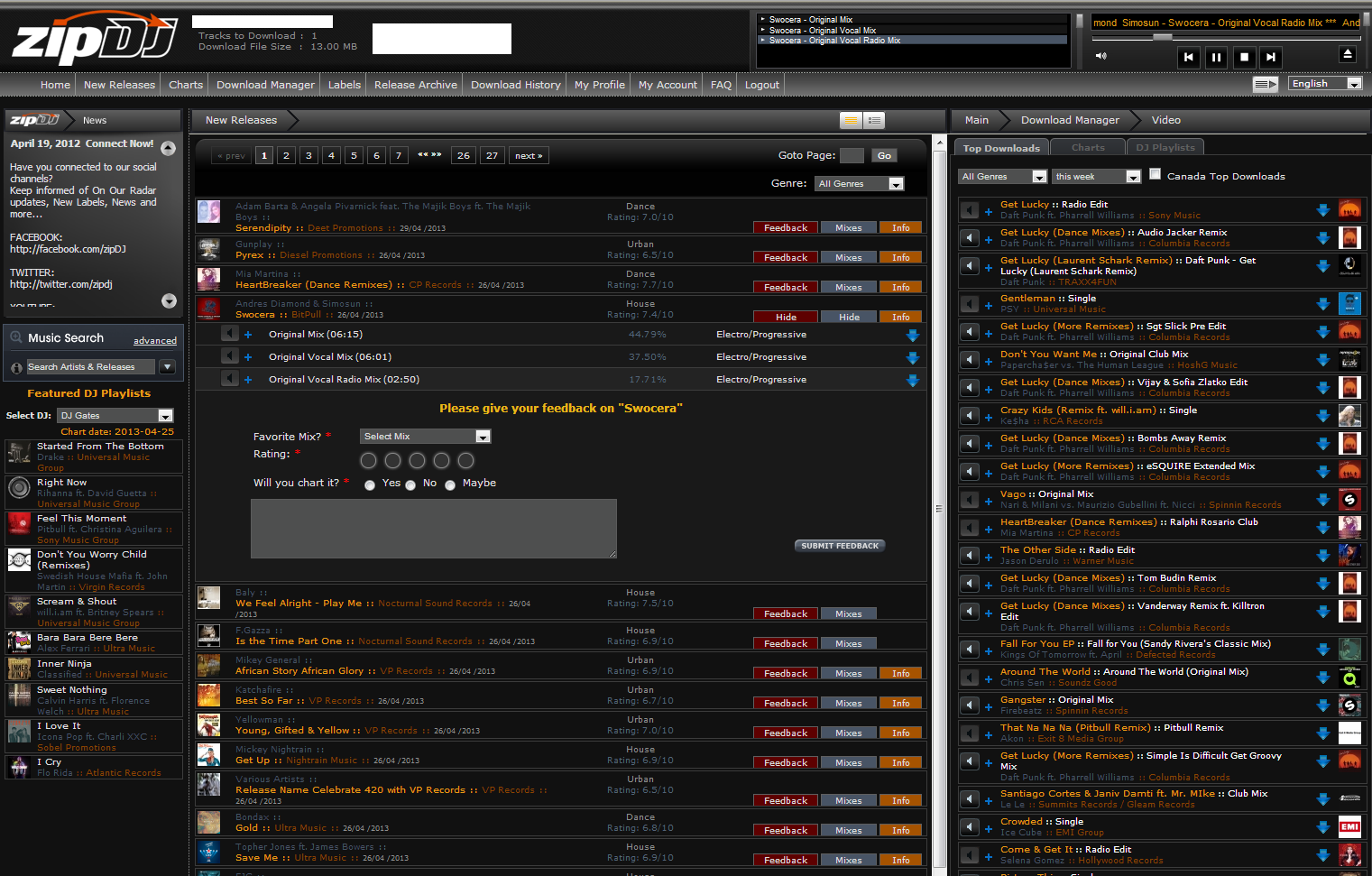 Aesthetically speaking, ZipDJ has a more modern-looking layout with a three column layout. Each section shows different things, with the center column showing the actual releases available for download. ZipDJ is designed to be browsed without tabs, which can sometimes be confusing with the number of bread crumbs (clickable links like artist name, and record label) but it's something that you adjust to quickly.
One of the features I really appreciate about this pool is the sheer number of ways to find popular music for my club audience. ZipDJ provides a huge number of sorting options for their top downloads and club charts, allowing you to narrow them down by country, date range, and genre.  If you're in a hurry and need the most popular music right this moment, it's really easy to track trends on ZipDJ.
ZipDJ has a persistent preview player with a history of what you've previewed in your current session. The previews are just over one minute and thirty seconds and the quality is high. Once you've previewed a song, provided your quick feedback, and decided to download something it's placed into their download manager along with everything else you've selected and you can download the whole lot as a .zip file (individual track downloading is possible when needed).
ZipDJ has an amazing selection of music alongside lots of sorting and searching options. If you play top 40, top 40 remixes, house, tech house, techno, progressive (and more!), and want lots of ways to find trending music this is the pool for you.

DJCity
Website: www.djcity.com
File format: MP3
Bitrate (Kbps): 320 with the rare 256.
Price: $90/three months
DJCity is one of the more recognizable names in online music pools with mainstream club DJs. If you are looking for Top 40 originals, electro house, and mainstream dubstep, it's the bread and butter of DJCity. I found the selection to be great for its target audience and have no trouble recognizing the commercial appeal of their content.  The only thing I found lacking on was house and more bouncy remixes, as in my experience, most of their content leans towards the harsher electro house side of things.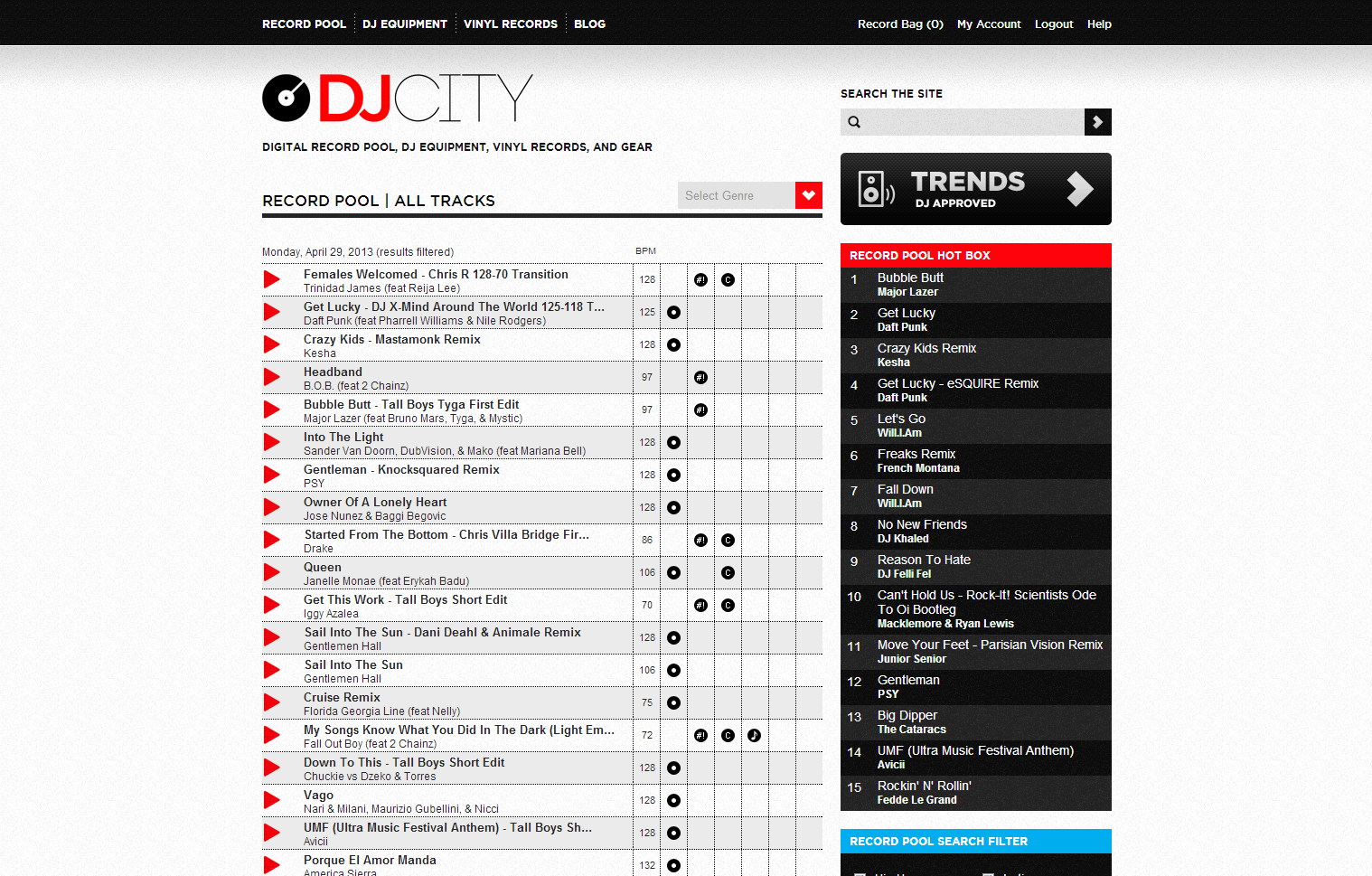 Browsing around their website, the layout is clean and extremely easy to use. Tracks can be opened into tabs, where you'll find the feedback mechanism and links to other versions of the same title. DJCity is best browsed with tabs, popping each release into a new one after a quick preview so you can come back to it later, which gave it more of the digging feel that you'll get from a distribution site like Beatport.
As with most pools, before downloading you must provide feedback. In DJCity's case you need to provide feedback for each version so three remixes of one title will require feedback three separate times. Luckily, feedback on DJCity is quick and easy: score the track out of five, leave a quick comment and click submit. Tracks are downloaded individually and the speed is blisteringly fast. Serato DJs will also appreciate the fact that DJCity has already analysed the tracks and included the first cue point in the file.
My only real gripe with DJCity is their preview player. The quality of the previews is so ridiculously low that they often distort, leaving you to question the nature of the track instead of getting to hear it for yourself. Part of the reasoning is likely the fact you can preview on DJCity without being a member and they want to avoid ripping attempts from their preview player, but with only partial previews I can't see that being a real problem.
DJCity has an easy-to-use website with a focus on what's current and mainstream. If you've got a mainstream club residency, or are looking for consistent original Top 40, electro bangers, or dubstep – this is the pool for you.

Late Night Record Pool
Website: www.latenightrecordpool.com
File format: MP3
Bitrate (Kbps): 320 with much older back catalogue items possibly lower.
Price: $47/month; $397/year (+ other options)
This is the go-to pool for hip-hop and R&B from today to back a few decades. Hands-down, these guys win if you're looking for anything urban. Their remix selection is limited and is mostly just intro/outro edits, but the amazing selection and huge back catalogue make up for it. My first residency back in 2004 was a hip-hop club and this pool took me down memory lane. I'm sitting here listening to some old Wu Tang Clan from 1998 thanks to Late Night as I write this up.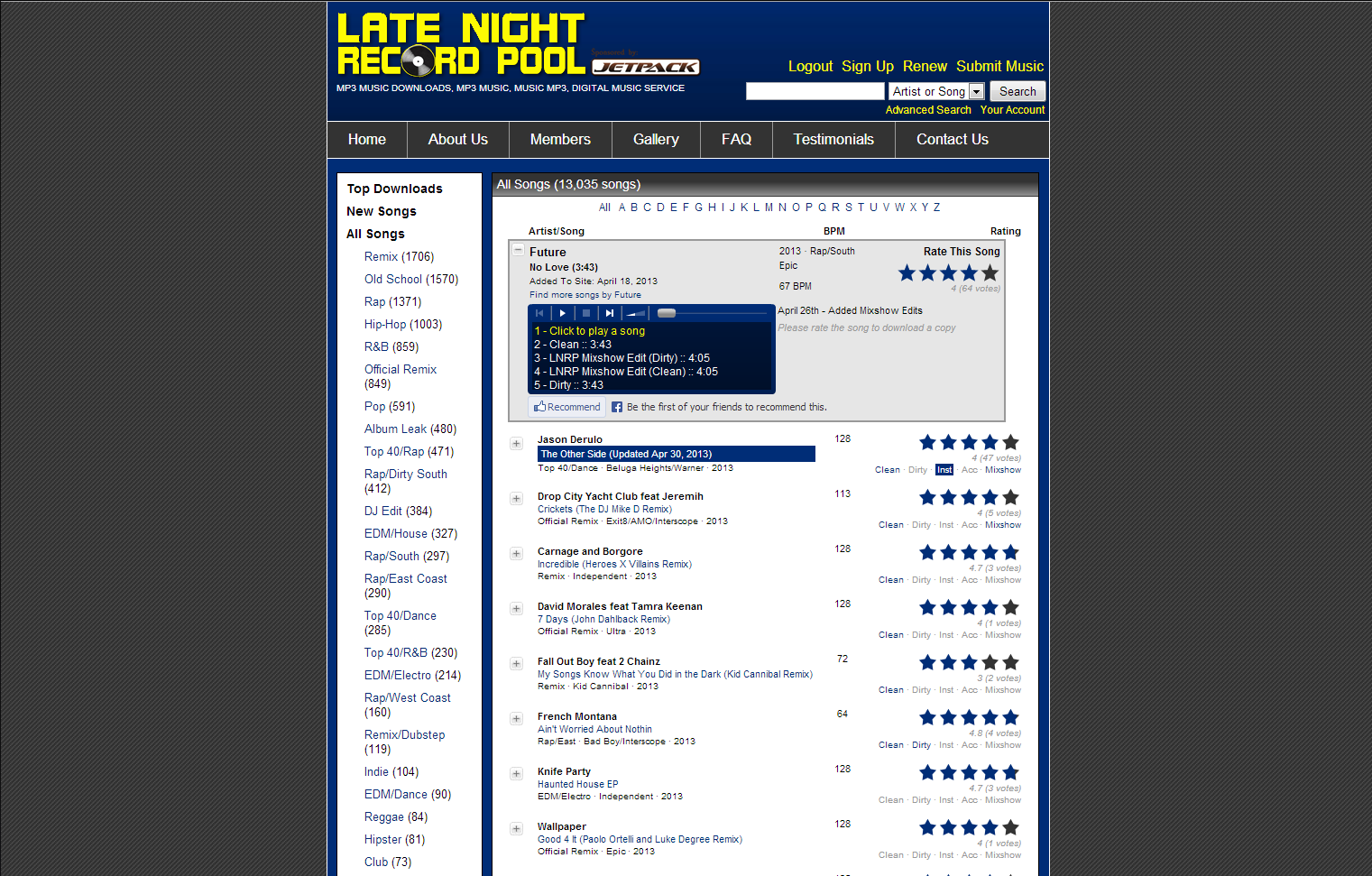 My first reaction to the layout of the website was that it looks dated. Overall, the layout works, but some odd design choices like a hard-coded width on the main content area of 800px leaving copious amounts of unused screen real-estate and the use of what seem like iFrames give it the look of a website that has been around for a while without many updates to its design over time. However, once you get in to the member's area and start looking for music, the site is simple and fast.
In an almost unprecedented move, Late Night allows you to preview the entire track – from the first beat to the last – in amazing quality. If you minimized the page while previewing, you might forget where the music was coming from and assume you left your audio player open. For songs that have intro and outro edits this is especially helpful.
Downloading on Late Night is done individually with the option to download all versions of a single release as a zip file with great speeds. Feedback prior to download is as simple as rating the song out of five stars and then choosing the versions you want to download.
Although the layout of their website might be a little dated if you play urban music there is no better source of music anywhere on the internet for you. The selection of both current and older hip-hop/R&B is unparalleled.

Digital DJ Pool
Website: www.digitaldjpool.com
File format: MP3
Bitrate (Kbps): 320 Kbps with rare 192-256
Price: $1 trial; $12/month; $112/year
Digital DJ Pool has a good selection of top 40 music with clean and dirty versions for most, and acapellas for quite a few. The remix selection is limited, with only the biggest chart-toppers sporting more than one or two remixes. The vast majority of the "remixes" are nothing more than intro/outro edits – but the selection of originals is extensive.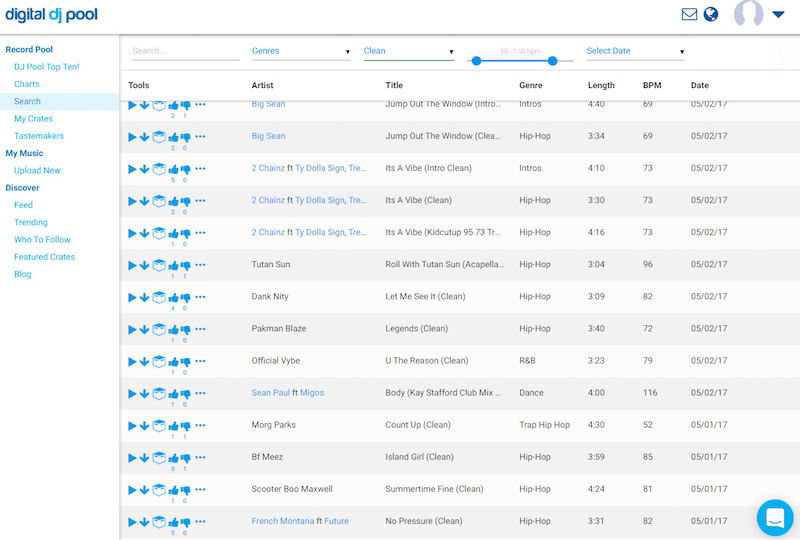 Initial impressions of the homepage: it looks like a WordPress site, but once you actually get in to the pool area the layout is simple and easy to use. The main music selection dominates the page with tabs for "All," "Charts," "Trending," and "Recommended;" the search and preview player are on the right hand side and move as you scroll down the page which has a never-ending scroll.
Digital DJ Pool is the budget option in this roundup, with the lowest monthly subscription fee of any service at only $12 per month (or $112 per year). Although the first three songs I downloaded from Digital DJ Pool were all 192 Kbps and not 320 and it wasn't until the fourth song that I found a 320 I can still see it as a viable option for small venues and DJs on a strict budget looking to try their first pool. (Editor's Note: Digital DJ Pool contacted us, and we've confirmed that this was somewhat of a fluke – most tracks are 320 with rare exceptions)
Downloading is generally done one track at a time and speeds are decent but not blazing fast; a single track took me 20 seconds to download on my cable connection. They also have the option to add tracks to a crate for later downloading and you can download your entire crate as a zip file. For feedback, this is one of the few pools I have seen with no requirement to add feedback before downloading. Optionally you can rate tracks thumbs-up or thumbs-down for statistical tracking but there appears to be no mandatory feedback anywhere.
This pool has a good selection of mainstream original Top 40 for the DJ on a budget. Although it doesn't offer anything the other pools don't the price cannot be beat.
Read part two of this article – five more record pools reviewed in September, 2013! 
This isn't the first time we've written about DJ pools – take a look at this older writeup from 2010 for some more options! 
Are you a member of a cool record pool you want to share? Let us know in the comments so we can all check it out!