There are more DJs than ever before. Technology and the advent of the digital age has made it easier than ever before to begin a career as a DJ/producer. Unfortunately, it may not be enough to simply have hot tracks, the best DJing techniques in the world, exclusive (re)mixes to play in your sets, or an awesome website. If you want to stand out, take time to consider how to develop a memorable live show that complements your DJing prowess – keep reading for inspiration and ideas.

According to A-Trak's infamous treatise from last year, fans' expectations have changed in a world of flashy productions and cutting-edge light shows:
"Crowds used to come see DJs for a musical journey (…) now they expect to hear specific songs, and furthermore, they want to see a show." [via The Huffington Post]
A great DJ is also a great showman. Year after year, audiences will continue to appreciate DJs who give their best on stage, and entertain the crowd. The truth of the matter is that you don't need a big team and millions of dollars to build an awesome experience – with a bit of creativity (and perhaps a few willing collaborators) you can add some real pizzazz to your sets, and create an amazing experience for your fans. Hopefully you'll have the time of your life while you're at it!
(Important note to DJs:  A great show isn't meant to distract from or dilute the musical content of your set; it's only meant to enhance it. Incredible music should always be the starting point for a good show)
Here's a few elements of stage performance to consider: 

What is the theme of your performance going to be?  What do you want your performance to say about you?  Take some time to reflect on this, and what you want your visual presentation onstage to communicate to your audience.
The theme of your performance could be based around a particular setting or place. Your theme could relate to a storyline, or the overall message you'd like to convey with your set and/or new music. The theme could be based around a character, perhaps one you represent on stage. Search for theme inspirations in movies, books, plays or even comics.  Anything goes here; just remember originality counts.
If this is going to be the first show you're putting together, I highly recommend collaborating with a creative director (don't worry, they don't have to have a business card that has this title on it). It is a good experience to work together with an individual who is visually oriented, and can help you to bring your ideas to life. There's bound to be someone out there who would like to be a part of your team – be they students, fans, strangers, friends or family. Find them!
Here are some great examples of well-themed DJ shows:
Plastikman 1.5 Live

Plastikman Live was an incredible show that explored the connection between visuals, audio and interactivity, and featured Plastikman performing behind an enormous screen. The show's visuals were created by visual architects Derivative and Richie Hawtin's frequent collaborator, Ali Demirel.
Space Cadet Headphone Experience 

Kid Koala produced the Space Cadet Headphone Experience, a performance based on his Space Cadet graphic novel and album. The story's main character is an adventurous space cadet; the plot touches on the relationship between technology and isolation, while celebrating family.  The show took place in an large  inflatable "space pod" environment. Audience members listened to the music using wireless headphones; only the ambient sounds of a spaceship played in the open air. The visuals included closeups of Kid Koala's hands on the turntables and moving images from the graphic novel.
Contakt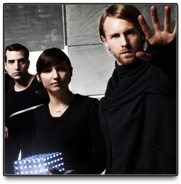 Minus and Traktor produced Contakt, a series of events that explored the themes of identification, connectivity, and security. The audience and performers (including Richie Hawtin, Magda, Troy Pierce, Marc Houle, Gaiser and Heartthrob) were brought together through interactions with the Cube, a custom-built LED device that used a variety of technologies. Ali Demirel worked alongside the Minus crew to deliver improvised visuals.

Are you a handyman? Is there anything that you could build as a weekend project that would look great, or be fun to play in onstage? Could you create a unique table for your gear, some sort of crazy spaceship enclosure? Gather some inspiration by watching big budget productions, and brainstorm to see if there's anything you'd be able to emulate from those performances that you could build for your show.


Almost every great show includes visuals these days. You can use software programs to play your own visuals, or collaborate with others for the visual aspect of the performance. Have the visuals correspond with the theme of your set, and make them an important part of the show. Visuals can be very simple, and needn't be expensive to be effective.
As a starting point, here's a few ideas of how you can use visuals in your show:
Collaborate with a VJ: The VJ may have their own visuals already, or you may have to provide them. Most likely, they will present you with the option of mixing the visuals live, or playing pre-made loops. There are plenty of places online where you can purchase good quality visuals, including DVJ Vision,VJ Hive and Source Visuals.
Use software for video DJing.  Popular DJ/VJ hybrid software include Serato Video and Virtual DJ.  Dedicated video systems include GrandVJ, Resolume 4, and Modul8 (Editor: watch the DJTT blog in the next month for an article on getting started VJing with controllers)
Rent a hardware video mixer to mix visual sources (camera, video generators, etc), such as the Roland V-4EX.
Find someone who can create custom visuals for the show.  If you're on a budget, perhaps try contacting an art school to see if there are students who would appreciate the opportunity.
One of the more inspiring examples is DJ Shadow's Live! In Tune and on Time: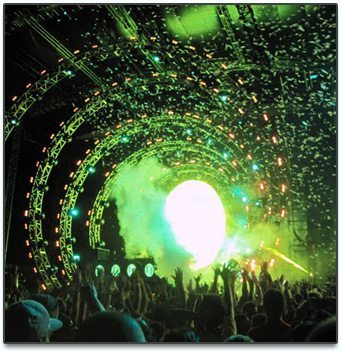 Read More: 3 Simple Solutions for DJ Visualizers
Most DJs don't think about the impact of lighting onstage, but it's a good idea to give this area some thought. The color, and type of lights will have a big impact on your stage presence.
Call the club to see if you can speak to the lighting tech before the show, and ask them to demo their lighting for you.
If you have a bit of pocket change, it might be worthwhile to rent a few extra lights for the event if the onsite selection of kit is minimal.
If you're interested in learning more about lighting, research online, attend an industry convention (like NAMM) to see examples of lighting and effects, or make friends with a lighting technician to get tips from a pro.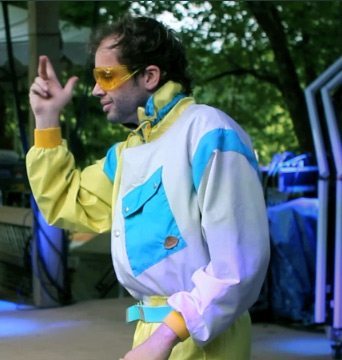 This is common sense, but your clothing and appearance onstage (if visible) are a big part of your show. For example, we all know Richie Hawtin's classic look is minimal black tops and bottoms, and a stylish haircut. Artists all need to have their own style. Could you imagine Kurt Cobain without his flannels?
You don't have to spend a lot of money to find cool clothes. If you're looking more for a costume or vintage threads, try hunting at your local thrift shop or army surplus. If you want a pimp look on a budget, see if a local clothing store will sponsor your show. Offer to feature their store name and logo on your flyer, or do a pre-show photo shoot with them in exchange for a new outfit.  If all else fails, borrow something from a buddy who wears the same size as you, or create your own outfits.

Even though the idea might seem cheesy, don't underestimate the impact of using props in your show. Once again, you don't have to spend a lot of money here, you just have to be creative. DJ Swamp made himself famous by smashing vinyl records, and scratching with the broken pieces. (He also used to light his records on fire too…not recommended!) In old school DMC competitions, DJs used to try to out-do each other using all sorts of props onstage to DJ with, including oversized records. The key is to make sure your props make sense with your show.
Prop masters The Mega Team at the 1992 DMC's (watch for 0:42 – Fly Swatter,  2:55 – Violin Bow 3:35 – Oversized Record)

Body tricks are a rare sight in DJing these days, but they can still look really flashy if you pull them off well. They take lots of practice, and you have to be in good physical shape to perform them. If you can manage to pull off a few body tricks during your set, you just might steal the show, and win yourself a few new fans! Controllerists – consider adding body tricks to a routine with your controller and going beyond the movement in relation to turntables.
One of the best examples of well-done body tricks is this classic Roc Raida routine from DMC 1996:
More inspiration: DJ David, DMC World 1991 (watch the b-boy move at 6:05) and Cutmaster Swift (watch the sequence of body tricks at 8:15). 

Stand out onstage by customizing your DJ gear and/or instruments – you could think of this as a costume for your kit.  We've seen DJs color coordinate their equipment with a show's theme, or their outfit, etc. 12Inchskinz is a company that allows you to design templates for your DJ equipment, including the S4 and the S2. Controllerists of course could consider rocking DJTT's own Chroma Caps, while DVS users can get custom vinyl labels made over at FakeMake.


If you'd like to really advance the level of your shows, it's highly recommended you find a sponsor. Partnering together with a sponsor will give you a bigger budget to work with, which is always helpful when you're creating a great stage performance.  No matter what your budget, remember it's always possible to make something unique if you use your creativity and choose a few talented people to collaborate together with.
Most of all, remember to have fun while creating and performing at your great show!
What DJ and producer live shows have you seen that have been made more memorable due to a great live show? We want to hear your ideas and thoughts in the comments below.