Forget what you knew about Algoriddim djay and find out what's in store in this massive version 2 update, which launches today in the App Store. Known up until now more for solid performance than whiz-bang features, djay 2 checks a huge list of goodies off the want list: waveform view, effects, a sampler, beat grid editing, improved syncing, colored waveforms, and much more. Is one of the first iOS DJ apps now one of the best? Read on.


Reviewed: Algoriddim djay 2 app (on iTunes)
Price: $4.99 (iPad)/$0.99 (iPhone) for the first week, then $9.99 / $1.99
Available: Now
Requirements: iPhone 4 or newer,  iPod touch 4th generation or newer – running iOS 6 or later.
iPad 2 or newer, and iPad mini – running iOS 6 or later.
The Good: Huge new feature set, including parallel waveform view, sampler, track preview, effects, x-y pad, colored waveforms, Slip mode and Sliced Beat mode. Excellent, glitch-free performance on an iPad 3 or better. Crossfader features like one-touch fade and transformer switch.
The Bad: Can't make playlists within the app; you have to make them in the Music app. Uses iCloud for cloud syncing. Its desktop software counterpart can't compare to Traktor Pro.
The Bottom Line: With its first major update, dJay 2 has truly become a whole new program, with enough performance features to match or exceed any other iOS DJing app. It can't offer the same integration with professional desktop software as Traktor DJ, but it's worth every bit of the introductory price and then some.
VERSION ONE PLUS ONE EQUALS DJAY 2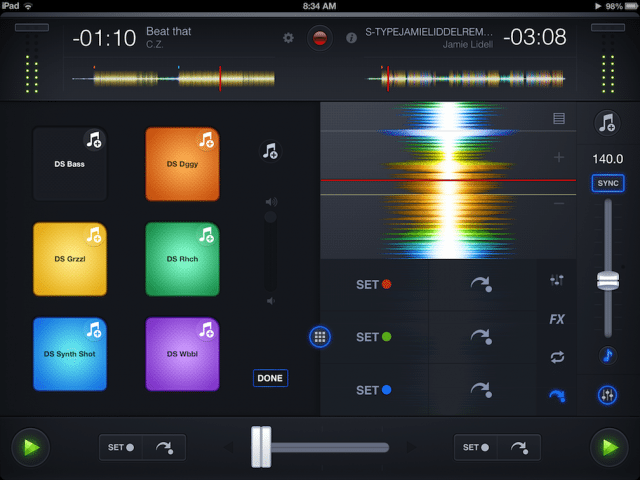 Algoriddim entered the iPad DJ app game relatively early, launching djay for iPad in late 2010. Its turntable-based interface and fairly limited feature set lead some people to write it off as watered-down version of the already beginner-level djay Mac software. Although djay for iPad was still good for a quick spin through your music collection when stuck on a plane, when higher-level apps like d(–)b and Traktor DJ came on the scene earlier this year, it appeared as though djay had been left behind. Realistically, it had been – until today's launch of djay 2. 
We accessed the gold master of djay 2 for iPad before the launch to test it out, and it is an uncommon update, in that it truly doubles up on the app's features and usefulness. djay 2 adds so much over djay 1.6.5 that it almost defies a quick summary, but some of the major points include:
a waveform view with parallel scrolling
a sampler with performance pads
many new library features such as instant preview
performance tools like Sliced Beat mode + Slip Mode
an x-y axis pad for effects and loops
Some things have not changed. Most importantly, djay 2 supports all the same hardware controllers as the previous version.
MIXING & WAVEFORMS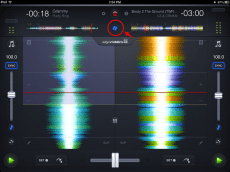 For every person who appreciated the old-school turntable look and feel of the original djay app, someone else thought it was missing the boat on the modern method of waveform mixing. Djay 2 bridges both worlds. The app launches in turntable view, but touch the waveform icon between the two decks and the view toggles to parallel-scrolling waveforms.
You can still touch the waveforms to scratch and manipulate them in same way as the turntables, and there is even a new Slip mode that you turn on by touching SLIP in the waveform display. Slip mode lets you scratch the waveform, and when you're finished, the music snaps back into place, still in sync with another track if Sync is enabled. While scratching in Slip mode, the waveform doubles to show you both the scratched wave in the foreground, and in the background, the scrolling in time waveform that will snap back in sync when you're finished scratching.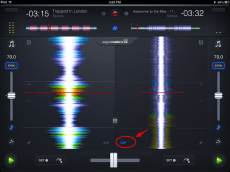 With djay 2's improved analysis and beat syncing, you can easily see the scrolling beat grid in waveform view, whether you mix with Sync enabled or more traditionally with the pitch fader. Djay 2 also adds a simple beat grid editing feature. To adjust the beat grid, line up the playhead to the downbeat spot on waveform and touch the pencil icon on the wave display. You can then set the beat grid to the new location or reset it to the original location.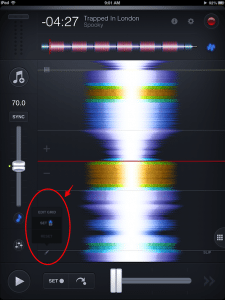 For some instant clip-juggling fun, the Sliced Beat mode delivers. With a track playing or paused, you click on the grid icon in wave display, and the app creates four 1-beat slices in real time that you touch to play. With the song playing, the beat slices scroll along with the track, and you can jump around on them. Or with the track paused, the beat slices become like instant cue points or samples at your disposal.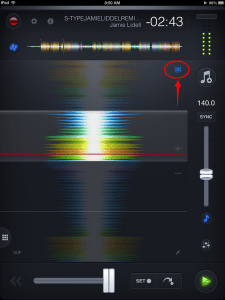 Djay 2 utilizes colored waveforms both in the zoomed-in waveform view and in the full-song Spectral Timeline at the top of each deck. However, the two waveforms are color-coded in different ways. The Spectral Timeline uses color groups to identify parts of songs like intro, verse, and chorus, while for the zoomed-in views, the waveforms are color-coded according to frequency, so that elements such as kick drum, snare, hi-hat, etc., each have a different color.
Fans of the turntable view should appreciate the attention to detail that djay 2 brings in the form of virtual vinyl grooves. Using the track analysis, the app renders virtual grooves into the vinyl graphic that mimics the look of the groove on real vinyl, so you can identify breaks in the track.
And whether in turntable or waveform view, you can toggle from the dual-deck to single-deck view by turning the iPad or iPhone from landscape to portrait view.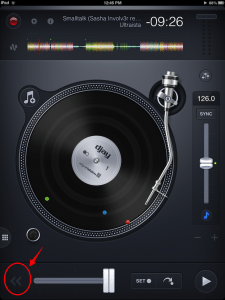 NEW LIBRARY FEATURES
A much-improved music library treats djay 2 users to helpful new organizational options. Buttons toggle the library from a pop-up window to full screen and from a low-light to bright-light display.
Djay 2's improved track analysis stores tempo, Beat Grid, waveform, and auto-gain settings per song, and you can also sync that analysis data to iCloud for use on a Mac or another mobile device. You can analyze either the entire collection or one playlist at a time, but you can't create new playlists in djay 2; you have to use the built-in Music app instead.
However, a new Queue column in the Library lets you create a shortcut list of songs to play next. Swipe a song to fast-add it to the Queue, or hold a song to bring up the following options: Load, Add to Queue, or Preview.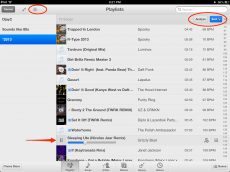 Instant preview is new to djay 2, and you can headphone-cue music using either an audio splitter out of the headphone jack or an iOS-compatible audio interface. For example, the Native Instruments Kontrol Z1 worked as an audio interface with djay 2 for headphone cueing, but not as a MIDI controller (so far, the Kontrol Z1 only works with the Traktor DJ app on iOS). 
Also new to the library, a Sort button lists tracks by BPM, title, artist, or time in ascending or descending order. The app also automatically saves your song selections by session under the History button.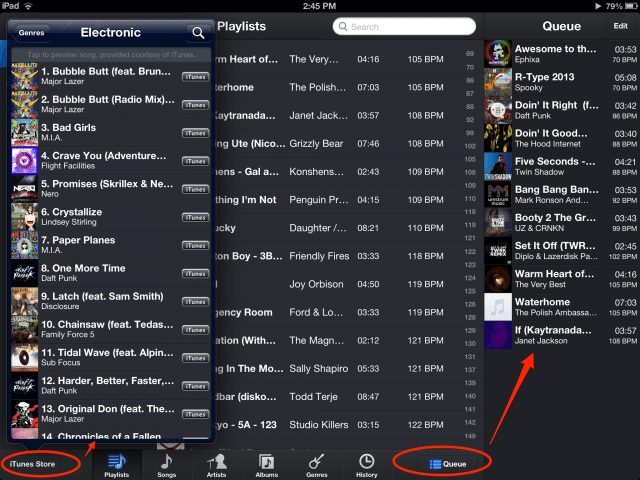 SAMPLER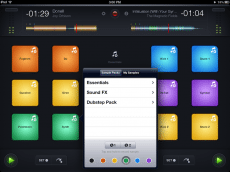 Twelve sample pads hide underneath the main deck views of djay 2, and you access them with a button-grid button in the center of the display. Tap the button to reveal all 12, or hold and drag to reveal the sampler one side at a time.
Djay 2 comes with three preset banks of 12 samples each: Essentials, Sound FX, and Dubstep Pack. Each bank holds a variety of drum, synth, and sound effect samples from the standard foghorn and gunshot to dark and dirty dubstep wobbles. You can set any pad to any of the samples you want, and color-code the pads to any of six colors and then save your template as a preset to recall later.
Better still, you can record samples on the fly from either one of the playing decks, where it will be instantly playable from one of the pads. 
MORE LOOPING AND EFFECTS GOODNESS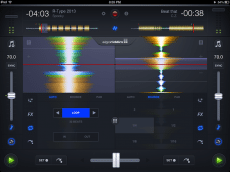 Each deck has a pop-up window that holds EQ (3-band plus gain), effects, looping and cue point (three per song) functions. Both the effects panel (new to djay 2) and loop panel benefit from a Kaoss-style x-y axis pad for live manipulation.
In the case of the looper, the x axis controls loop length, and the y axis controls a lowpass-to-highpass filter. Two other loop modes let you create loops manually or automatically from 1/16 to 32 beats, and the Bounce mode sets instant loops that repeat for as long as you hold one of the six buttons.
There are five choices in the new effects engine — flanger, phaser, echo, gate, and bit crusher — each with two editable parameters. In manual mode, you can tweak the parameters with two sliders, or use the Pad mode for the x-y axis. Instant effects mode gives you six buttons that apply one of the effects for as long as you hold it.
PERFORMANCE
Many of djay 2's numerous enhancements would seem to add a fair amount of processor load to an iPad of iPhone: Slip mode, effects, beat slicing, the sampler, and track preview, not to mention keylock and time stretching.
We tested the app on an iPad 3/iOS 6.1.3 and tried to load it up with as many simultaneous tasks as possible. No matter what though, the app performed smooth as butter, whether we were previewing a song with two looped and effected tracks playing, playing the sampler and Slip mode simultaneously, or any other scenario.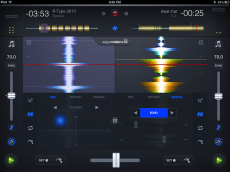 Although most of the music we played with djay 2 was already quite DJ-friendly, the app's track analysis and beat syncing produced as accurate of results as full-priced desktop software, and with cue point and loop setting snapped accurately to the beat grid, it was no problem creating seamless mixes with djay 2.
The keylock and time stretching sounded natural all the way up to the maximum range of +75% and down to about -30% before there were noticeable artifacts in the audio. Also the responsiveness of all the controls, including the sample pads and beat slices, left nothing to be desired.
The only lag we could even comment on was a small delay in opening the library when the app was already quite busy, but that luckily had no affect on the integrity of the audio playback. Overall, it's a full endorsement of djay 2's performance on an iPad 3 or better. 
HEY MR. DJAY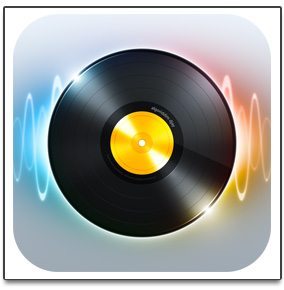 Since the iTunes store doesn't have upgrade pricing, anyone can grab djay 2 for the first week starting now at $4.99 for iPad and $0.99 for iPhone.
For those who aren't interested in mixing with djay 2, either solely from the touchscreen or with a compatible controller, the app still has some value simply as a sound source. With many performers using iPads either as remote controllers, or as hosts for instrument and sampler apps, djay could be added to the toolkit for performing with its Sliced Beat mode and sampler, creating sampler presets from songs from your collection.
To that end, there are some things Algoriddim could implement to make djay 2 even more useful, such as the ability to import any sounds into the sampler and letting you route the sampler through the effects. Somehow separating the EQ, effect, looping, and cue point panels into separate windows would also enhance the performance flexibility of the app.
Perhaps the one thing separating djay 2 from Traktor DJ as a professional tool is its desktop software counterpart. Like Traktor DJ, djay 2 saves metadata for each track and can sync it over the cloud using iCloud (Traktor DJ uses Dropbox) for use on the desktop Mac djay software or another iOS device. Of course, djay for Mac doesn't have the same professional feature set or user base as Traktor Pro, which makes it less attractive as a track preparation and practice tool.
Besides that, however, djay 2 has done just about everything right to keep itself at the top of the heap of consumer iPad DJ apps.
Markkus Rovito is the DJTT Tech Editor – got a review you want him to do? Let him know in the comments.