Just announced today, the merging of Serato's DJ softwares has begun – bringing DVS support to Serato DJ with the launch of  a new version of the program, 1.5. The announcement comes in tandem with three new pieces of gear: the Rane Sixty-Four mixer, a Pioneer DJM-900 SRT Serato DJ Edition, and the Pioneer DDJ-SP1 controller. Read on for all of the details.
SERATO DJ 1.5: DVS SUPPORT
As many industry experts predicted, developing three different programs (Scratch Live, DJ, DJ Intro) would serve only to frustrate and bog down Serato's development cycle – and that a unification between them would be inevitable. Today we get to see the complete plan:
October 2013: 1.5 Release – Vinyl and CDJ control added to Serato DJ for the new mixers
December 2013: 1.6 Beta – Beta DVS support for Sixty-Eight, Sixty-Two, Sixty-One, SL2, SL3, SL4
February 2014: 1.6 Release – Full DVS support for above mixers + soundcards
Serato is bringing their trademarked NoiseMap DVS technology from Scratch Live into Serato DJ, meaning that you're not going to need new timecode CDs/vinyl, and that it will continue to be the same reliable engine that DVS users have grown highly accustomed to performing under pressure.
End Of The Line: Of note, the Rane SL1 and Rane 57SL will not be receiving DVS support – apparently the technology in the soundcards in each is too limiting to be supported in Serato DJ.
Watch Serato's CEO Sam Gribben detail more information about the future of Serato Scratch Live, Serato DJ, and more in the video below:
NEW MIXERS + CONTROLLER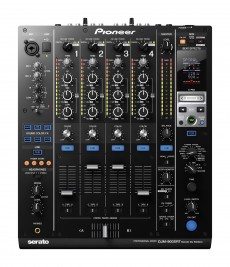 Pioneer DJM-900SRT
Release Date: October 2013
Price: $2,799 MSRP
For the first time ever, Pioneer will be offering a plug-and-play Serato-compatible DJM mixer – a Serato DJ version of the popular DJM-900 unit. The unit has the exact same layout as the DJM-900 Nexus, with the same Beat and Color FX that many DJs are familiar with.
The only difference of note is that the mixer has four Phono level inputs – while the Nexus version only has two. While it's great that now Serato users will have easy access to a Pioneer DJM mixer, we're concerned that this will only make things a bit more confusing for DJs with two nearly identical models that are only plug-and-play compatible with certain softwares. You'll have to know if the club has a Nexus or SRT model in order to tell if you need to plug in your own external soundcard or not – no fun!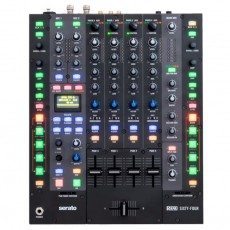 Rane Sixty-Four
Release Date: October 2013
Price: $2100 street price ($2749 MSRP)  
The Rane Sixty-Four is, at first glance, nearly identical in layout to the Rane Sixty-Eight mixer – albeit with a price tag that's about $500 cheaper. With dual usb ports, built-in feature control and soundcard routing for Serato DJ, and a post-fader USB insert FX feature, the feature set holds true as well. Noticeable additions include Sync and Slip buttons on each of the Serato DJ control strips – features that weren't around when the Sixty-Eight was being designed.
While Rane is touting this mixer as a four channel Sixty-Two, it feels very much like the Sixty-Eight has had a bit of a makeover for this Serato DJ launch.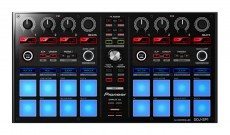 Pioneer DDJ-SP1 Controller
Release Date: October 2013
Price: $499 MSRP

The SP1 is designed to take some of the most interesting features from the Pioneer DDJ-SX and put them into a standalone controller that complements DVS and mixer-only setups that might otherwise ignore some of Serato's advanced features. Hotcues, Rolls, Slicers, Samplers, FX controls/assignment, deck loading, slip, censor, and looping can all be controlled with this unit.
It's very much a modern version of the Denon HC-1000S, which was designed to give DVS users access to some of the transport and loop controls without having to use a keyboard or mouse.
More details on the Pioneer products later tonight or tomorrow. Initial reactions to the new direction that Serato is taking? Let's hear your thoughts in the comments below!