Ready for a wireless, cheap controller that gives you control of almost everything in Ableton? Today we're looking at the brand new Touchable 2 app from Zerodebug. Find out how it stacks up against the other Ableton iOS control apps out there – and against the Push hardware itself.
Reviewed: Touchable 2 iOS App
Price: $24.99 (on iTunes store)
Communication: Wi-Fi (works best with an Ad-Hoc wireless network)
System Requirements: iOS 5.1 or later  – iPad only

The Good: Completely rebuilt, browser, flexible workflow. The app is like having a Push in your iPad. Tight control over clips, mixer, transport, and devices.
The Bad: Unable to browse user library. Feels crammed at times.
The Bottom Line: Touchable has made the definitive Ableton touch controller. There's very little this controller can't do. 
REBUILT AND REFINED

Berlin-based developers Zerodebug originally launched Touchable for iPad control of Ableton Live back in 2010. In its first iteration, the app offered a flexible split screen workflow. Users could choose to split between clips, mixer, devices, x&y pad, or keys and drums.
Last month, the second version of Touchable was released after nearly six months of teasing. In Touchable 2, Zerodebug has kept most of the same workflow as the original, but completely refined and rebuilt the app (and it shows). The performance is smooth and snappy. Even without running an ad hoc wireless network, there was almost zero latency between the iPad and Ableton. Clips launched immediately upon being touched, the transport section would play and stop instantly, and playing a drum rack was super responsive. Watch their app overview video below:
NO PUSH, NO PROBLEM

Touchable 2 takes the best parts about the Ableton Push controller and shrinks them down into an iPad or iPad Mini (the app is compatible with all iPads, even the first generation). Here are the main features Touchable 2 aims to emulate and enhance, versus the pricier hardware solution of purchasing a Push:
Isomorphic keyboard with adjustable scale and key mode: lets anyone easily play scales and chords in key so everything sounds great – just like found on the Push

Browser: It's possible to load new instruments and clips without having to go back to your computer (you can also add/delete clips and tracks)
Flexible split screen workflow: This even surpasses the Push. It's possible to have a number of split screen combinations to suit your workflow: Device + clips, pads + mixer, clips + pads, mixer + device, etc.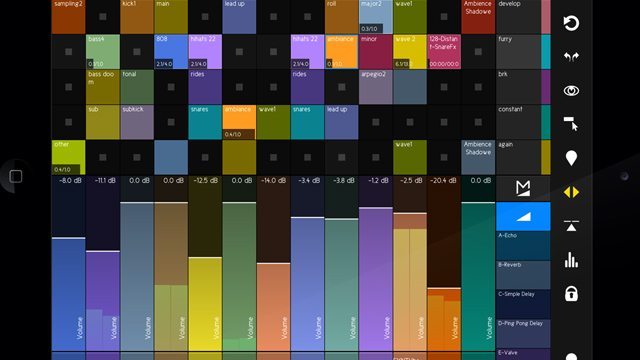 Clip view: Another benefit of Touchable over Push is that it displays what is actually in the clips that you're triggering, one more reason to stop looking at the computer.
Transport: Transport controls are persistent, which means they're always there at the top of the screen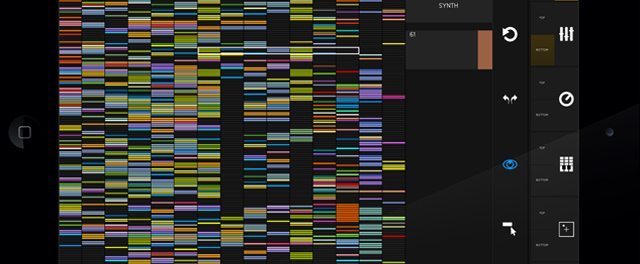 Of course, the iPad app has a few of the obvious drawpacks – you don't get any velocity sensitivity that you would on the pads, and there's no tactile feedback from tapping a glass screen. If haptic feedback is important to how you perform and interact with your sets, a Push might be more up your alley.
ONLY ON TOUCHABLE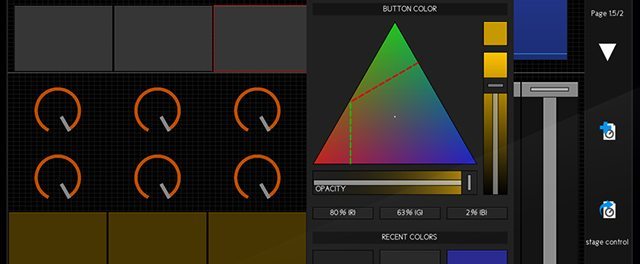 Having a touch screen as your controller allows for unique features – and Touchable 2 doesn't disappoint. One of the big features is the ability to design your own template from a selection of buttons, sliders, knobs, XY pads, labels, and boxes. These controls all snap to a grid and are easily resizable. If you run out of room, just add additional pages to your template.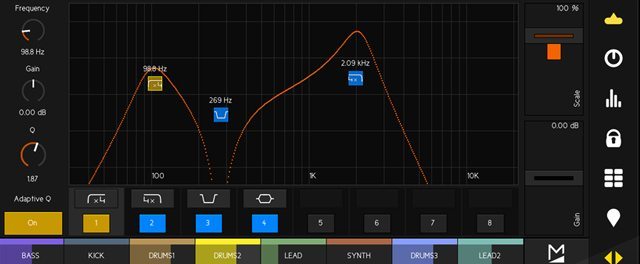 Another unique feature of Touchable 2: graphic devices. Where other controllers offer a numeric display of most devices, in Touchable 2 Audio Effects like Auto Filter, EQ 8, and Ping Pong Delay appear on your iPad nearly exactly as they do in Ableton. Touchable also makes it very easy to see the entire device chain of a track and select which device you'd like to control.
Finally, the assignable XY pad and touch faders enable unique control possibilities. It's possible to have faders quickly snap to new values with a quick double tap. Using this on an effect like Beat Repeat gives you the ability to quickly jump between rate values. The big XY pad gives you more space to sweep and move FX compared to a simple knob.
THE COMPETITION – IS TOUCHABLE  KING OF IOS?
Since Touchable first stepped on the scene in 2011, there have been a number of other touch device offerings for Ableton users that have come out. The standout entrants come in the form of two major competitors, Live Control 2 from Liine and Conductr from Patchworks:
Live Control 2 offers a lot of similar control: clip launching, devices control, mixer, transport, and an isomorphic keyboard. This app is based around Liine's Lemur application.
However it misses the mark by isolating a lot of these controls from one another. It's not easy to arm a clip, record a sound and automate device controls from the same window. You can launch clips but you can't modulate any devices at the same time. It also carries the highest price tag as it requires the Lemur App ($49.99).
Conductr arrived this past August with a simple focus on three areas: clip launching, mixer, and master section. It handles these areas beautifully with a clean interface and it can be split into sections (similar to Touchable).
Conductr can also control devices through user modules but not without some work – users map these modules and assign parameters on their own, which is a bit more complex. A feature that's unique to Conductr is the ability to control user modules without looking at the iPad. Users can control specific faders based on how many fingers they have on the screen (for example, to control the second fader, you'd use 2 fingers, and it would only slide the second fader). Although it provides some great controls in a beautiful package, the price point may seem high and the features limited when compared Touchable 2.
CONCLUSION + WIN A COPY OF TOUCHABLE 2 
Because of the similarity to Push and the seamless workflow, it's almost hard to believe that Touchable wasn't designed by the guys at Ableton themselves. Touchable offers a tight, flexible workflow that can be adjusted to suit anyone's needs. Using it to perform? Load it up with clips and a mixer view. Need to record? Load a sound, arm a clip, and start playing with the isomorphic keyboard. The team at Zerodebug has created a controller that rivals the Push in the hardware space, and almost completely leaves the competition behind in the app space.
Zerodebug was kind enough to offer us three free copies of the software to give away for our review – just use the widget below to enter.