Native Instruments has released a new update to the iOS-only Traktor DJ app, version 1.5, with the most prominent new feature being a brand new performance mode, SuperSlicer, that combines a number of different effects into one. Watch it in action in the below video, and then read more below the embed:
HOW THE SUPERSLICER WORKS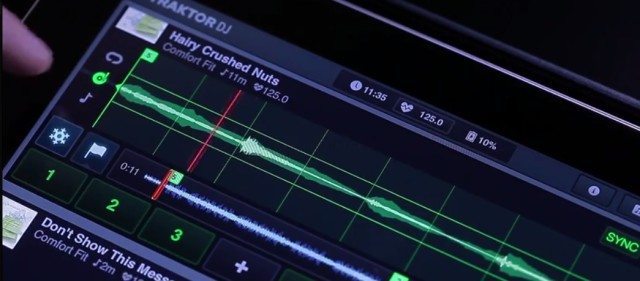 If you watch carefully, you can see that turning on the SuperSlicer pops out three new icons to the immediate left of the waveform (pictured above), each of which correlate to a different set of on-waveform touch effects. Touch one of them, and a second vertical axis grid is added to the track, splitting it into three parts, each of which are a different level of the selected effect.
Loop Stutter FX: loops the beat being touched, similar to a loop roll. Shorter loop rolls are the highest part of the waveform (top grid), longer are at the bottom.
Turntablism FX: three different effects – brake (top grid), "scratch" (middle grid), and reverse (bottom grid)
Pitch FX: A bit more basic, but this mode lets you temporarily pitch each slice up or down (top and bottom grid)
Adding to these three modes is the fact that you can use two fingers to pinch across the waveform and apply the effect to a whole section of the current loop – demonstrated in the video at 0:28 with the Reverse effect.
Traktor DJ's new powerful SuperSlicer doesn't come free with the app – you'll have to purchase it as an in-app purchase for $1.99 on the iPad version or $0.99 on the iPhone.
OTHER NEW TRAKTOR DJ 1.5 UPDATES?
While the SuperSlicer takes the main spotlight on this update, there were a few other small changes made to the app for the 1.5 version:
History Playlists (a much-requested feature by users) keeps track of every track played in a session
BeatGrid Enhancements hopefully will have fewer users reaching for the "Grid" button every time they load a new track. The enhancements also include "Pinch To Zoom" and "magnetic snapping" while in the Grid mode
a number of bugfixes for the track browser
enhanced performance on the latest iOS devices
We're really hoping that Traktor Pro will soon finally get some of these features that Traktor DJ has been championing strongly, including this new SuperSlicer but also the older track recommendation and Freeze Modes.
Traktor DJ is available on the iTunes App Store.