Technical vs Producer vs Club DJ Careers: Which One Is Right For You?
We hope last week's article on the lifespan of a DJ inspired some of you to consider that DJing can offer some compelling career opportunities. Just like any career, outcomes vary wildly depending on your specialty and prowess. Today we look at three different types of DJs that you could become and the differences between these paths technically, creatively, and financially.  If you're thinking about getting into DJing, there's a number of ways to approach it, and today we take a look at some of the opportunities that each path presents.

The producer DJ is the primary path to success in the current state of DJing, replacing the long standard route of "The Mix DJ", which is now so outdated the profile doesn't even make it into our list. 10 years ago it was possible to release great mix CDs, play shows, build a solid following, and tour the world without ever writing a single note of music. These days it's an absolute requirement for getting a foot in the popularity door. While not the only option, making a name for yourself based on your production skills is the main way to get booked in today's electronic music world.

The producer's reputation is built on music they create, so equipment is usually studio-based. However, some of the most popular producers today didn't get started with traditional studio setups – many were just using a basic PC and a pirated copy of Fruity Loops! Here are a few of the most commonly required elements they do have:
Basic soundcard with I/O for mic and instruments (here is a great list) 
Good near-field monitors – the KRKs are very popular affordable option with producers
A solid computer with sufficient RAM and hard drive space – the most cost-effective option here is a generic Windows tower, even though Apple laptops are certainly more en-vogue
DAW for music production – Logic, Ableton Live, Pro Tools and FL Studio are all popular options.
Sample library or drum machines and plugins: Maschine, Komplete softwares come packed with loads of samples and sounds, or alternately analogue(ish) options like the new Roland 828 are increasingly popular for beat production
A basic assortment of plugins and synths (here are 5 essentials every producer needs) 
A good array of production magazines, forums, YouTube channels and meetups – learning and developing techniques will be critical for success! Dj TechTools San Francisco holds local meet-ups and creative classes. 

There are a variety of ways to build your name as a producer, but we'll just choose this common route to fame/fortune as an example:
Publish basic remixes/edits on Soundcloud while developing a sound.
Make free official remixes for friends/labels/contests or start releasing your own bootleg remixes (low risk)
Release a few tracks (without expecting much) and give them out for free (the goal is to get traction)
With the right traction, start to look for paid remix requests
Release more original music and keep adding flames to the fire!
"With the old school house thing it was just a matter of it shrinking – the industry, the attendance at shows, record sales, people were getting old and growing out of it, and new young kids were listening to more commercial stuff like electro at the time. i wanted to make an impact and that meant having my music heard by a lot of people – it was never going to happen with that old house sound, i changed styles mainly because i wanted to play some kind of a role in music / music history, shaping its direction, and in order to do that I had to find where the broader audience was. Then I applied MY ideas and tastes to that niche of the market and eventually accomplished what i set out to accomplish"  – Wolfgang Gartner

Many successful producers cite a fairly regimented process that keeps them making music even if the inspiration well is temporarily dry. Most spend at least 1-3 hours per day on each of the following activities:
Researching new technology and developing technical chops with their chosen gear
Writing music in a "sprint" fashion: starting and finishing a single idea in a predefined period of time (usually 2-3 hours) and always finishing
Promoting the tracks and reaching out to partners, labels, other DJs to work up new opportunities
Preparing for that week's gigs including doing custom edits and finding new tracks from other artists
"I figured out that I'm only able to focus completely on what I'm doing when I slept enough and took care about eating enough. Since the beginning of this year I eat complex carbs for breakfast and I feel a difference in the ability to concentrate. Making music is a very tiring activity, it seems that our brain calls for a lot of calories. so – if you're somewhere stuck, think about a little break, eat something and sleep the amount you need. I know this is a very basic thing, but its a very important basic for the ability of doing good work in general." – Stimming
With all the glitz and glam of EDM these days, who would not want to be a famous producer DJ?
There is one part of the daily routine to absolutely keep in mind when considering this route: acts at this level depend on DJ shows to pay the bills and those are always on the road, so this means traveling great distances every weekend for years. Try to imagine DJing till 4am, sleeping for 3 hours, flying for 12, going to dinner, DJing till 6am, sleeping 2 hours…. rinse and repeat.
When you also throw in bad food, regular drinking, and a lot of drugs,  it's not hard to imagine just how rough the lifestyle can be. For those who aren't cut out for it, this could be a terrible choice.
That being said, there are loads of people who tour as successful producers and manage to not only maintain a healthy road routine but also keep stable families back home, however they are usually the exception, and not the rule.

The producer DJ benefits from rapid, sometimes meteoric rises to fame thanks to big hits and a hungry EDM market. Those same producers can also suffer from rapid tumbles from grace thanks to fickle trend setters. Wise production-based DJs like Moby or Junkie XL have written music which has had a very healthy licensing career, offering a reliable income long after the gigs slow down.
"When I started Junkie XL, I knew that my music was so underground that in order to get more of an audience, I should try and get my music in games and movies and stuff like that. […] there are two different ways in which music is being used in videogames, and the same goes for movies. There's the soundtrack, which is technically licensed music – music that's already been done, that's already out there, and they use it for their own purposes, and they just make a deal with the publisher and the record company. In that respect my music has been used in so many movies and games, I don't even know in which one. I just see it on statements every now and then, I don't even know." – Junkie XL
Don't expect to make any money selling your music to DJs or even fans these days. Most of the revenue comes from touring, and the income there can vary wildly depending on demand. Booking fees from $1k to $300k per show are paid on a weekly basis and likely to continue if the market holds up.
Many DJ producers like Richard Devine and DJ Spooky end up going into successful, albeit slightly less glamorous careers in music production for games and movies which can offer a long-term stable career option for those who get good at writing great songs.
"Working in this industry which is constantly changing I think it is very important to know how to be flexible with ever so changing trends with new gear. Now more than ever its very important to learn many things, and play the role of the producer, writer, sound designer, field recorder, engineer." – Ricard Devine
Bottom line, this is a good path if you can get in, make it big, save some money, and get out relatively quickly – and then live out a life of leisure on licensing royalties and cinema gigs. The only problem? Only a tiny percentage of those who try actually make it, so it's a bit of a long shot.

For those looking to have a reliable income, and a very good chance of success without all the travel – then sticking to local digs may be a solid path to follow. There is a long history of local resident dj's who make a decent living playing music 2-5 times a week while maintaining a fun lifestyle that affords other musical pursuits.

The local DJ needs to be flexible, and play on a wide range of gear that might be present in the venue. In Europe this will often mean CDJs with a Xone mixer and in the US either a turntable/Serato setup or a CDJ/Pioneer DJM combo. Most local DJs do have full setups with club-quality gear at their home to practice and record mixtapes but it's not a requirement early on.
The most important factor here is to be flexible and familiar with a wide range of gear. Local DJs should know how to operate the following equipment very well, as they are often responsible for setting up and even fixing it in the event of failure:
All common club install mixers
All common CDJ lines
The ability to mix manually with control vinyl, CD or HID is clutch
A big range of music
Subscriptions to quality record pools
A good network of DJ friends who can swap gigs and help out
Basic understanding of mixer signal flow for trouble shooting audio problems

This one is pretty well-trodden and just requires some tenacity and hard work to crack open. Go down to your local bar and offer to play for free. Club owners get barraged with mix tapes and emails saying "book me" but the response is almost always no. To get the edge on your local DJs and grab the gig here are some key tricks:
Be Present: something will come up, and if you are front of mind, the gig is yours. That means showing up and checking in often to see if anyone needs some help.
Offer to play, any time, for free and show that you are reliable, trustworthy, and capable of doing a rocking a dance floor. That will sell a club owner much faster than a nice mixtape and email.
Fill in or open for friends. Club owners trust their residents, so when your buddy has to go off to Vegas for a weekend, or needs an opener because he's double-booked, then offer to play. You are likely next in line for that slot, should it ever come up.

The local DJs job these days is not only about DJing, but also promotion. Many club owners expect DJs to also draw some kind of a crowd, even if it's just a group of your best mates. Here are key parts of a typical week:
Trolling the top 40 charts, Hype Machine, and music blogs to find out what music people will expect to hear and some decent remix that you feel good about playing (this can get old and lead to "pop burnout")
Recovering from your late nights and 3-5 gigs per week (this can get really old fast and is a fast track to tinnitus or a booze habit – so be careful)
Building an email list and managing it
Sending out weekly text, email and Facebook promotions to keep your gigs hopping. This will take up a lot of time unless you're the lucky few who are good enough to not promote.
Going out to other parties to stay visible in the local scene and scrounge up new gigs
Preparing and culling the music collection religiously: residents and local DJs almost always play the full night with sets ranging from 3-8 hours. Since the music is usually fairly diverse, this requires a huge collection of well-managed music. Most of your days will be spent tuning, cleaning and refilling this critical resource.

The local DJ can be fairly successful financially if they work hard and sticks to it. Depending on the market, regular gigs will earn from 200 to 900 dollars and it's not unreasonable to have 2-4 booked every week. If well-structured, that can mean a good 50k-90k per year, with only 20 hours of real outside work – but tack on all the prep and promotion and this rapidly becomes a full time gig. That being said, many local DJs have fun lifestyles where they work at night and play during the day. Many of my friends in San Francisco fall into this camp and have built 15-year stable careers from playing the local bar/club circuit.
It should be said that breaking out of the regular "local DJ" mold and into the big time is a hard uphill battle that few have ever accomplished. This a good option for regular cash, and a fun, relaxed lifestyle without a lot of travel.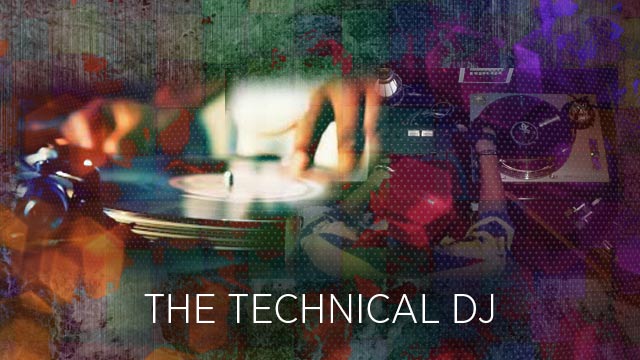 Last – but not least – we have a small group of dedicated DJs who have built reputations and careers through their technical prowess and artistry in action. These include all of the famous turntablists such as Q-bert and Mix Master Mike, and most recently even a few "controllerists". There are even a few examples of DJs who built up big followings based on their technical mixing skills like Z-Trip, Jazzy Jeff, Jeff Mills, and Carl Cox. While some may argue this is the most pure of pursuits, it's probably also the hardest to succeed at.

This can run the gamut, but don't expect to cut any corners. Purchasing the best equipment and updating it regularly will be a critical part of growth. I can't give you a definitive gear list but here are some items that might help in the quest:
Mirror for watching yourself scratch
Camera and a tripod for recording and watching back routines to fine tune and improve
A big calendar for keeping track of the practice routine

Practice, practice, practice. To break out in this field requires becoming "best in the world" at some part of your craft. That only comes with hours on the decks and yes – the 10,000 hour rule probably applies. Regular, repetitive practice is required for building up muscle memory and developing technique.
"The biggest thing I tell people is that it's really important to work hard and that nothing comes out of thin air. No matter what stage you are in your career, you still have to really work hard. It may seem like all these guys like Hardwell are young and overnight success stories, but they have been putting about ten years in. Hardwell spent ten years DJing and producing. It's about how many hours you put in and what your attitude is." – Morgan Page
Working with other DJs and watching their technique to pick up new skills and challenge yourself creatively. This is very much a game of one-up-manship where everyone innovates and creates variations on other players themes, so it wont pay to be locked in a room.
Develop your musical chops through practicing other instruments. Many successful technical DJs have other musical skills which ground and enhance their DJing abilities and ear for things that "work".  Since you are attempting to turn DJing into an instrument, it pays to know how the traditional ones work.
"No tutorials, no books, just trial and error from 1993 to now, in a room with a bunch of gear." – Wolfgang Gartner

There are a few more common routes, but in all cases this requires some kind of a breakout. In the past winning a big contest like the DMC or Red Bull 3style was a sure ticket to the big time, but these days even those events don't have nearly the exposure required to break through the noise. Jazzy Jeff had a TV show of course, and Mix Master Mike toured with the Beastie Boys. Mike Realm scored big with his Blue Man Group tour and many scratch DJs end up getting their biggest exposure on stage with bands. Joseph Hanh for one, has been touring with Linkin Park for over a decade.
Lately, there is a new path to success – which in some ways I may have helped define early on with my performance videos on the Kontrol S4 and Kontrol S2 (together clocking in at 10million views to date). You all know the one – it's the YouTube viral controller performance! Madeon is now signed to Sony and tours the world play some really serious festivals and many other acts have broken thanks to a viral performance video.
My best advice here is to get really good and stay extremely disciplined. You never know where that big break will come from, so just be ready to nail the performance and hope some one is recording so it ends up on Youtube.

This one is all about parlaying exposure into success into other territories. I hate to break it to you, unless you launch out into the pop territory, there is not a big career in playing underground technical shows. They are exhilarating, pure, beautiful, and well-loved by a passionate group of fans, just don't expect to get rich financially. Instead, most artists have branched out into other areas. Qbert runs his excellent Scratch Academy and Thud Rumble. I design DJ controllers and moonlight as a Tarot Card reader on Sundays. It requires a bit of "pivot" mastery, but if well done then succeeding as a technical DJ can be rewarding and offer lifelong opportunities.
Thanks for your time, and patience in reading this quite lengthy article – we hope it inspired or at least got you thinking.  In closing, while it's recommended to have a goal in mind some of these paths might end up choosing you. Pay attention, and listen to the opportunities that come up,  I promise at some point you may be very surprised under which rock success eventually lies.