DJ Sound Cards On A Budget: Reloop Play, Traktor Audio 2 MK2 & Griffin DJ Connect
With so many great DJ apps out on iOS, there is a need for affordable sound cards that can provide both headphone and master outputs for phones or tablets. Controller DJs also need a good sound card, and can play a very decent set with just two channels of audio and a small controller like the Kontrol X1. Fortunately, we've found three great options – the Reloop Play, Traktor Audio 2 MK2, and Griffin DJ Connect – in the market around $100, so read our round-up and comparison inside.
RELOOP PLAY  ($129): SOUND CARD AND MORE

The Play is a very straightforward take on an audio interface, and that's in its favor. Its all-plastic construction feels very solid in the hand, with no flex, and the volume knobs on top are equally reassuring.
It has two stereo outputs, both on RCA phono connectors, and there's a switch to route the second output to the 1/4" headphone jack on the rear of the unit instead, meaning you can either drive two channels for external mixing, or a master output/headphone combo for internal mixing. For 'pro' use, I prefer the RCA jacks found here.
Power and data is all sent via a mini-USB connector; there's no option for an external power supply, but thankfully, even over bus-power, the Play is loud, punchy, and offers good sound quality.
The Play does require drivers, both on Windows and OSX. As a Mac user, I'm quite accustomed to devices being plug and play, so it took me a minute of wondering why the Play wasn't working correctly before I even considered looking for a driver on the Reloop site. That lack of Core Audio does mean that the Play won't work with iOS devices, full stop. I did give it a try with Apple's Camera Connection Kit, but no dice.
In summary, the Play is a great choice if you don't want to use iOS; it's compact, loud, and works on both Windows and OSX. The only downside is the price – at $130 , it's a touch higher than the other two devices on test here, but if you want a solid, flexible performer, the Play will serve you very well.
The Reloop Play is available now for $129 – we don't carry it in the DJTT store but if you'd like to see it there, let us know in the comments.
Native Instruments Traktor Audio 2 ($99)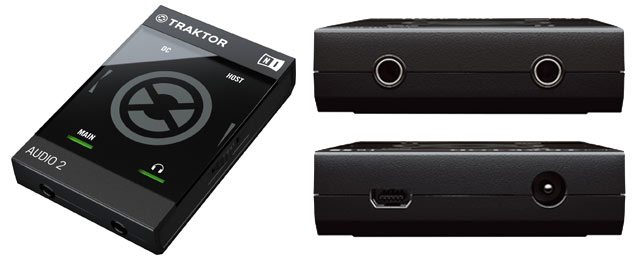 The second generation of the Audio 2 is an evolution of its predecessor, and the first thing you notice is just how absolutely tiny it is. All three interfaces in this review are pocket-sized, but the low-profile shape of the Audio 2 makes it seem the smallest by some margin.
It's Core Audio compliant, so hookup to a Mac is very simple, and it is Windows compatible too, with a driver installed. Connection-wise, you've got a mini USB port, a hook-up for the optional power supply, and two 1/8" stereo jack outputs. As with the Play, the all-plastic construction feels well put together, and the Audio 2 seems like it will take a beating.
On OSX, the Audio 2 is LOUD. Really loud. It puts out a higher volume level than either of the other two devices on test, and that's useful in a club or bar environment where you might be forced to hammer the levels on a mixer (not ideal, but it happens).
When it comes to iOS, the Audio 2 is less impressive, sadly. On paper, it's superior to the DJ Connect in every way:
The outputs are louder
The power supply also provides juice for your iDevice
The Audio 2 does come with a regular USB cable, and a 30-pin iOS connector in the box, but frankly, the lack of a Lightning cable (for use with iPhones 5 and up) is disappointing.  You can, of course, use an Apple Lightning adapter ($20+) but it's an inelegant solution to have a big 30-pin cable, then the adapter, hanging out of your device.
Likewise, when hooking up to my iPhone 5S via a Lightning adapter, the Audio 2 exhibited very strange behaviour, connecting, disconnecting, not responding – the only solution being to hook up that $30 power supply, after which it worked flawlessly on the latest iOS 7 but not on earlier versions.
That pretty much sums up my experience with the Audio 2 on iOS – somewhat frustrating. On the Mac it is wonderful, with loud outputs, great sound quality, and easy setup. Overall if you want a reliable audio interface on your laptop, this is an excellent DJ tool. For those with older 30-pin iOS devices and the latest operating system, the Audio 2 is also great for mobile use. But keep in mind that on newer Apple hardware in particular, you're going to need $50 worth of add-ons to make things run smoothly, and so that $99 ticket price gets bumped up quite significantly.
The Traktor Audio 2 MK2 is available in the DJ TechTools store – if you're already considering one, please buy one there to support future great content.
Griffin DJ Connect ($99)

So we turn to the device which inspired this review, the DJ Connect. Shorter and thinner than the Audio 2, but twice the height, it's still extremely compact. Build quality is good, with a silicone base to prevent the unit slipping around.
Connection-wise, it's a halfway house between the Audio 2 and the Play, boasting a 1/8" headphone socket, and RCA phono connectors for the master out. This corners the Griffin towards internal mixing applications, although you could route audio correctly for external mixing with the right combination of cables and app preferences.
Volume for the headphone output is controlled by a large silver knob on top of the unit, much like the old Griffin Powermate volume controller for OSX. That knob is notched, and has a nice feel to it, with cool orange illumination under it when powered up.
Speaking of power, there's no option for an external supply, it's all through the mini-USB port. That means there's no way to charge your device when using the DJ Connect with iOS, and that's a bit of a shortcoming really, as even with the long battery life on an iPad, you'll need to ensure it is fully charged before embarking on a 'mission critical' set.
The DJ Connect is compatible with OSX, it's plug and play – although the device does feel very iOS focused. Just don't go looking for Windows support, as you'll be disappointed, and that makes the DJ Connect less of a multipurpose device than the Audio 2.
Sound quality is good on the DJ Connect, but the output level is just not as loud as either of the other two devices reviewed here. It's fine for home, and semi-pro environments, but if you find yourself needing a bit of extra punch in a club setting, the DJ Connect will be found wanting much sooner.
Simplicity is the key with the DJ Connect. It's easy to work with, on both iOS and OSX, and is nicely made. It worked with every recent version of iOS, on every iDevice I tried, which is a big plus point over the Audio 2. In the box you'll find cables for regular USB, 30-pin and, crucially, Lightning connections.
For DJs invested in the Apple ecosystem, the DJ Connect is a great buy. Only the slightly underwhelming volume level, and lack of a means to charge an iDevice, let it down. But at $99 all-in, it'll be a great solution for many.
The DJ Connect is available now for $99 – we don't carry it in the DJTT store but if you'd like to see it there, let us know in the comments.
Wrap Up: What Are The Best DJ Sound Cards On A Budget? 
Three audio interfaces, doing fundamentally the same job – providing a pair of stereo outputs. But very different takes on the idea, and very different in their execution.
For laptop users who want a dependable, loud interface, and the convenience of RCA connectors, you can't go wrong with the Reloop Play. It's a solid performer, with only it's slightly inflated price letting it down.
The DJ Connect is perfect for Apple users who want a simple, easy to set-up solution that'll work with pretty much any iOS device, and their Mac too. It's not got the volume punch of the other two, but as an introduction to DJing 'properly' (with pre-fade cueing) it's a natural next step from their DJ Cable of old.
If the Audio 2 didn't have so many issues with iOS in my testing (compatibility, no Lightning connector), it would have been the standout product here, by a mile. So compact, so loud. So flexible – Mac, Windows and iOS compatible. The power supply option is great, even if it costs a few bucks more. For laptop use it's a very reliable sound card for general all around DJing, especially on the road.
Have you used any of the interfaces reviewed here, and have opinions to share? Are there any other options around the $100 price-point that you'd recommend instead? Let us know in the comments.