The roles that make up a band has been relatively similar for the last 50 years. Traditionally there has always been a singer, guitarist, bassist, drummer and keyboardist. Lately, However, a new band member has emerged: the DJ. 
In 2010 I, and some friends, formed a band.  We have played different styles from pop to reggae to dance and, on occasion, some instrumental EDM.  In 2012 we re-imagined the band by adding MIDI controllers, mixers and other 'DJ equipment' into the traditional guitar, drums, and bass setup.  Adding these powerful tools has transformed our sound by allowing us to integrate elements of dubstep, techno, and house into a traditional rock format.
As the lead singer, for years I stood in the front with only my guitar and my microphone.  Now my setup includes my Akai APC20 running Ableton Live, which is used to play backing tracks, launch samples and control MIDI instruments like Ableton's Operator synth throughout our concerts. Our guitarist, uses Traktor to launch samples (Usually one-hits of 808 drums) off of his custom mapped Numark DJ2GO.
It is becoming more common for modern bands to utilize DJ's or 'DJ technology' in their performances.  The popular rock band, Maroon 5 started incorporating a dj and modern software into their performances in 2012. Sam Farrar, Maroon 5's bassist, has used turntables, the Maschine and the MPC to bring electronic elements into group's the music.  The live performance of "Harder To Breathe" at the 2014  iTunes Festival is a great example of Sam Farrar using his Maschine to incorporate elements of EDM into the classic funk rock hit. Look for the Skrillex samples just before the last chorus.
Dub Mafia is another band which has a DJ as a role within the band.  However, with Dub Mafia's "No backing tracks" policy, their DJ, SNAFU, uses his scratching talents instrumentally. Just check out the song "Sirens" as a great example of his work.  "Sirens" has a funky guitar line and complex drum beat that is reminiscent of drum machine beats from the 80's as well as some crazy synths.
The industrial rock group Linkin Park is another group that has incorporated a DJ into their band.  Joe Hahn has been seen using the MIDI Fighter, Jazzmutant Lemur, and MPC 2000. Hahn uses the MIDI Fighter and MPC 2000 to launch samples, from the band's studio recordings.  A great example of their DJ's work is the performance of "With You" at Circuito Banco de Brasil 2014 where Joe Hahn's scratching perfectly complements the song.
Chris Kilmore is the DJ for the California rock/metal band Incubus.    Kilmore is a self-professed 'Turntablist' and has even gone so far as to say, ""…nothing sounds better than a piece of vinyl."  Yet, even Kilmore has been seen running Serato and using vintage Moog gear.  While Incubus is known for combining rock music with electronic elements. On the album "Light Grenade" Kilmore plays Turntables, Organs, and even a theremin!
The DJ and their gear is here to stay and it seems only a matter of time until the DJ as a band member will be as common as the guitarist.  I encourage DJs and all EDM musicians to try playing with a band. I urge bands with the traditional singer-guitar-bass-drums setup to experiment incorporating 'DJ equipment' or a DJ into your structure. This joining between EDM music and rock music,  with allow both innovate and explore the roots of their genres. Lots of EDM music is rooted in rock and pop, so it only makes sense that DJs would become members of bands.  I hope then you can experience the same revolution that my band mates and I did when we made the decision to try using some DJ gear in 2012.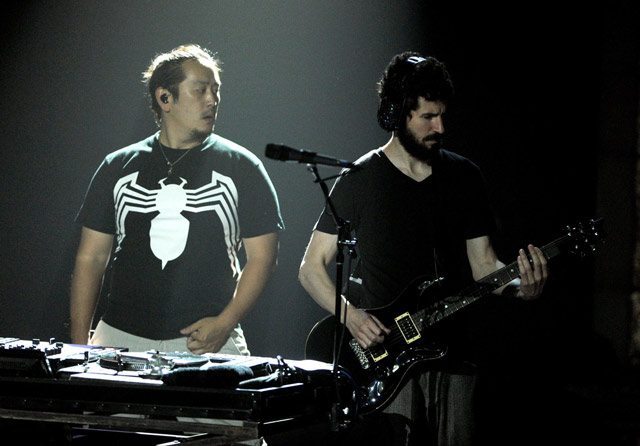 Does the band really need a dj though? Some people seem to think that we might be expendable. Although the following video is quite funny, it does demonstrate that a DJ's role in a band should probably be a lot more meaningful than just scratching occasionally. Truly effective members are usually launching samples, clips, and loops to build the electronic elements in a set.

This article was written by Nate Ruvin, who plays in a band called Open Window. Looking for more info on what DJ software is right for your band?  Check out: Traktor vs. Ableton v.s Serato.  Also, take a look at the unique gear that touring DJ/Producers use.
SHARE YOUR EXAMPLES OF DJS WITH BANDS IN THE COMMENTS!