Over the last few years, the 'CDJ that doesn't play CDs' has taken on almost mythical status in the DJ world, spoken of in hushed tones by those claiming to be in-the-know, and those who claimed to know somebody else who was. What is perhaps surprising, though, is that the first CD-less player is not a top-end replacement for the Pioneer CDJ-2000 Nexus, but in fact a replacement for the more budget-minded CDJ-850. An interesting move on Pioneer's part – but has it paid off?
Pioneer XDJ-1000 Breakdown
The Good
Features equivalent to the Nexus players
Good value (in CDJ terms)
Qwerty track search
The Bad
Still a hefty investment compared to a controller setup
Lack of CD drive could be a problem in many cases
The Bottom Line
The lack of CD playback may cause issues for some, but if you're willing to join Pioneer in dropping optical media, the XDJ-1000 is the best low-end player they're ever made, by some margin.
****UPDATE: Traktor Pro 2.8 now supports the Pioneer XDJ-1000 in HID mode
Availability: Limited stock available now in DJTT store for $999 each!
Pioneer XDJ-1000 Introduction

There is one fact which you, as a reader, must remind yourself of constantly as you read this review. The XDJ-1000 is NOT a CDJ-2000 Nexus replacement, in any respect. It's half the price, for a start.  No, instead, the XDJ-1000 is a replacement for the CDJ-850. In my round-up of the CDJ range for DJ TechTools earlier in 2014, I identified the 850 as a model which was overdue for a refresh, as compared to the Nexus players it was looking woefully outdated and underpowered. It was hard to imagine that it's successor would be such a dramatic upgrade, though.
Features

Like all the recent CDJ models, Pioneer call the XDJ-1000 a 'multi-player'. It's somewhat less 'multi' than the rest, however, as the CD slot is noticeably absent. There are two ways of playing music with the XDJ-1000; from USB media, and by using it to control software via midi or HID (more on that later).

Something which is totally new to the Pioneer DJ player range is a touchscreen. Such technology is not unprecedented on their DJ kit generally, as the likes of the DJM-2000 mixer have had them for a while. The addition of that touchscreen means that, despite a noticeable lack of physical buttons compared to a 2000, pretty much all of the features available in Rekordbox are there. You get the big and small waveforms. The sync and quantize. The beat/bar display and countdown. Beatgrid adjustment. Hot cues, slip mode, the list goes on.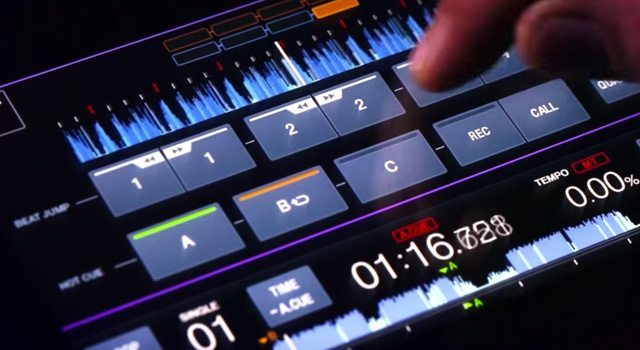 So what's missing? Well, in physical control terms, you lose the jog wheel tension adjust. It's preset to a fairly loose feel, like the 800 and 850 before it. It's a reasonable compromise between pleasing the spinback merchants, and gentle pitch-benders. There's only a single knob for adjusting the release and brake in vinyl mode, which is always a little annoying. It will do an instant start, even when set to a long parameter, if you press play from a cue point, but I suspect for most DJs, the release function is not needed, and a single knob to control the brake would be more useful; having the platter wind up slowly isn't a commonly used effect (in my experience). In terms of sound quality, the XDJ-1000 doesn't have the top-end Wolfson digital/analogue converter found on the Nexus, or the digital output, but on the systems I've used it on, with compressed audio files, I found no discernible difference in sound quality. If you're playing AIFFs on a finely tuned, hugely expensive system, you may well notice something, but if that's the case, you probably won't be shopping for a low-end player.

  The link functionality is all there; using LAN cables, you can link to other players, your laptop running Rekordbox, and the DJM-900 Nexus and DJM-2000. When linked with those mixers, the beatgrid info is sent through the link, so your FX will always be tightly quantized right on beat. Unlike the CDJ-2000s, there is no platter illumination, so you don't get the on-air display where the jog changes colour, but again – this is a CDJ-850 replacement, not really designed to be used with the top-flight mixers. There's no SD card slot onboard the XDJ-1000, of course. It's a nice thing to have on the CDJ-2000s, but not a dealbreaker for most people, I'm sure. Decent USB sticks are just as affordable, and often provide faster write speeds (for loading tracks on from Rekordbox) for the same money.
The Touchscreen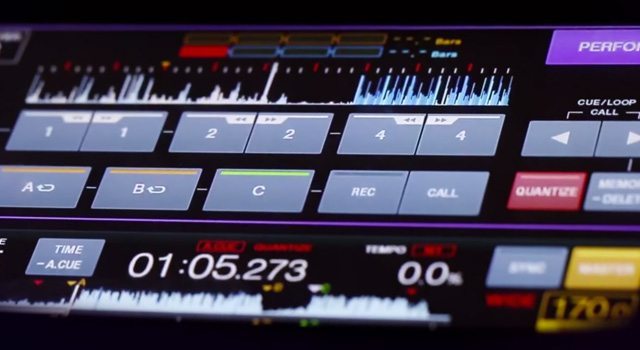 Having touch technology in a club environment can be a little worrying. We've all used our smartphones in light rain, and found phantom presses occurring, right? Thankfully, no such issues seem to be found with the XDJ-1000. Even in very sweaty venues, the touchscreen behaved impeccably without fail. The screen is bright, clear, and very high resolution, much more so than on the CDJ-2000 Nexus, with much smoother fonts and an all-round cleaner look. Some of the button targets are a little small for my fat fingers, but that's an understandable consequence of fitting so much functionality into a fairly small space. Having the hot cues on a second control layer (the 'Perform' mode) is a little frustrating, until you remind yourself about the '850 replacement' thing; that had no hot cues at all, so having them on here at all is a real bonus. Even the pricier CDJ-900 Nexus doesn't have them. As you can set hot cues to pre-load when you load a track, it's then reasonably fast to jump into performance mode and get busy. To sum up the touchscreen; there is a reason that hardcore first-person-shooter game players will never choose an iPad for their control method. No touchscreen will ever be quite as nice to use for performance as physical controls. But as touchscreens go, the one on the XDJ-1000 does the job it is intended to do very well, even in the kind of harsh environments this bedroom player is not really designed for.
The Search Goes On…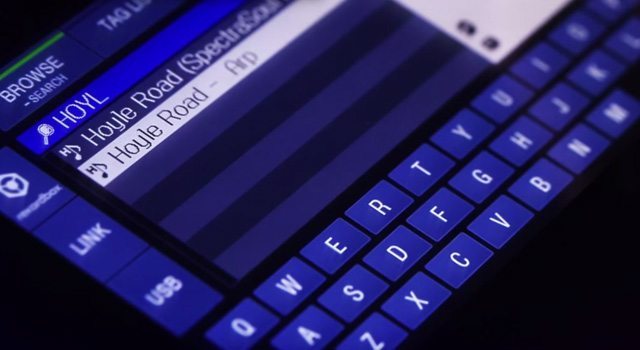 Finding tracks in a large library has always been an area where Rekordbox has not excelled. Their older players have offered two methods for 'typing' in data; selecting one letter at a time via the small touchstrip on the 2000s (slow), and rotating the control knob to select letters on other models (downright painful). All that has changed, as the XDJ-1000 utilizes the touchscreen to provide a full QWERTY keyboard search. It's so much faster to find tracks than it was before, and is really a killer selling-point if you are a mobile, or open-format DJ who deals with a lot of requests and large libraries. Each key is a little small (fat fingers strike again), but even typing gingerly, it's way, way faster than the older methods of search.
Processing Power
Let's be honest; what made searching slow on the older generation of players wasn't just the input method. The speed with which the players could draw data from your media was pretty underwhelming too. Even trying to just re-order a 1000 track playlist on a first-gen CDJ-2000 would mean a good few seconds staring at a 'wait' screen. The XDJ-1000 is much, much snappier all round on that front. At each gig I've played with an XDJ-1000 in tow, I made sure to use it as the music source for all 3 decks, connecting the others via link. Rest assured, these things process data very quickly indeed, on a par with, if not faster than, the Nexuses. You'll want fast USB media, of course (Sandisk Cruzer Extreme are my ONLY recommendation), but with that in place, every process you will do with the XDJ-1000 is fast and snappy.
HID Control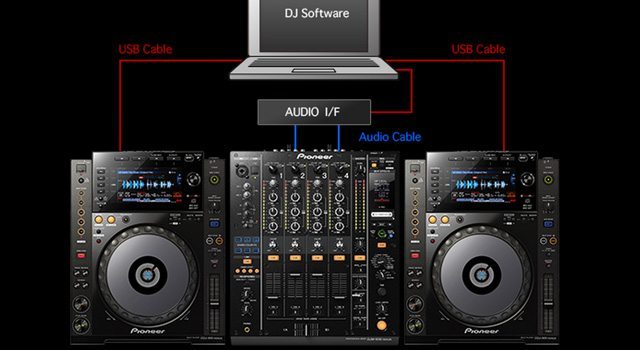 Disappointingly, although the XDJ-1000 is already on sale in some territories, the promised HID support for Serato DJ is not ready at the time of review. Both the player firmware, and the software, will need updating before it is. That's real shame, as without it, the XDJ-1000 is missing a full one third of it's playback options (USB, Link, HID). So I can't comment on the performance of it, having not used it. Hopefully the recently close relationship between Serato and Pioneer will pay dividends here, but that's pure speculation at this point. What is a big shame is the lack of any sign that Traktor HID support is on the cards. When it comes to HID, Traktor is actually the better option, as you can utilize the audio interfaces within the decks. Having to use a Rane SL box, or Serato certified mixer with Serato DJ is a big hassle by comparison. But unless Native Instruments start playing nice with others again soon, don't hold your breath for Traktor support. ****UPDATE: Traktor Pro 2.8 now supports the Pioneer XDJ-1000 in HID mode
Conclusion
$2000 for a pair of players (without a mixer) is still a hefty investment for anybody. But the XDJ-1000 is the first 'low-end' Pioneer deck that really has all the features to compete with the big boys. If you play at (or aspire to play at) venues which have a Rekordbox system, then the XDJ-1000's are the perfect tool for practicing at home. You'll be completely at home switching between XDJ-1000s in the bedroom, and CDJ 2000 Nexuses in the club. For mobile DJs, the search function is so much better than on other models, you'll need to think very hard about whether the superior build and sound of the Nexus is worth losing that QWERTY keyboard for. It really is a massive deal for that kind of DJing. Ultimately, despite my reservations about Pioneer dropping the CD drive on this low-end player first, the XDJ-1000 really will be the perfect choice in the Pioneer range for a lot of DJs. Whilst I think a controller setup remains the more sensible option for real beginners, any intermediate to advanced DJ who wants Rekordbox functionality at home will be served superbly well by the XDJ. Indeed I was so impressed, that having played with Pioneer's review loan units for a while, that I ordered one of my own to add to my setup. Can't offer a product any higher recommendation than that.
Availability: Limited stock available now in DJTT store for $999 each!