It's been a while since we've taken a look at what famous DJs and producers tour with. Today we take a look at the gear setup of Desolat founder, Loco Dice. Loco Dice travels pretty light and the one thing that readers should take away from this setup is to always have a backup solution.
There are 2 separate laptops, multiple hard drives and a USB flash drive, making it pretty hard for any technical issue to keep Loco Dice from performing. Overall the setup has remained the same since we last saw how Loco Dice performs. Check out the full gear breakdown.
Loco Dice Setup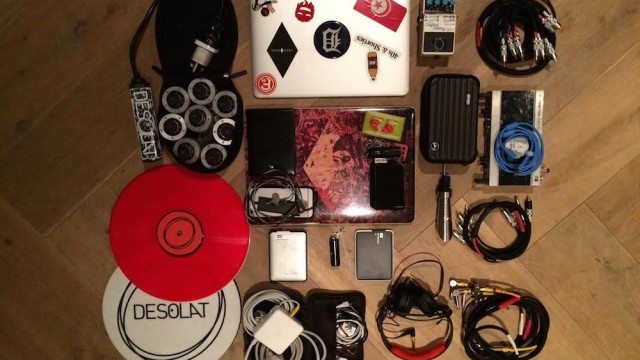 Computers
Personal computer – MacBook Pro 15″

Performance computer – MacBook Air 13″
Performance Gear
Boss DD-7 Delay

Native Instruments Audio 10 (available in the DJTT store)

Desolat Slipmate (thin and perfect for mixing)

Desolat timecode records (limited edition!)
Hard Drives
Ear Plugs
Red – Customized for the club, -15 dB

Yellow – For hotels and planes (anti pressure)

Black – LOCO DICE promo give aways by Ear Peace 
Personal cables
MacBook with extensions and adapters

Mini jack splitter to watch movies with friends

Jack to jack to rock my playlist in any car or hotel room across the world
Perfomance cables
Headphones
Personal: Bose noise canceling, don't leave home without them! Even use them to sleep in the plane with no music.

Performance: Sennheiser HD-25 
Travel Essentials
iPhone 6

Passport

Nok Nok credit card & Loyalty Cards holder

Lufthansa Rimowa travel case with IMPORTANT travel goodies and Ortofon MKII Nightclub needles

Customized bottle spout for the tequila! (birthday present!)
Stay up to date with Loco Dice on Locodice.com, Soundcloud, Instagram, Twitter, Facebook
What other artist setups would you like to see?
Let us know in the comments below!