Spotted over on Dubfire's Facebook account was a shout out to a brand new concept for a vacation retreat for aspiring producers, called helloLIVE. The concept is fairly simple and impressive: book a session with helloLIVE and you get an all-inclusive (flights excluded) week of Ableton fundamental training, surfing lessons, and island living on Fuerteventura, a Spanish island off the coast of Morocco. Watch the introduction video below and then read our exclusive Q&A with one of the founders, Ableton Certified Trainer Cristiano Nicolini. 
Price: €1199 (~ $1360)
Website: hello-LIVE.com
Length: One week (the first one is April 12-19th)
Win: There's a contest for a free spot and plane ticket from Europe – details here
What was your inspiration for helloLIVE? Is it modeled off of some other type of vacation retreat?
We [the founders of helloLIVE] both live in dreary, rainy and cold countries and we're both nerds that spend way too much time catching computer 'sun' rays. There is actually an epidemic of people here in Northern Europe with a vitamin D deficiency and we know that as producers you tend to not see sun, let alone in grey old Amsterdam or Berlin.
At one point when we met their was a eureka moment and we sat down and discussed it. Lots of questions popped up but the answer was always why not.
Why not combine our deep passion for production and also end up healthier? Why not go to a relaxing environment that will make the learning process easier? Why not boost creativity, get amped up, and share incredible moments with like-minded people from all over the world?
In short it's modeled after a pursuit to music production and enjoying life to the fullest.
It seems like you're starting from the basics in terms of Ableton instruction – can people who are more experienced also attend, and will they still get a lot out of it?
Learning all assets of production is a very personal process and we realize that most producers are self-taught. We strongly believe that fundamentals also need to be covered in order to progress. For instance types of compressors or settings, or reverb types and pre-delay of early reflections, are basic understandings but most producers skip over something along the way. Be it music theory or multi-band compression.
We also know that people have different skill sets and that is why the day is split up in two. In the evenings we have hangout times where the learning process can get pretty personal and almost one on one.
Most of all the students are continually amongst their peers and instructor's. Music production will be the number one topic of conversation for 7 days straight. They will literally eat, breath and dream about production unless they are soring over the water tied to a kite.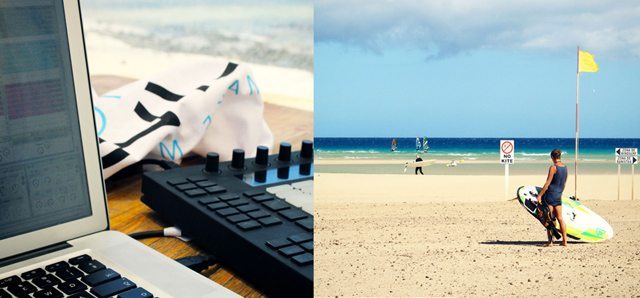 What about surfing – does the program start from the basics there, or should attendees have some experience already?
The instructors are big players in the surf world all winning medals left and right. They have been teaching the different disciplines of surfing for over a decade and can give any level instructions to any level surfer. There is always a team of people available to help. Cristiano and Guido will also be joining in the surfing activities when time allows it but they are as beginner as it gets
A fun fact about Fuerteventura is its diverse weather for surfing activity and you can literally do every type of surf. That's why everyday the participants will experience a different water sport. Each day discovering how energizing life 'live ;)' on a little surfer island can be.
You mention on the site that "Many studies show that if you combine an exciting physical activity with learning music you retain more info but also stimulate creativity" – can you share some examples?
Just to clarify there are two statements in that one sentence. One that aerobic activity stimulates creativity and the other that cognitive brain function increases due to exercise. Which can imply retaining music (information) and stimulating creativity.
Here are a handful of studies that support the claims:
Seems like Fuerteventura is an awesome place to go on vacation – but could it also be too distracting for education / skill building as well? How do you help attendees balance relaxation and work?
We believe that when put in a creative fun environment full of passionate producers and prepared tutors the only problem is to find time to sleep and stop making music.
When everything around is engaging, inspiring and you are dedicating your full time to your life passion, We don't see how you can get distracted even going to a club and dancing is part of the music making / learning process.
How many sessions have you done so far? What have you learned already in this process of running a creative retreat?
We are at the brink of starting the very first one in Fuerteventura, but we both come from years of teaching experience and camps. Cristiano was part of 2 editions of the RBMA, teacher of music technology at conservatory and has been lecturing at many workshops around Europe. But always felt that something was missing and after meeting Guido and sharing with him the same view decided to pursue his own concept of school.
Booking and more details about the first session of helloLIVE (April 12 – 19th) available on their official website.