We've been waiting quite a while for the Stem Decks to get their official release in Traktor, but as of yesterday the wait is over. Of course to be able to use the Stem Decks requires a Kontrol S8/D2/F1 for native control, so we've built a first round mapping for the versatile Midi Fighter Twister (currently $20 off in the DJTT store) to allow complete control of Stems volume, FX routing and levels, and Filters.
First, watch a video by DJTT's Matias explaining how to set up the mapping and get starting mixing:
Download the four-deck Twister Stem Deck mapping here on Maps.DJTechtools.com
Want a Midi Fighter Twister? They're in the DJTT store here.
Major Features of the Twister Stem Decks Mapping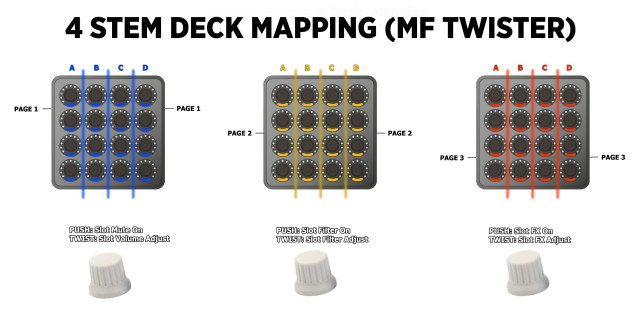 4 Stem Decks Per Page: with each column of the Twister corresponding to Decks A, B, C, D – this means you can control 16 different Stem parts at once!
Page One: allows for each Stem in a Stem Deck to be muted (push the encoder) or raised/lowered in volume (turn).
Page Two: Enables each Stem's independent Filter (push) and adjusts the filter level (turn)
Page Three: Enables each Stem's FX (push) and level (twist)
VU Metering: In order to give you some feedback of what's playing, we took advantage of Twister's advanced customization options and included VU meters for each slot you have solid feedback of what's going on in your mix.

What's Still Missing:
Stem Deck Viewing: This is hardest part about not having a Kontrol S8 or Kontrol D2 with Stem Decks – there's seemingly no way to view the Stem Decks individual Stems without them. We've asked Native Instruments what their plans are for this in the future, but so far no response.
Have feedback for us on this mapping or what other things you'd like to see implemented in a mapping like this? Let us know in the comments below!