In the music production world, there's a continued increasing need for external modular controllers that go beyond the limitations of a DAW. Producers are looking for physical hardware to create music and Tangible Instruments is looking to offer producers an arpeggiator for electronic music producers. Arpeggio is a physical arpeggiator, sequencer, and monophonic synthesizer aiming for mass production via a Kickstarter launched in September.
Meet Arpeggio
One of the fundamental components to any song is its melody. The melody is what distinguishes one song from a catalog of millions of songs and it acts almost like a fingerprint for the composition. Arpeggiators have been used by electronic musicians for years to create complex melodies that would otherwise be physically impossible to perform while also offering a programmable rhythm to the beat. Arpeggio is a simple instrument that can be used for composing, saving, and performing these melodies, either as a standalone device or with other hardware.
Producers are greeted by three rows of buttons and knobs when looking directly at Arpeggio.
The first row contains volume controls, transport controls, arpeggiator controls, and controls to manipulate the included monophonic synthesizer.
The second row is where note length can be determined and where notes can be deleted.
The last row is where notes can be manipulated using the farthest side buttons and where melodies are stored in the eight different banks which can actually expand to 512 memory banks.
Unlike a traditional step sequencer, Arpeggio has no limit for the number of notes in a sequence which means a melody can be as simple or as complex as the artist sees fit.
Built-In Synthesizer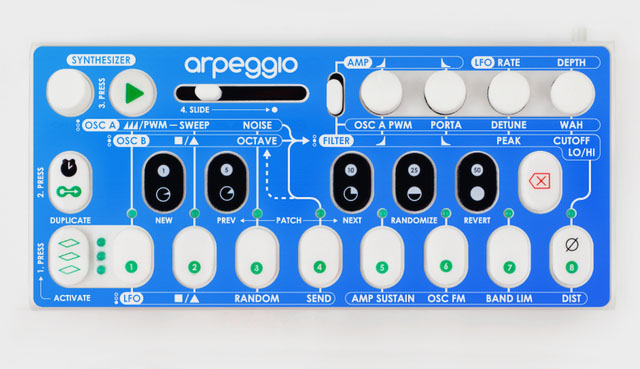 As mentioned, Arpeggio also contains a monophonic synthesizer. The Arpeggio doubles as a two oscillator virtual analog synthesizer with the added bonus of being able to control all synth parameters beyond what is seen on the surface of the controller. There is even an overlay for the synthesizer that labels all the different controls. Once a sound is made, producers can even save the patch for later use.
Here's a sample of what the synths sound like unmixed:
Plays Nice with Other Gear

Arpeggio is a sociable piece of gear as much as it is functional. Its expansive I/O allows the unit to be added to any synth using MIDI in/out. The unit can connect to other devices via USB, Bluetooth, and CV/gate out. Creating melodies with other gear and playing melodies within other software is seamlessly integrated into the hardware of Arpeggio.
Tangible Instruments even went one step further to start building an Arpeggio companion app that will be available closer to the release of the Arpeggio. The app is being designed to become a graphical interface for the Arpeggio by giving producers control over the different melodies that are created by allowing them to be shared, exported, or edited. The plan is to have the app be available across platforms on iOS, Android, OSX, and Windows.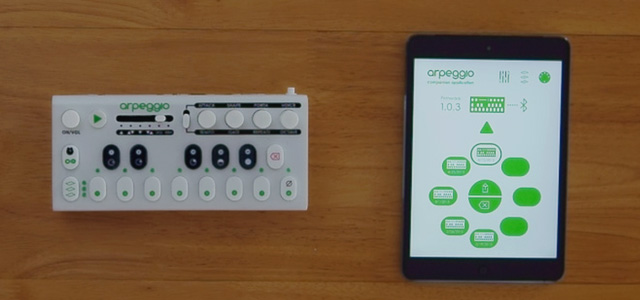 Adopting an Arpeggio
As the video conveys above Arpeggio is currently looking for generous donations to become available to the public. Tangible Instruments created the Arpeggio Kickstarter to cover the costs of mass producing the Arpeggio with detailed information on the 3-D printing process.
With eight days to go, the Arpeggio is still looking for ~$25,000 to make the device a reality for producers everywhere. If the project is funded, producers can currently secure an Arpeggio as of today for $199.
Read more about the Arpeggio project on Kickstarter.