How did the TB-303 bass synthesizer become such a well-known and highly regarded sound in dance music? Today guest contributor Akhil Kalepu goes in-depth with the full history of the Roland TB-303 and how its shortcomings became some of the most sought after sounds in the era of acid house that followed.
Featured Gear: TB-303
Manufacturer: Roland
Date Released: 1982 (production ended 1984)
In a world of software emulations and digital workstation, it's hard to be impressed by a single oscillator monosynth, but few electronic musical instruments have made an impact as big as the TB-303. Several machines have entered electronic music history as pivotal artifacts of the culture. Released in 1982, Roland's "Transistor Bass" unit was a sleeper hit that became an iconic piece of electronic music culture, analogous to the Stratocaster for rock and the MPC for hip-hop.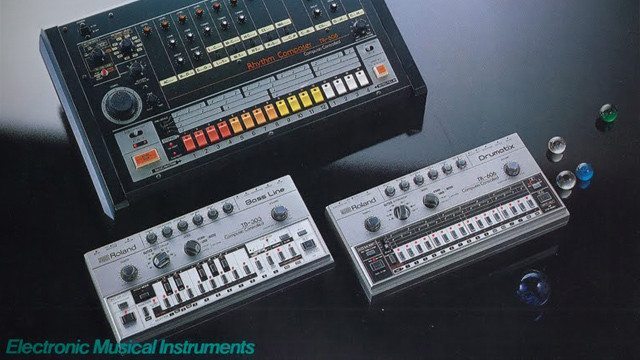 Created by Roland engineer Tadao Kikumoto, the box was largely written off as a failure after just 18 months of production. It was released alongside the TR-606 drum machine as an accompaniment for guitarists, but with unrealistic sounds and a difficult interface the box got little traction upon release. Roland stopped production in 1984, having sold only 10,000 units.
The TB-303's Quirks
While many of the 303's early appearances made use of the box's unconventional nature, the acid house sound did not come together until the late 80s. Due to its commercial failure, there were lots of these bass units available for a low price, making them an attractive buy for bedroom electronic producers.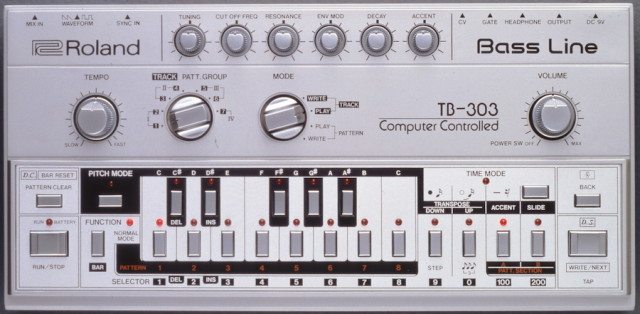 Producers could choose either a saw or square wave, which is shaped from a saw wave using a single-transistor circuit, giving it a distinctive sound different from typical square waveforms. The TB-303 also has controls for decay, cutoff, resonance and envelope modulation which controls a 4-pole 24dB low-pass filter. All of this comes together with the 303's notoriously difficult to use sequencer, which allowed users to control accent and portamento for each note. Watch the below video to see someone painstakingly program in Fatboy Slim's "Everybody Needs A 303":
Unique circuitry linked accent control to the filter's cutoff and resonance and kept notes at a fixed slide time which enabled the 303 to create intricate bassline patterns on a single octave keyboard, the signature "squelching" bass sound of acid house. Producers further defined the sound with distortion, creating a denser, harmonic rich sound by utilizing guitar pedals or even just overdriving the input of a mixer. Users could also exploit the system's low voltage failure mode by removing the batteries, thereby erasing and completely randomizing the programmed patterns.
Acid Tracks: Acid House's Breakthrough

Much of the TB-303's beauty comes from idiosyncrasies like these, perhaps best exemplified by "Acid Tracks". DJ Pierre, Spanky and Herb Jackson of Phuture released the track in 1987, a 12-minute jam session of trippy basslines and 707 drums (embedded below). Jefferson gave a copy of the record to Ron Hardy, another Chicago legend who played the record at Music Box. The track had to be played four times before the unique sound got a positive response, but "Acid Tracks" quickly became a hit and spread across the Atlantic to become a part of the Second Summer of Love. Britain's burgeoning rave culture was in some part built by the 303, in addition to a thriving sound system culture and a newfound taste for ecstasy.
Notable releases of the time include Josh Wink's "Higher State of Consciousness", DJ Pierre's "Box Energy", and "Acperience 1" by Hardfloor, the Dusseldorf-based acid trance duo that utilized up to six 303's at a time. Prior to the release of "Acid Tracks", the 303 made appearances on "Rip It Up" by post-punk band Orange Juice (1983), "Les Problemes d'Amour" by Italian disco producer Alexander Robotnik (1983) and "On and On" by Jessie Saunders (1984).
Sleezy D's "I've Lost Control" also lays claim to have been the first acid house record. It was release a year before "Acid Tracks", which Phuture says they might have made in early 1985, so it's impossible to determine which came first.
Before "Acid Tracks"
Another early adopter was Charanjit Singh on "Synthesizing: Ten Ragas to a Disco Beat". Singh's track predates "Acid Tracks" by five years and is considered to be an independent originator of acid house. His fusion of Indian classical music with electronic disco was created in a completely different context than rave culture, just when synthesizers were becoming popular in contemporary Bollywood music, which already had a taste for disco sounds.
Singh got ahold of the box in Singapore, and experimented with its glissando function at his home studio alongside a TR-606 and Jupiter 8 synthesizer. The album was a commercial failure upon its release, but it was rediscovered in 2004 and garnered recognition as a pioneering proto-acid house record. Singh performing the album live for a few years before he died of cardiac arrest in 2015 at age 75.
From x0x0b0xTo TB-3: Modern Incarnations Of The 303
The TB-303 continued into electronic music's bloom of genres after the late 80s, making a significant mark on acid trance, techno, goa and more with a resurgence in mods, software emulations and the release of Roland's AIRA line. Some people skilled in electronics even took it upon themselves to create an open source clone of the machine called the x0x0b0x, released by Limor Fried. These DIY kits come very close to emulating the original sound, but are built on much more reliable systems with support for MIDI and USB interfaces. Brian Castro's x0xi0 is another DIY kit available, adding a second oscillator, overdrive and an advanced routing matrix.
In addition to custom modifications that unlocked more features like Borg and Devil Fish, the above-featured Doepfer MS-404 was a popular commercial clone of the 303, in production from 1994–2000.
Most recently the TB-303 has been reincarnated as Roland's new AIRA TB-3. The AIRA Touch Bassline Synthesizer is a digital reimagining of the original box, faithfully recreating the original signal flow and waveforms while adding MIDI, a pressure-sensitive touch keyboard and even reimagined the original battery glitch with a built-in random pattern generator.
Header image credit to Acid Pix on Flickr. 
Akhil Kalepu is a producer and DJ from Philadelphia, Pennsylvania. You can check out his work at theinfamousAK.com.