Digital DJs have a drastically different landscape than they did ten years ago. Instead of highly specialized tools, there now a handful of options that all have a near-comparable feature set. But which one is used by the most DJs? We try to find out in this article.
The main unknown here is the number of active users – a secret that Serato, Native Instruments, Pioneer, and others all keep closely guarded. Instead, we'll have to look at data around the topic at hand:
What Does Google Say The Most Popular DJ Software Is?
One of the most fun – albeit not scientifically precise – ways to find out about relative popularity of DJ softwares is to use Google Trends. This is a tool that allows you to see how often a phrase is searched, and compare it with other terms.
For the graph below, I've chosen the most fair name, in quotes, for each DJ software – Traktor Pro, Rekordbox DJ, Serato DJ, and Scratch Live (for relative context). These are the two-word phrases that most people use when referring to each platform (more on Rekordbox's issues on this front in the next section).
Here's the graph for the most popular DJ software between 2004 and now: 
Here's the same graph for the last 5 years: 
How Is Rekordbox DJ Actually Doing?
The youngest entrant into the DJ space is Rekordbox DJ. An issue here is that Rekordbox DJ suffers from a serious branding problem. Is it "Rekordbox DJ", "Rekordbox's Performance Pack", or just "Rekordbox"?
This makes it difficult to look at it on macro search graphs, but you still can get a good idea. Notice on the one year graph above that Rekordbox DJ gets a big bump at launch, and then a very gradual increase in searches – but nothing crazy.
Pioneer DJ is likely playing the long game here in user adoption, but these charts make it abundantly clear why we just saw Pioneer announce a new Serato DJ controller, the DDJ-SZ2.
What Does DJTT's Data Show?
Earlier this year, we polled DJs asking about their DJ setup. We got thousands of responses – and here's the relative data that we have on software: 

As might be expected, our audience leans more heavily Traktor than the industry as a whole. Still, it give s a good sense of relative popularity – and gives credit to the smaller groups. Keep reading for more on them:
What About Virtual DJ (and others)?
One thing that's really important to remember when discussing DJ software is that there are options beyond "the big three". These tend to be applications that:
don't have a lot of current companion hardware being released on the market OR their companion hardware isn't selling a lot of units
are easier to buy (low price or piracy in some cases – plz don't pirate software) or free
focus on alternative / unique use cases (like on mobile devices – where djay, DJ Player, and others are most successful)
Just because they aren't in the graphics above doesn't mean they don't have more users. In fact, by unofficial reports that I've heard at NAMM and elsewhere, Virtual DJ has an incredible monthly download number that far surpasses any other software.
Virtual DJ has an unfair advantage in the Google Trends game because many people actually search for a virtual DJ without even knowing about the software by that name. But here's that same 5 year chart with the term added all the same:
What About DJ Apps?
It's difficult to tell which mobile DJ app is winning this race because:
The iTunes store doesn't publish download numbers
 Many DJ apps have very ambiguous names (DJ Player and djay particularly)
However, when searching on the iTunes App Store, it's clear from the first two results who is dominating the iOS market. It likely doesn't hurt that Algoriddim seem to have a very good relationship with Apple: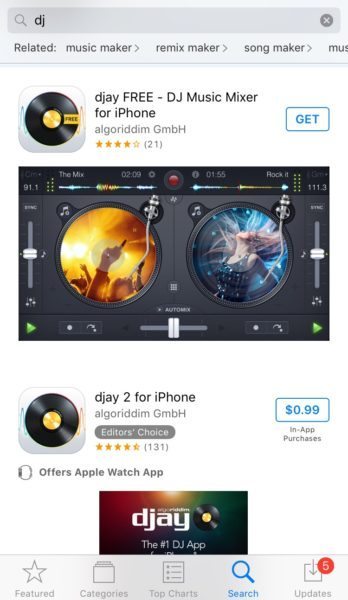 Quick Poll: What Do You Use?
What DJ software do you DJ with? (Standalone / CDJs don't count?)

— DJ TechTools (@DJTechTools) December 23, 2016

Have thoughts on other ways to measure the relative user bases of DJ softwares? Let us know in the comments below.