NAMM 2017 starts tomorrow, and Gemini DJ are introducing two new products to their line up. They're getting into standalone again, with a four-deck all-in-one, the SDJ-4000. They've also got their own take on an APC, called the MAS-1. Keep reading for the details!
GEMINI SDJ-4000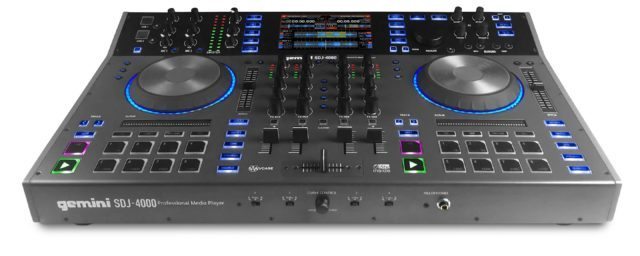 Product: SDJ-400
Price: $999
Availability: Q3 2017
The SDJ-4000 is a redesign of last NAMMs unreleased SDJ-2000. This one-stop solution eliminates any need to bring your computer to play since it's capable of song analysis, beat synchronized effects, and even database creation and search on it's own.  If you have a larger collection and you want to prep your stuff, you guessed it, Gemini's own VCase software can do it for you.
Editor's Note from the NAMM Floor: It was widely speculated that this unit would be able to do four-deck standalone playback. We checked with Gemini – and it only supports two decks internally in the built-in software.
Music and song data is presented on the high resolution 7" color screen along your loops, cues, etc. The built-in effects processing is capable of not only being applied to the internal media players, but external sources as well while keeping tight sync to ensure your effects are properly in line.  The SDJ-4000 is also capable of connecting up to 2 additional media players via Ethernet, allowing you to use Link Mode to share USB libraries and even sync external players.
No word on wether the unit is capable of showing multi-color waveforms or what the frame rate at which it scrolls is. Would be nice to know if it will be DVS or HID capable with any of the mayor software choices out there but being targeted as a fully standalone player don't expect too much on that front.
Features
Fully standalone playback (no computer required).
Connect up to 2 USB drives, or use Ethernet Link to connect to one of our other media players.
Two microphone inputs with independent mixing and EQ control.
High resolution 6" platters with touch sensing for accurate DJ performance.
100mm high resolution pitch faders for precise track BPM adjustment.
45mm Mini-Innofader crossfader with adjustable curve.
16 Silicon rubber performance pads with RGB LED lighting.
Channel effects for fast, hands-on sound manipulation.
Multiple master effects with selectable routing.
4 channel mixer section to allow connection of multiple analog sources.
GEMINI MAS-1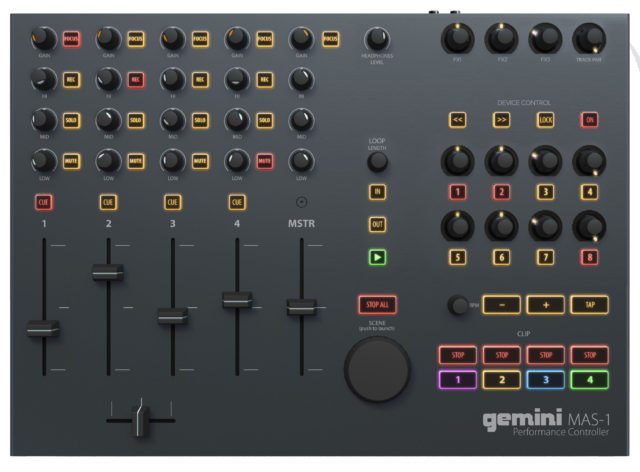 Product: MAS-1
Price: $299
Availability: Q2 2017
Traditional control solutions for software like Ableton have been primarily clip based button arrays in the last few years, but no one has been taking care of a DJ oriented workflow since the Korg Zero 8 and Vestax VCM-600 have been left to be forgotten. The MAS-1 allows users new to Live to maintain the feel of traditional DJing.
It combines the feel of a 4 channel DJ mixer with control elements for devices and effects contained in Live. It also offers an expanded BPM section to allow for smoother mixing into external sources.  The onboard 4 channel audio interface is loud and warm, and the hardware interface itself is designed to work well in dark environments, with high contrast highlights and backlit buttons.
Clip and Scene control is accomplished via a small array of RGB buttons and knobs. An external controller like a Launchpad can be easily added if you want to launch and mix more comfortably. Mixing is accomplished via 100mm faders and each mixer channel has 3 sends for hands-on effects flexibility. This layout doesn't work all that well if you want to work with quite larger channels and more granular level of control compared to something like an APC40 paired with a MIDImix and audio interface but its still a great option for a more streamlined approach and definitively great bang for your buck.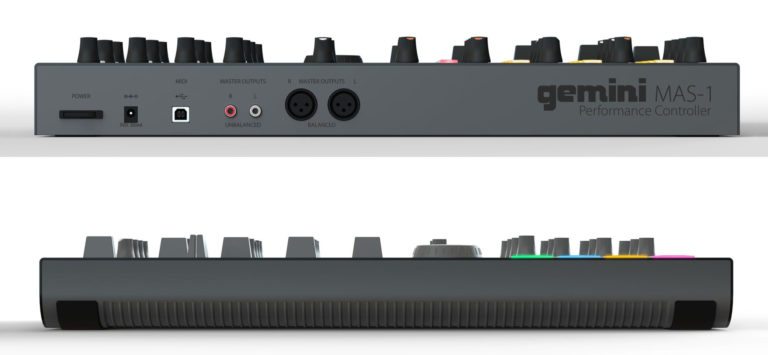 Features
Built-in stand with multiple angles to ensure proper visibility.
Built-in low latency high-performance 4 channel audio interface with balanced outputs.
4 channel mixer section, with full EQ and 100mm channel faders.
45mm crossfader for fast, DJ-style transitions.
Full clip control, with scene and clip launching and RGB illumination.
Color-coded knobs for easy identification of each function.
Adjustable device control section allows for control of individual components.
BPM control through bend buttons, tap BPM, or direct input via knob.
Encoders with LED rings for adaptive software feedback.
Full looping control including in, out, and active buttons and loop length knob.
---
Wondering why there's so much new gear news on DJTT right now? Companies are rolling out their new products ahead of the NAMM 2017 industry convention. We're giving DJTT readers the first coverage and insights into what's coming out:  See all of our NAMM 2017 coverage here.