Numark + ADJ's Surge Protectors / USB Hubs Designed For DJs
Regardless of the equipment DJs use, they're tethered to the power source for their gear. Turntables, mixers, and CDJs each need power, many controllers with audio cards sound better with their own power source, and laptops need to stay charged. Generally, DJs use a multitude of power strips and surge protectors to make sure that the music stays on. In the last few weeks, we've seen both Numark and American DJ heavily promote dedicated power strips designed for DJs – learn about them inside.
Numark Production Hub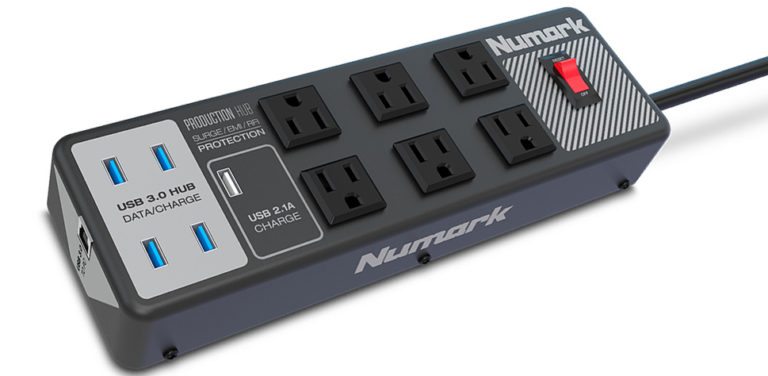 Costing $79 (considerably more than home-grade power strips), the Numark Production hub features six American-style 110 Volt AC power plugs oriented such that each could be occupied with a large power adaptor, four USB 3.0 ports for DJ controllers, and one smartphone powering USB port. Interestingly, the four USB ports act as a USB hub, which means that four separate MIDI devices require a single USB into the computer.
To protect against power fluctuations, the Hub is both RFI and EMI protected, as well as surge protected. It also features a 6 foot long cord, making it long enough that you reasonably could leave it in a DJ coffin and expect to get to the ground – and maybe the wall – with the remaining slack.
Read More about the Production Hub on Numark's official site here.  
ADJ POW-R Bar 65

Another very similar option – also at $79 (on Amazon)  – is the POW-R Bar 65 from American DJ. It was just announced at NAMM 2017, and also features six American-style 110 Volt AC power plugs on one face. On one end, the Bar 65 features the the USB-B port for connecting the USB hub. Next to the hub, there's also a 2.1A charging USB port – ideal for smartphones. Like the Numark, the ADJ variant has a 6 foot long power cord. One difference between the two is that Numark has a fixed power cable, where the ADJ has a lockable-yet-removable power cable. This means you can easily replace a frayed cable, or maybe even swap it out for something longer.
Read more about the ADJ POW-R Bar 65 on American DJ's site. 
What About Power Conditioners?

Editor's Addition! Many mobile DJs will (rightly) comment that simply combining a USB hub and a surge protector still doesn't deal with one of the biggest issues that they have: noisy speakers and dirty power. A good tool to have in your arsenal is a power conditioner. The mobile DJ company I used to work at swore by the Furhman PST series to help eliminate noisy PA speakers. There are a number of other brands out there – but I've had good experiences with the PST-8D model, pictured above. It's a bit more expensive than the units featured above – running $159 (on Amazon).
Have a preferred power source for your DJ rigs? Tell us what it is the comments.