For a while, there were a flurry of major DJ manufacturers who seemed certain that mobile DJ solutions would be focused around tablets. But we never saw anyone design a tablet explicitly for DJing – until now. Keep reading to learn how Z-JAY hopes to bring a bespoke solution to highly portable tablet DJ setups.
Product: Z-JAY Tablet
Designer: Luidpro / Luis David Palacio
Expected Retail Price: $700
Availability: Crowdfunding launching in Q2 2017
The conceptual design for the Z-JAY has actually been around for a few years – having won a Red Dot design for the original concept back in 2015. Fast forward two years and there's a working prototype and a plan for getting the unit into production.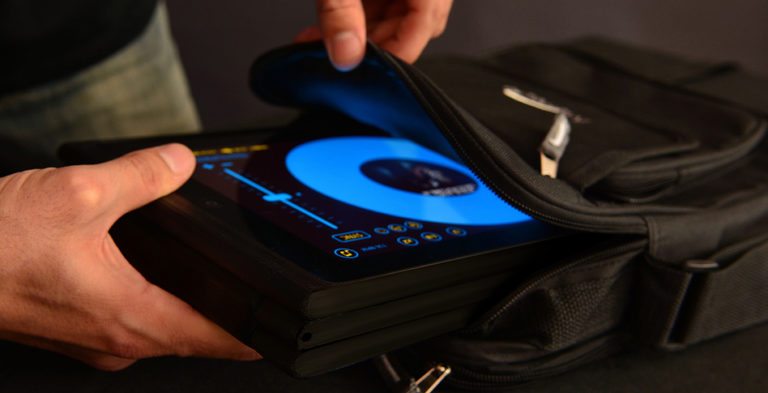 Set to go into a crowdfunding campaign in just a few months, the Z-JAY is a folding DJ rig. When closed, it's about 7.5″ tall, 10.6″ wide, and 1.5″ tall – and then thins out to .45″ tall when unfolded.
The designers are making a big play for portability-  there's a built in battery, built in soundcard, Bluetooth connectivity for headphones and speakers (although many DJs will prefer stick to normal zero-latency audio cables via the two AUX outputs). It also has built in stereo speakers, so just a pair of headphones will make the unit usable.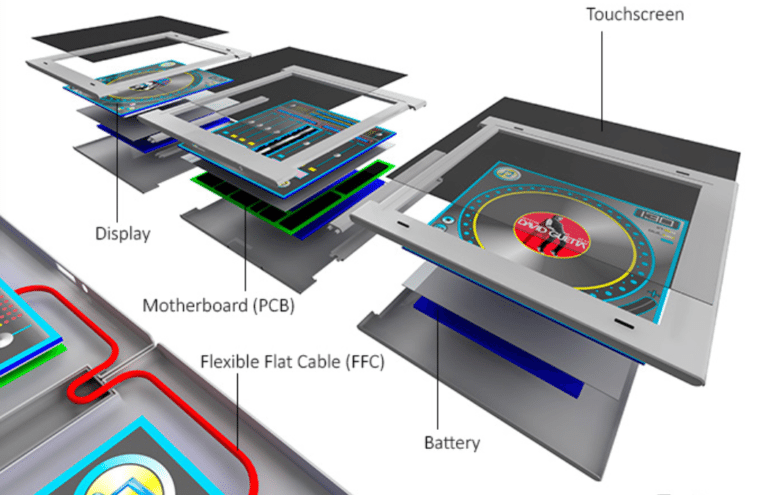 Instead of three tablets connected together, the Z-JAY is actually three screens connected to one device. This means you only have to charge a single unit in order to charge the entire setup. Here's the hardware specs:
3 x IPS TFT – LED backlight Multi-Touch screens
Processor: Quad-Core 1.2 GHz
5 hours battery life (irremovable Battery)
1 × Micro USB
2 AUX IN
2 x Front Stereo Speaker
Bluetooth v4.0
256GB internal hard drive (can connect an external drive as well)
What About The Software?
At the time of writing, the team behind Z-JAY hasn't chosen a software solution – but they're not planning on building their own. Instead, if the crowdfunding campaign is a success, they plan to "will license the software with one of the top DJ APP developers in the market."
In reality, since the tablets are based around an Android operating system, there are only a few options that would realistically work. My best guess would be either Mixvibes' Cross DJ or DJiT's Edjing – both of which likely have the ability to adapt to such a significant licensing request.
Clearly there's already a software being used with the Z-JAY in their promotional material – as visible in the video above and here:
The tablet rig also is being promoted with a number of other apps as well – the press release noting that users will be able to download other apps to use alongside the DJ application.
Next Steps
Of course, the biggest challenge is ahead of them –  Z-Jay still has to raise their (still unannounced) crowdfunding goal to begin production. There's not a lot of competition in the space, but tablet setups do have a psychological challenge as well – convincing current and aspiring DJs alike that a touchscreen-based rig is just as good as their tactile hardware counterparts. The designers do note that they plan to take advantage of touchscreen-mounted control hardware like we've seen in the past with Tuna Knobs: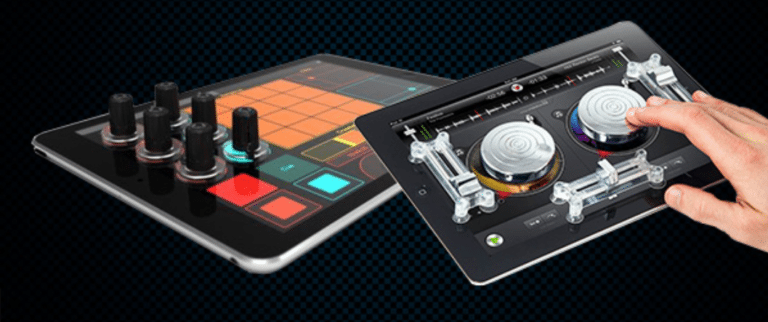 To learn more about Z-JAY and, including when when their campaign starts and preorders begin, follow them on Instagram, Facebook, or Twitter – or go to their product's website here.