With the Blocks Dashboard beta software adding compatibility with Ableton Live, Bitwig Studio and other DAWs, Roli's three modular Blocks controllers enter the professional music production picture. The Lightpad Block allows five-dimensional tactile expression in the smallest format available today, but is it the right move for your performances and productions?
Reviewed: Roli Blocks with Blocks Dashboard beta software
Price: $180 each for Lightpad Blocks; $80 each for Live or Loop Blocks
Availability: Now
System Requirements: iOS: 9.0 or later, iPhone 6 or newer, iPad Air or newer. Mac: OS 10.11 or later, 4GB RAM, 2.5GHz Intel Core i5 or faster. Windows 10, 4GB RAM, 2.5GHz Intel Core i5 or faster.
The Good: A dazzling 225 LED display dynamically updates to different control layouts and provides motion feedback. The Lightpad Block is the smallest and lowest-price PMC hardware available for MPE MIDI instruments, specifically using Roli's 5D expression. 100+ great 5D sounds within the loop-based Noise iOS app. The Blocks Dashboard beta introduces much-needed compatibility for a growing number of Mac and Windows programs. Modular expandability. Lightpad includes USB-C to USB-A cable.
The Bad: Noise iOS app does not have full-song recording or audio export options. A lot of setup needed to take advantage of 5D expression with certain desktop software. No DJ-specific software or workflows supported yet.
The Bottom Line: With the Blocks Dashboard beta software, the Roli Blocks move beyond being a technologically impressive controller with limited applications to working with some of the most popular DAWs and soft synths for electronic music. While they're not up to full speed yet, as Blocks Dashboard develops and third-party support for the MPE MIDI standard grows, the Blocks will only get better.
Beyond a Foundation
When Roli released its Blocks music-creation system late last year, they exclusively landed at Apple Stores. Their dynamic multi-color touch surfaces, magnetic Lego-style modularity, and Bluetooth connectivity with the Roli Noise app gave them the kind of futuristic wow-factor that Apple loves to showcase within its elite retail fiefdom.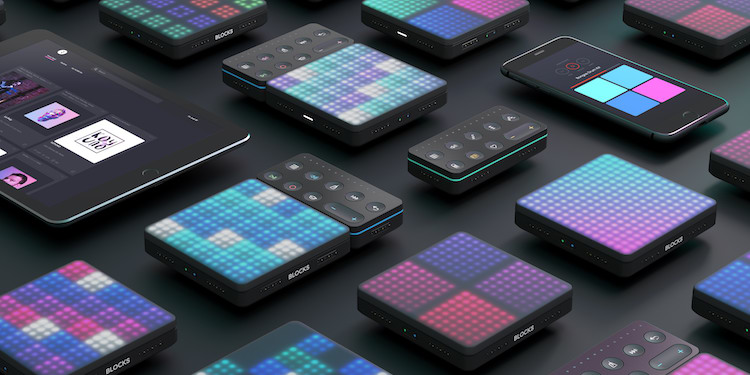 However cool they were, they were still limited to connecting to either the iOS-only Noise app—a loop-based sound engine that would not let you edit synth presets or record your performances as songs—or a few software instruments that were compatible with MPE (Multidimensional Polyphonic Expression), such as UVI Falcon, Roli's own Equator or the stock instruments of Bitwig Studio and Apple Logic Pro X. They also included a 3-month license to Cycling '74 Max, where users can install Blocks Objects from the Package Manager.
With the recent beta release of the Blocks Dashboard software, the professionally attractive Blocks began to escape a kind of limbo they were in between pro-level potential and the consumer/prosumer market. The continually updated Blocks Dashboard beta gives the Blocks—especially the marquee Lightpad Block—expanding ability to control DAW software such as Ableton Live, Bitwig Studio, Logic Pro X and Steinberg Cubase, as well as instrument like Spectrasonics Omnisphere and Native Instruments Massive and Kontakt.
With a lot of development to go before it reaches v1.0, the Blocks Dashboard beta represents the first step for Roli's Blocks to enter power users' daily workflow.
The Lightpad, Live and Loop Blocks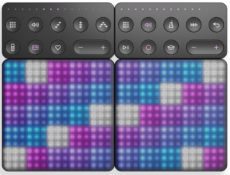 The innovative Lightpad Block serves as the entry point to a Blocks system. Its smooth but firm silicone multi-touch surface covers 225 LEDs arranged in a 15×15 grid that dynamically updates to serve as a 5×5, 25-note grid keyboard in the style of the Ableton Push or Novation Launchpad Pro scale modes; a 4×4 drum pad; a set of four faders and buttons; an XYZ pad; and others. It also handles motion across its LEDs very well to produce dazzling color effects that illustrate finger movement across the surface, charging from the USB-C cable (green) or connecting over Bluetooth (blue).
The Lightpad represents a controller breakthrough that justifies what might otherwise be seen as an overly steep price. It is by far the smallest and least expensive polyphonic multidimensional controller (PMC), a category of hardware that includes items like the Roger Linn Design LinnStrument and Roli's own Seaboard Rise. PMCs support the still-growing MPE MIDI standard, which grants players expressive freedom through multiple gestures with each finger. MIDI hardware/software instruments typically need to receive multiple MIDI channels of information for each sound, part of the reason why MPE support isn't widespread yet.
Specifically, the Lightpad Block offers the same 5D expression as the Seaboard Rise. Each finger has five available gestures to alter the sound, which Roli calls Strike (velocity), Press (aftertouch), Glide (left/right motion), Slide (forward/backward motion), and Lift (release velocity).
The optional Live and Loop Blocks are each 10-button controllers that provide specific helpful shortcuts within the Noise app. With Blocks Dashboard, you can assign specific MIDI commands for each button.
Like the Lightpad Block, the Live and Loop Blocks have internal lithium batteries and Bluetooth connectivity. However, only the Lightpad Block has the USB-C port for charging and connecting to a computer. To charge the Live and Loop blocks, you magnetically connect them to a Lightpad with Roli's 6-pin DNA connectors on all four sides of each Block. In this way you can also snap together many different configurations of multiple Blocks. However, as long as they're all connected over Bluetooth, Blocks don't need to be attached to work together.
In my tests, their Bluetooth connections were always swift and solid with a negligible latency that's listed at 30ms. Their battery life varied according to usage, but seemed to average around four hours of continuous use per full charge.
Bring the Noise: iOS Connectivity
Noise is a free iOS app for anyone, but registering at least one Lightpad Block gets you free downloads of many more presets—more than 100 in all, with extra soundpacks starting at $3.99.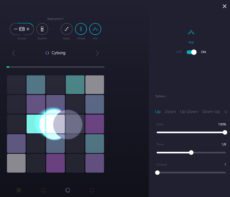 In general, the preset instruments and drum/percussion sounds are of a high caliber, and many sound as if they were borrowed directly from Roli's Equator soft synth that accompanies their Seaboard keyboards. Roli programmed all of Noise's analog-style synths, FM synths, acoustic sounds and drum kits to respond to the Blocks' 5D tactile expression in some way.
With all of that hands-on manipulation of the sound, and with the Lightpad only playing notes of the scale and key that you set in the app so that nothing is out of key, it's easy to make the instruments feel alive, as well as mysterious. This is the same 5D expression that in the right hands and with the right sounds, a keyboardist can mimic the guitar solos of Prince and Jimi Hendrix on a Seaboard and sound like the real thing. Electronic music enthusiasts still aren't used to hearing that kind of expression when it's applied to a variety of synth and bass sounds, so you have the opportunity to get freaky with something truly new.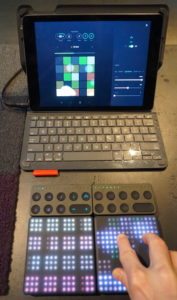 On the other hand, creating sophisticated melodies and progressions with the Lightpad won't be so easy at first. It's a new style of playing that combines elements of the Seaboard keyboards with button-grid controllers, while not working exactly like either one. It will take practice. Luckily, a Learn mode employs light trails to show you how to play built-in phrases for each preset. Also, Noise's Chord mode and arpeggiator make it easier to get something cooked up faster.
You can record looped parts from either the Instrument view, which is a more detailed screen for a single instrument that includes a section for choosing scale, key, chord type and for editing the arpeggiator, or the Song view. In the Song view, 16-slot loop grids represent four rows for the four available parts: three instrument parts and one rhythm part. A Lightpad Block changes its display to either represent the loops you can trigger in Song view, or the sound you play in Instrument view. A side Mode button on Lightpad also switches the view. For a better workflow, two or more Lightpad Blocks will give you both an Instrument view and Song view to manipulate simultaneously.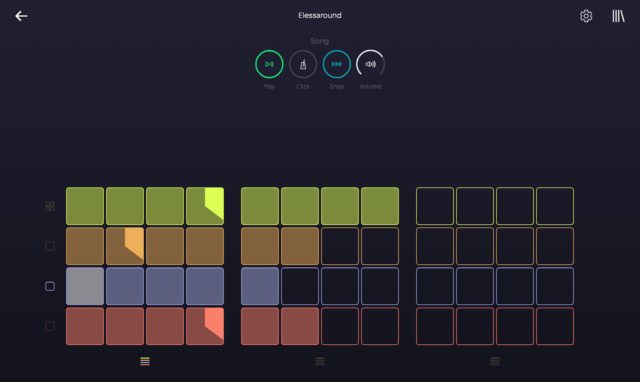 Recorded loops capture all your 5D movements. For Drum and Groove Kits the Lightpad shows either 4 or 16 pads. Drum Kits contain one-shot sounds, while Groove Kits have nested rhythms for each pad, which you can customize during recording by altering their rhythm, filter, etc., with various movements on the Lightpad.
If you add the Live and Loop Blocks, they can speed up the workflow with common Noise functions. The Live Block controls instruments by switching presets and scales, toggling Arp and Chord modes, transposing octaves and more. The Loop Block offers recording controls like tempo, play/pause, quantize, Learn and undo. Either Block can control the Noise's volume and switch between the four song parts.
While working with Noise can be immediately gratifying, it can take some considerable effort to make something you're really proud of. So it would be nice to be able to export your work in some way to encourage that investment of time. Currently, while you can create large collections of loops to play back and mix spontaneously, you cannot string together loops into a full song, record your live performances as audio or export loops at audio. I'd love to see an upgrade along those lines.
Blocks for Mac & Windows: Blocks Dashboard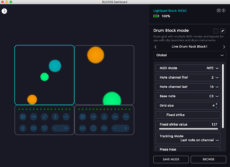 With the new Blocks Dashboard beta software, you can the Lightpad Block to a variety of different control modes, including:
Melodic – for playing software MPE instruments in the same style that it plays notes with Noise, in a 5×5 grid with set key, scale and octave.
Drum – for using the Lightpad as a 16-pad finger drummer,
XYZ – Pad for using the Lightpad as an XY pad with the added dimension of Z as pressure control.
Fader – where the Lightpad has four vertical faders and a row across the top that instantly sets the faders at their highest level.
Mixer – where the Lightpad has four vertical faders and a row of four assignable on/off buttons across the top.
BLOCKSinvaders and BreakBLOCKS – two simple old-school arcade games for goofing off a bit.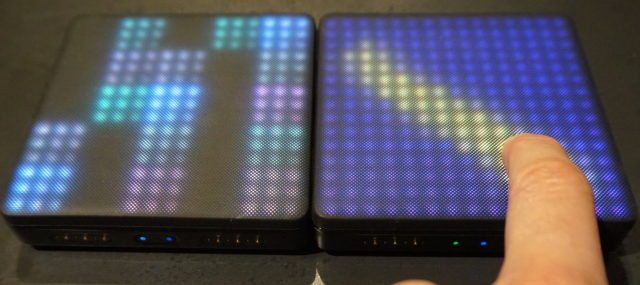 Each of those programs has settings you can change and save as user programs, so you can customize the Blocks for different uses in different software. For example, you can set the MIDI message and color for each pad, fader or button in a setup. If you speak geek, you can even alter the code of programs using Roli's C-like Littlefoot language.
Blocks Dashboard has plans to officially support many more software applications, including Logic, Ableton, Bitwig, Kontakt/Massive, Max MSP, and more. At this early stage, Blocks will work with any MIDI software that will recognize them, but results may vary. I tested them mainly using Roli's own guides for integrating them with Ableton Live and Bitwig Studio 2.
In Live 9, I set up two Lightpads to play 32 continuous notes of Drum Rack devices. For simple on/off playback, this worked well. To use the Lightpad's Glide, Press and Lift expression, you have to go into each individual Drum Rack sample and assign parameters to Pitch Bend, Aftertouch and Off Vel respectively. The Lightpad's Slide function transmits a set MIDI CC that you can alter within Dashboard.
We all owe a debt of gratitude to people who put in the tedium of creating complex scripts and devices for getting the most out of hardware. However, the tough fact is that most people would rather make music that set up controllers, so hopefully further down the line there will be a way to use the Lightpad Block's 5D expression in a more plug-and-play fashion than manually setting multiple parameters for each Drum Rack note.
With Bitwig Studio 2, as well as with Logic Pro X, the stock instruments are ready for MPE controllers, and customizing them for MPE is quicker and more visual. For example, with Bitwig's Polysynth, if you plug in the Expressions modulators, you can easily set up multiple parameters for the Lightpad's Strike, Press, Slide and Lift motions. You just click on one of the corresponding Vel, Pres, Timb or Rel Expressions, and then the available parameters show up highlighted in green. Then choose which of parameters are to be modulated, and your selections show up in the Modulator view to the left of the screen.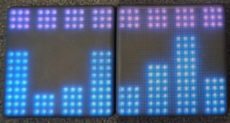 In both Live 9 and Bitwig Studio, it was straightforward to MIDI map the faders and buttons of the Lightpad's Fader or Mixer modes to channel faders and mute buttons, for example. To use multiple Lightpads in such a way, you'd want to first alter each Lightpad's button and fader MIDI CC values in Blocks Dashboard, so they don't overlap.
Building Toward the Future
Having added the new the Blocks Dashboard beta, Roli's Blocks are on their way to reaching their full potential as an extremely portable, versatile, and expressive controllers. Besides its LED display, which is only limited by the imagination of its programmers, the Lightpad Block distinguishes itself as the most compact and affordable PMC hardware now.
The Lightpad Block's firm surface also takes a different kind of finger dexterity and strength to play well than does the spongy-soft keyboard layout of Roli's Seaboards or button controllers like the Push. To commit to mastering the Lightpad, producers will want the kind of pro-software compatibility that Blocks Dashboard has begun to furnish.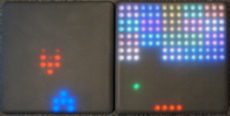 As Roli continues to update Dashboard on the way to a 1.0 release, it's listening to suggestions, so let them know. As of now, there are no DJ-specific workflows or applications included with the Blocks. Over to you, readers! How would you want to use these unique controllers in a DJ rig?