If you walk up to a pair of Denon DJ SC5000s and want to DJ on them, what do you do? Denon DJ released a built-in tool on the players to convert Rekordbox USB drives. But it delivers only on a baseline level – read about a new update to Denon Conversion Utility, a 3rd party tool that does it better.
Denon DJ's Conversion
Last month, we covered the exciting news that Denon DJ finally integrated on-player conversion of Rekordbox/Pioneer CDJ USB sticks to their own platform.
For it being more than six months, we expected it to be the best tool available. But after running a few tests, it wasn't great. All of the carefully organized playlists (in folders) were dumped at the same level, there was no key data or beatgrids. Denon DJ's response?

Denon DJ has a ton of great people working for it, and they're building a wonderful ecosystem of DJ products. But to get DJs to switch from their established platforms, things like this conversion process need to work without a hassle, and they need to be comprehensive – especially when these players have been on the market for a several months. These are features that probably should have been on the product at launch.
Denon Conversion Utility 3.0 Seems To Do It Better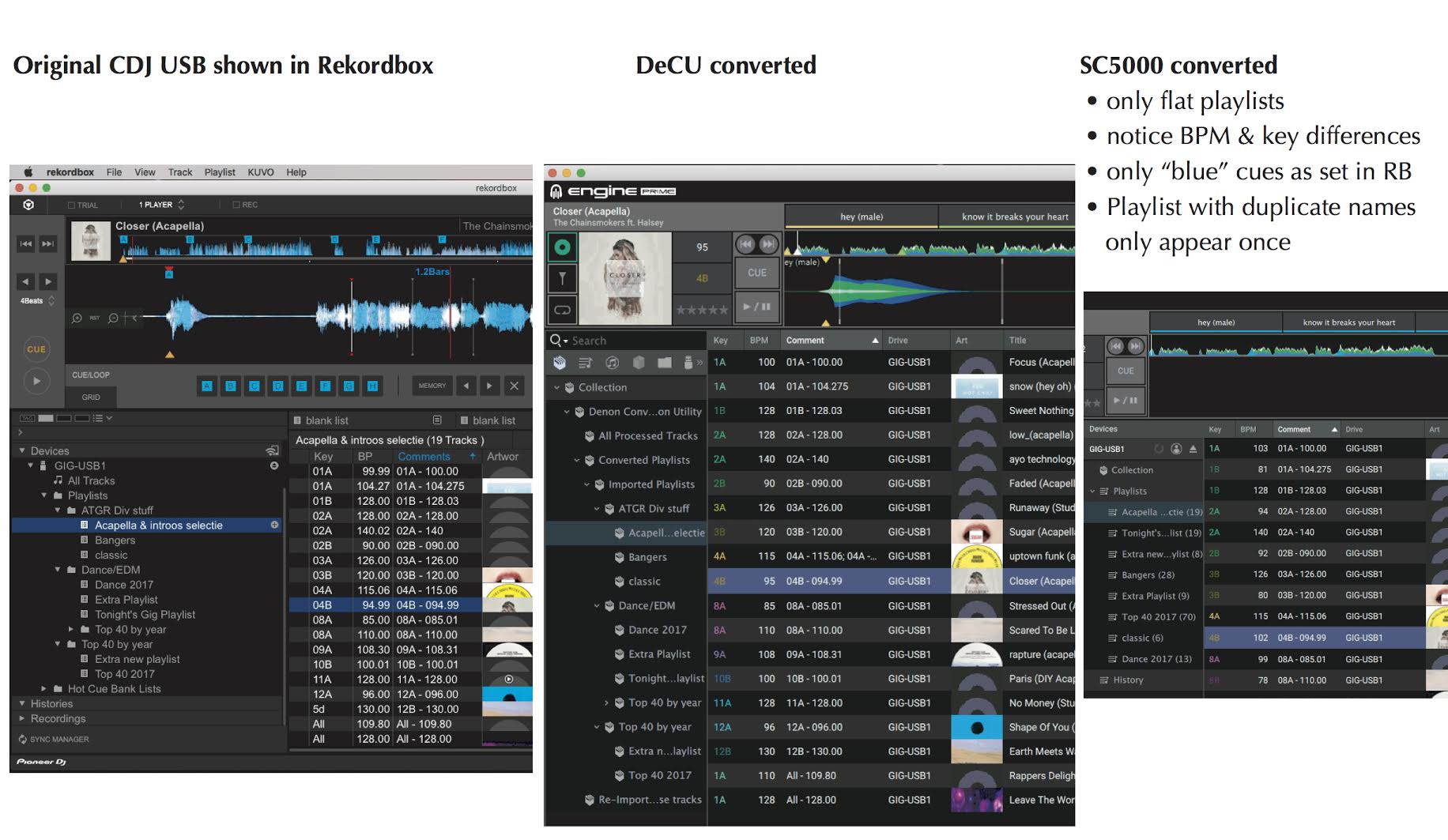 ATGR Production Team is a software developer – with a team of one, MixMasterG. He's a Netherlands-based DJ and engineer who has been fervently making his own suite of tools for DJs. In an era where many DJs are considering moving from one DJ platform to another, these types of tools can be a godsend.
Denon Conversion Utility is the app developed for DJs wanting to convert their Rekordbox USBs and associated metadata to Denon's Engine format.
Note that prior to Denon DJ's new firmware for SC5000s, there was no official way to convert a Rekordbox USB. An earlier version of this utility was the only way to do it aside from importing your USB or library, playlist by playlist, and exporting back out to USB. This also meant you'd have two copies of every song you exported – which I quickly found out was a great way to run out of storage space on your USB drives.
In its current state, Denon Conversion Utility 3.0 is a relatively straightforward process. MixMasterG recommends using a new, temporary user account on Mac to simplify the process (otherwise things get messed up with the various collections – easier to do this process somewhere where you won't hurt your master Rekordbox collection).
The process is pretty easy:
Make a temporary user account and plug in your Rekordbox USB
Open Rekordbox, select the USB under "Devices" and right-click Playlists, selecting "Import Folder"
Click "Do Not Copy" when it asks if you want to import the actual music files
To get cues and loops imported, you might need to delete the folder and import the collection again with "Update Collection"" (see the video for more)
Export Collection in XML from the File menu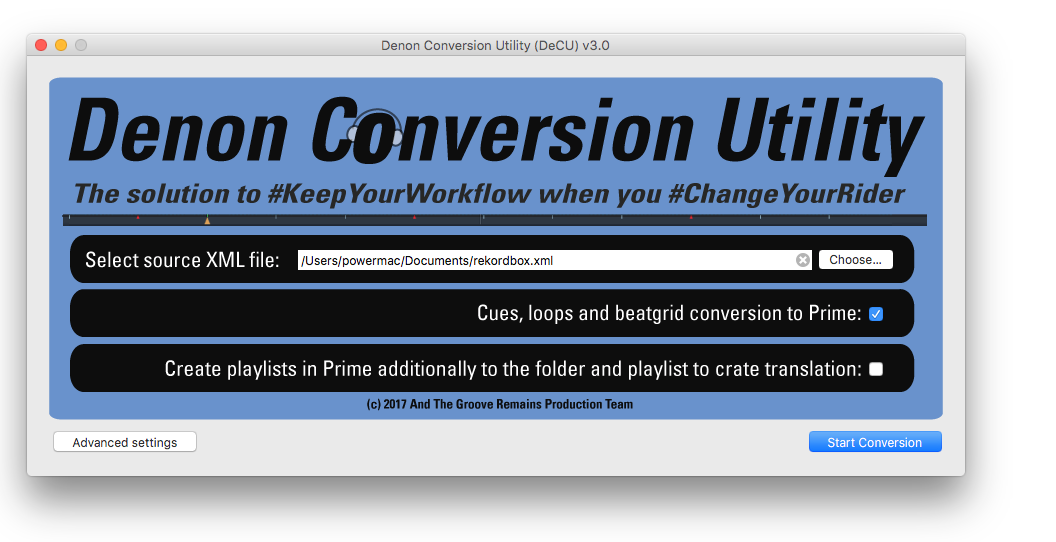 Open Denon Conversion Utility and choose the XML file you exported
Select the top level to import all playlists
Engine Prime will open – in the Analyze These Tracks First new playlist that's been created, select all, right-click, and choose "Reimport Track Information"
Right-click again and select "Analyze Tracks". Everything will finish up automatically at this point.
Excitingly, the result has full nested crates for playlists. All key and beatgrid information carries over. All of the cues have their own unique colors (not all Blue, like when imported by Denon's tool).
The key last step is to remember to select NO when Denon's players want to use their own import tool – otherwise you'll write over all the work done by Denon Conversion Utility.
A Future For Denon's Conversions?
We believe Denon DJ when they say that the on-player conversions are on the roadmap for their products. We get it – developing firmware is hard, expensive, and time-consuming. In the meantime, it's great to have a developer who is so proactively developing real, usable solutions for DJs.
Author's Disclosure: I gave MixMasterG a few suggestions about cleaning up the user interface and manual for this new release prior to release.