It used to be that setting up mobile DJ gear meant placing a 15″ tall rack on top of a folding table – the perfect height to play from. But in a modern era of DJ controllers and thinner setups, ergonomics can be a challenge. In today's article, DJTT mobile DJ maven Angel shares his advice on raising up tables to get the ideal workstation, without blowing up your wallet.
From Rack Mounted to DJ Controllers
When I started DJing mobile gigs (primarily weddings) I got an American DJ rack-mounted dual disc player with a 5 channel mixer that I mounted inside a SKB Roto Rack DJ case. It might sound archaic – but that's the gear that all the old dudes I was taking advice from were using at the time. DJ controllers weren't a thing just yet.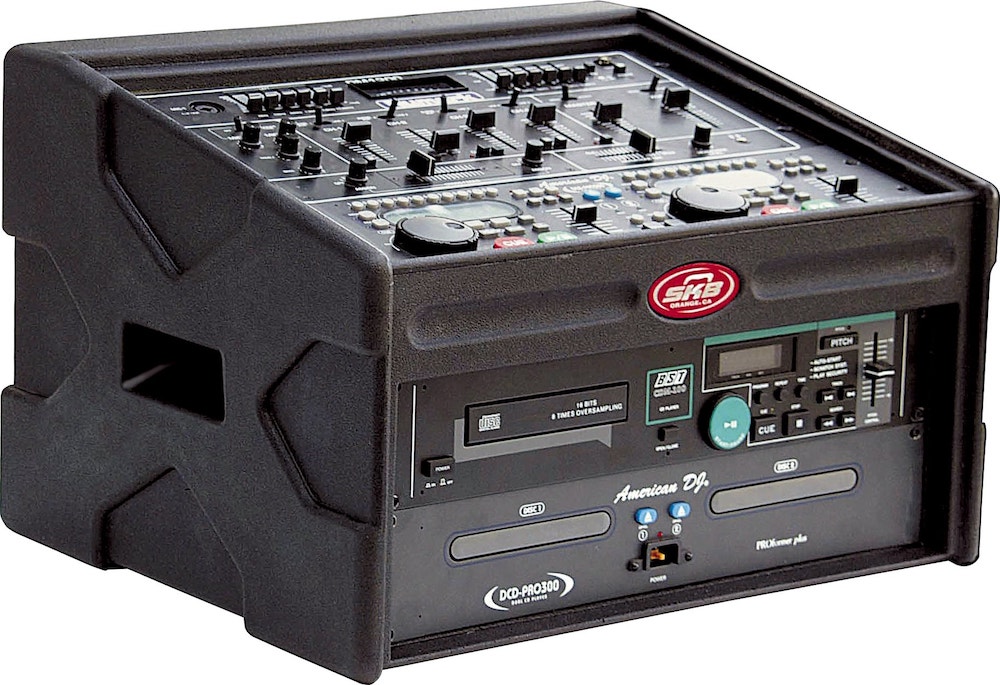 Beyond being being super convenient (everything was pre-mounted/pre-wired at all times – a huge time saver as I talked about in this article), it was also super tall, eliminating hunching over–ever. A few years later, when DVS, DJ controllers, and built-in sound cards became standard issue, my "super sweet," 15-inch tall DJ kit was obsolete almost overnight. I would never go back to my clunky un-cool mobile setup.
The biggest issue with controller setups: ergonomics. Suddenly, without a rack case, I was hunched over all the time – because my 2 inch tall DJ gear is now was sitting flat on a 28″ – 29″ tall folding table at gigs. Raising my kit by setting it on top of light cases just didn't work for me aesthetically, so I needed to find a solution.
The biggest issue with controller setups: ergonomics.
Raising Up DJ Tables On A Budget
While shopping for a taller folding table (they don't exist), I wandered through the bedding aisle and saw a set of bed risers. The rest is history, these risers did the trick, and my back didn't hate me anymore! Years later, I saw a street food vendor jacking up his folding table with PVC pipe – so I went home and figured how to do the same myself! With those DIY PVC pipe risers, and my bed risers, any table I ever use is always lifted up to around 36-38 inches tall.
This is an amazingly simple fix, but one that I still don't see often used by other DJs. Hopefully this will help some of you out there looking for some tall table options. I've put instructions for the DIY PVC pipe risers below, but you can also buy prefab risers.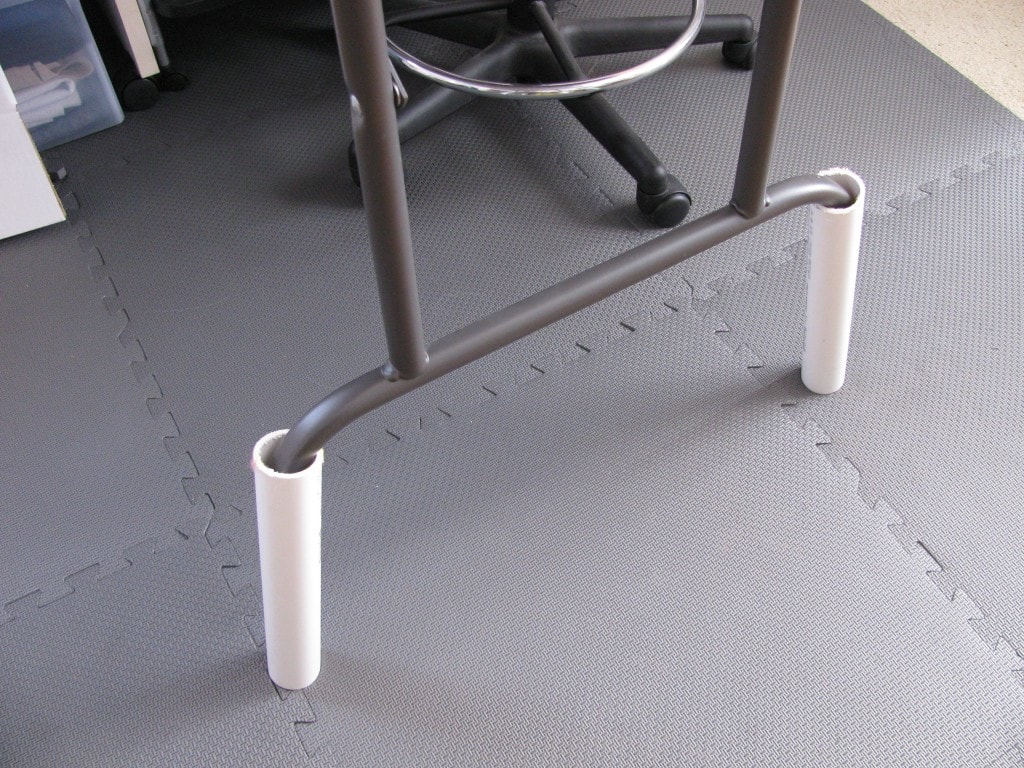 Most recently, I decided that it would be great to have a folding table that A) didn't need risers, and B) was a bit more compact for the amount of space I actually needed while DJing with my controller (6ft tables just absolutely dwarfed my Traktor S2). As luck, and Amazon, would have it, I came across this 4ft folding table that jacked up to 36" tall. It's also a great piece of kit because my footprint is much smaller now. A smaller footprint is often helpful, particularly at smaller venues where clients push the rooms capacity and leave little room for the DJ. It's a little wobbly, but a minor complaint for something I use at nearly every gig and, just like the table risers, saves my back from lots of pain and fatigue.
The only downside to these tables is the fact that no table skirt or table scrim is made to go that high. You can use a few standard flat sheet-table linens, but if you want that fitted look, you might have to either DIY or find someone to custom make one. I went the DIY route for my 4ft folding table and made a custom fitted cloth for it. Looks like a million bucks.
Hopefully this will help you get your portable/folding tables to a more manageable level. The longer you're in this game the more things you should do to keep yourself healthy, fit, and sane – a sore back from DJing is just a pain in the, well, back.
DIY PVC Pipe instructions
You'll need:
1-1/2-inch (or diameter appropriate for your table's legs) PVC pipe, ~48 inches long
Tape measure
A pen or marker to mark things
Some kind of saw, I used a circular saw, hacksaw will work as well
Safety glasses!
Gaffers tape to wrap and make hard floor safe afterwards (optional)
Before You Start: Tips! Measure the diameter of your table legs before purchasing PVC pipe to make sure you select a pipe size that the legs will fit into.
Measure, measure, then measure again. I'm the worst at rushing things, but measure twice, cut once.
STEP 1: Gather all your tools and supplies.
STEP 2: Measure from bend in table leg to end, then add however many inches you want to add to your table's original height. That determines how long to cut each leg. (mine are about 18″ long to get the table up to 37″ tall.)
STEP 3: Mark your PVC pipe for first leg, then cut. Repeat 3 more times. Use a file or some tape to level off if you didn't get your legs perfect. Enjoy your new DIY taller folding table!
Solutions On Amazon
Here's a great list of stuff to check out on Amazon if you'd prefer to go the pre-fab route:
A few pre-made table-riser options: