Reloop ELITE Mixer + RP-8000 MK2 Turntable: Challengers To Pioneer and Technics
While the turntable brand that defines DJing announced their new model yesterday, today Reloop announced two new products that aim to challenge industry standards. The Reloop ELITE mixer feels specifically targeted to take on the DJM-S9, and the new RP-8000 MK2 represents a much more futuristic approach to DJ turntables than Technics' new model. Keep reading for details on both.
Reloop RP-8000 MK2 Turntables
Gear: RP-8000 MK2
Manufacturer: Reloop
Price: 599,99€  / $699.99 / £525.00
Availability: End of January 2019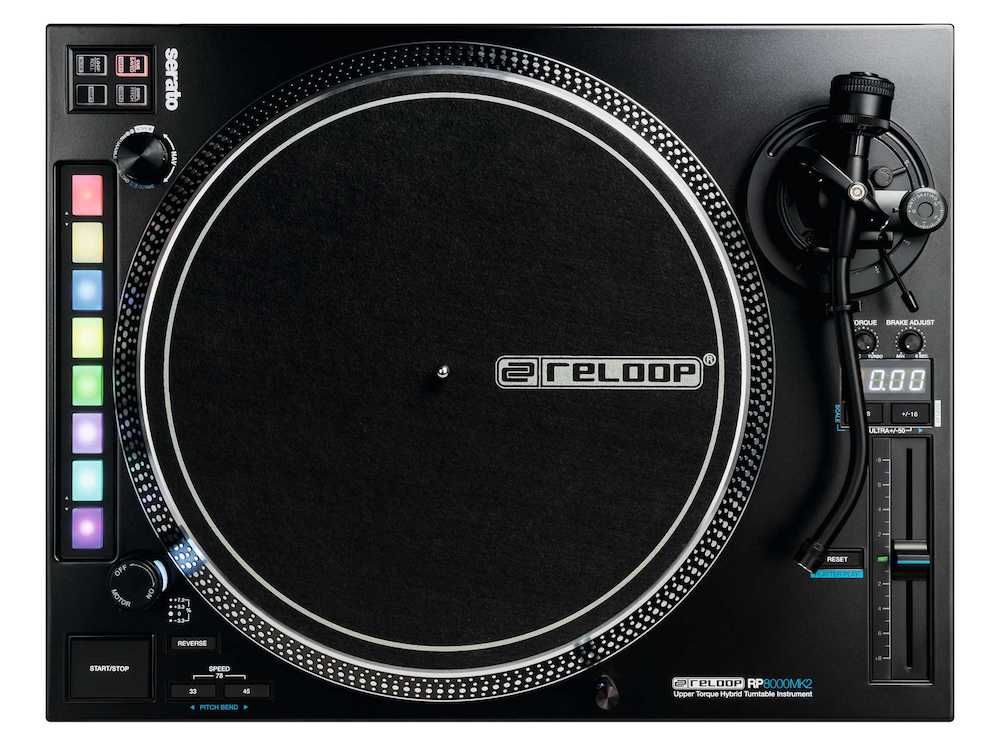 Strongly branded as "the most advanced DJ turntable ever made", Reloop's new MK2 version of the RP-8000 takes things to a dramatic new level. The feature set on these new models seem designed to win over turntablists who aren't afraid of digital features and who use Serato heavily. Beyond the original models' features and the typical turntable functions, this includes:
8 RGB pads with 7 performance modes (for control over Serato DJ Pro's Cue, Sampler, Saved Loops, Pitch Play, Loops, Loop Roll, and Slicer) as well as 2 custom-assignable user modes.
Browse encoder to load/browse tracks directly from the turntable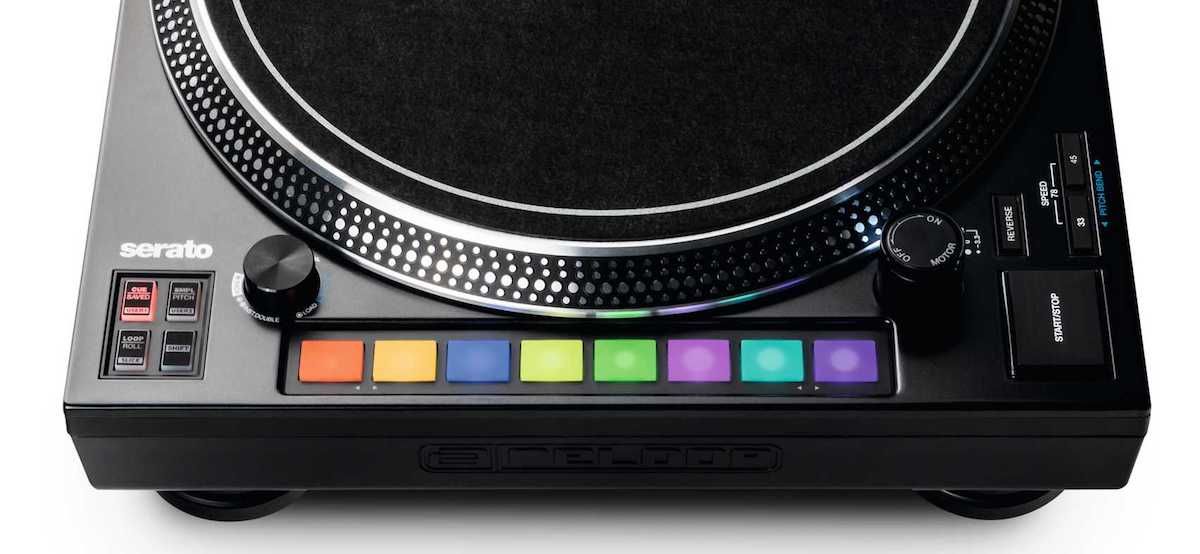 MIDI compatible controls to allow it to work with any DJ software
Platter Play functionality – control the pitch/speed of the platter via the performance pads (similar to the Vestax Controller One turntable) within specific keys – up to 22 scales and 34 notes. You can use the speed select buttons to pitchbend or to move up/down by a half-tone, or even control the speed of a platter with an external MIDI keyboard.
LCD that shows pitch, BPM, scales/notes, time of current track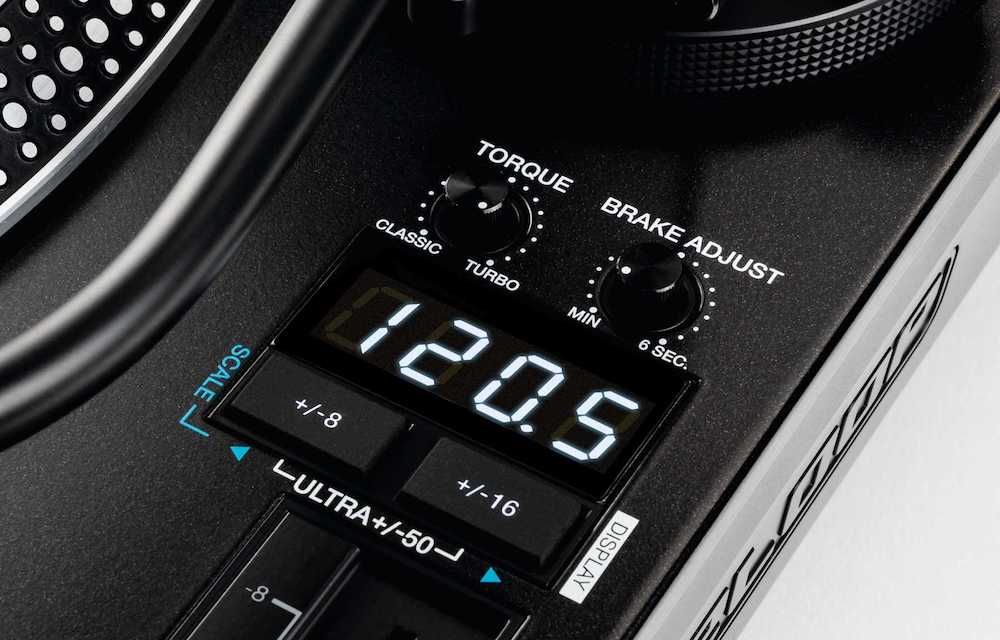 Smart USB connection that allows up to 4 turntables to be daisy-chained from a single USB port, and they will assign themselves automatically.
Dedicated forward and reverse mode buttons

Integrated phono pre-amp and line out (no ground required)
Second output – allowing it to be connected to two mixers at the same time
Learn more about the RP-8000 MK2 on Reloop's official product site here.
Reloop ELITE mixer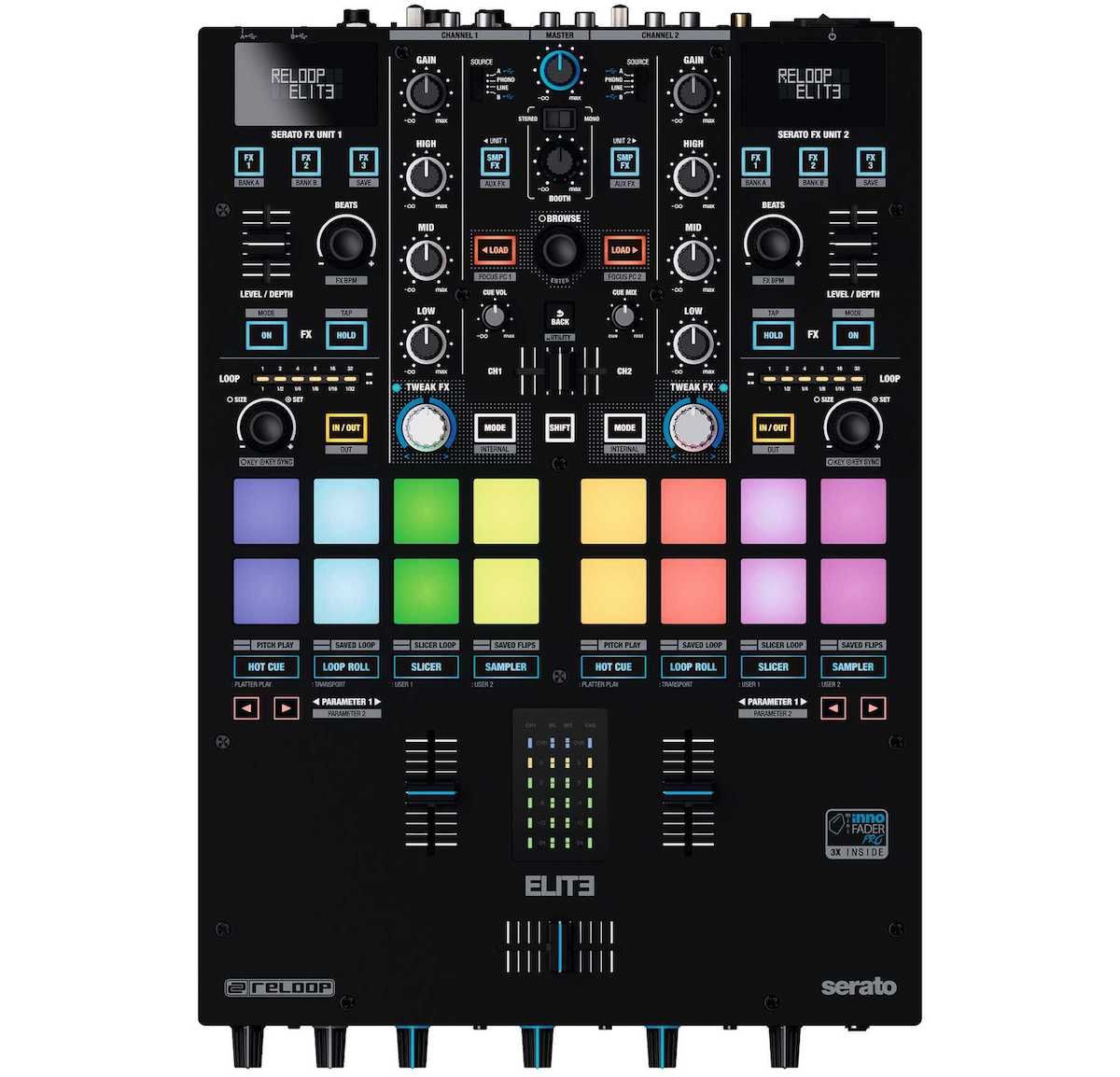 Gear: ELITE mixer
Manufacturer: Reloop
Price: 1,249.99€ / $1,299.99 / £1,100.00
Availability: March 2019
Performance pad sections are the obligatory hotness on any product, and it seems like if a company wants to challenge the current battle mixer standards, they need to include 8 RGB pads above the channel faders. That's exactly what Reloop has done with the ELITE mixer, which looks to be a direct competitor with the DJM-S9 and other similar battle mixers from Rane and Mixars.
The ELITE has a ton of features that make it appealing, and it lands about $400 cheaper than a new DJM-S9. Here's what the new mixer has onboard:
Control up to 12 performance modes per deck with 16 velocity sensitive RGB pads
3 mini Innofader Pro (latest generation) on-board faders (cross and upfaders)
2 high-contrast OLED displays showing real-time information of effects, BPM, beat divisions and
setup menu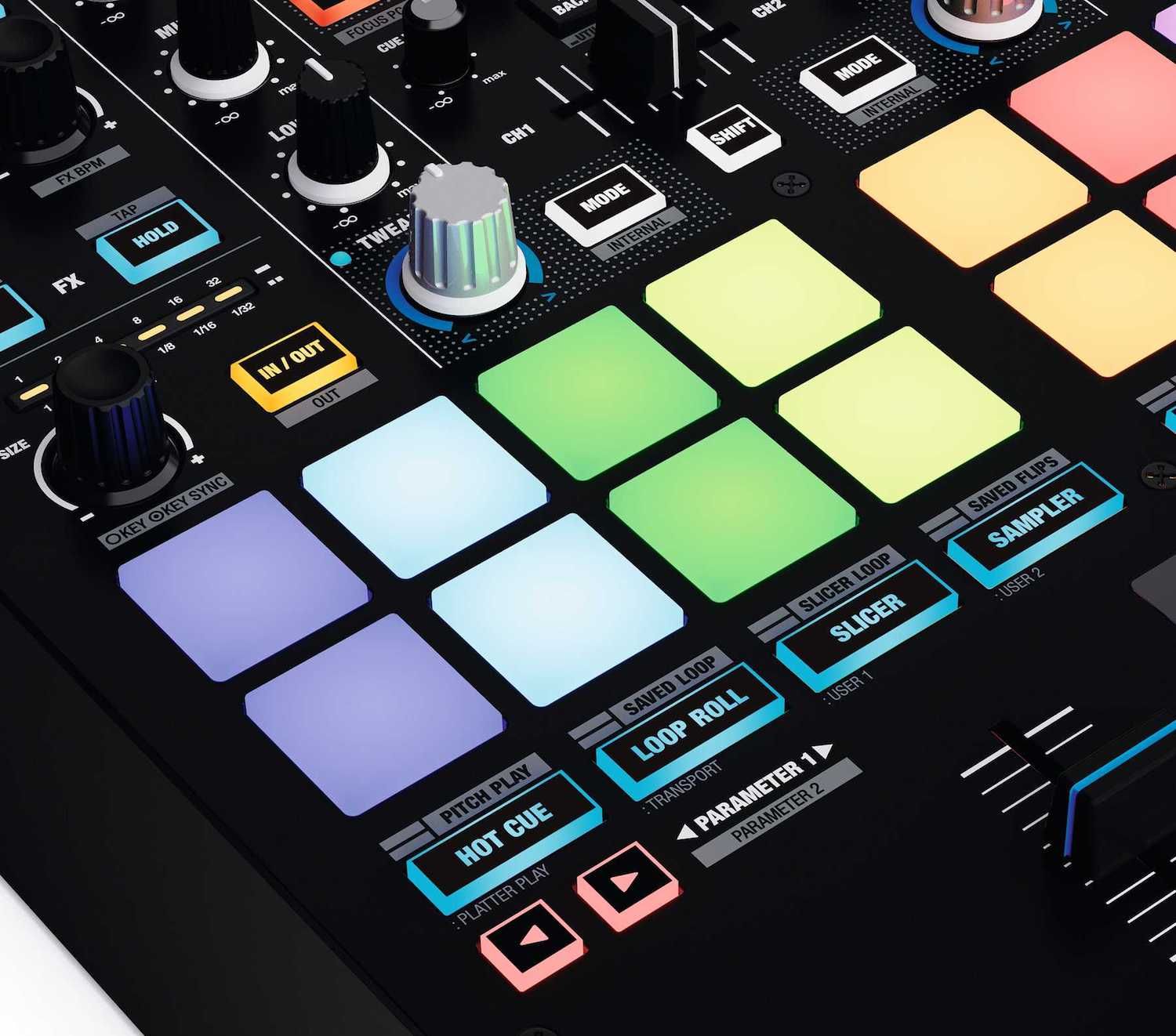 Colour-coded Tweak FX (similar to Color FX) – stand-alone bi-pole effects knobs (Filter, Crush, Flanger, White Noise and user mode)
DUAL 10 In/Out USB 2.0 audio interface with superb sound quality in 24-bit
Two independent effect units for controlling Serato DJ Pro FX with 3 assignable effect slots, each with dedicated activation buttons

Dedicated and flexible effect controls for each channel
Mini-fader for FX Level/Depth control
2 FX activation modes: Hold or toggle on/off

When paired with RP-8000 MK2 turntables, the pad modes can be controlled individually on each device and deck (doesn't mirror the mode across decks/devices)
Customizable fader curves and reverse/hampster switch
Loop encoder and LED bar for easy loop setting
Sample and AUX channel can be routed through Serato FX as send/return

Inputs: 2x phono RCA, 2x line RCA, AUX RCA, mic/line TRS, 2x Smart – Link USB ports (type A),
2x USB ports (type B)
Outputs: Master XLR (balanced), master RCA (unbalanced), booth TRS (balanced), rec RCA
(unbalanced), headphones 6.3/3.5 mm jack
Includes Serato DJ Pro with DVS expansion and two Serato control vinyls and a 90 day BPM Supreme membership
See more about the ELITE on Reloop's official product page here.
The new Reloop mixer begs a pretty clear question: with this product and Seventy Two already out there, will Pioneer DJ have something in store at NAMM 2019 to keep their battle mixer model on top? Stay tuned to DJTT to be the first to know.
We're likely to see both of these two new products at NAMM 2019.
Have specific questions that you want answered? Let us know in the comments on this article.