For DJs looking to buy a top-of-the-line battle mixer for Serato DJ, there are two obvious choices: the somewhat aging Pioneer DJ DJM-S9 and the less-than-a-year-old Rane Seventy-Two. In today's review, DJTT contributor DJ Soo dives into his multi-month reflection on the Seventy-Two, including its best features and biggest quirks. Before you buy one of these mixers, be sure to read this full article!
Reviewed: Rane Seventy-Two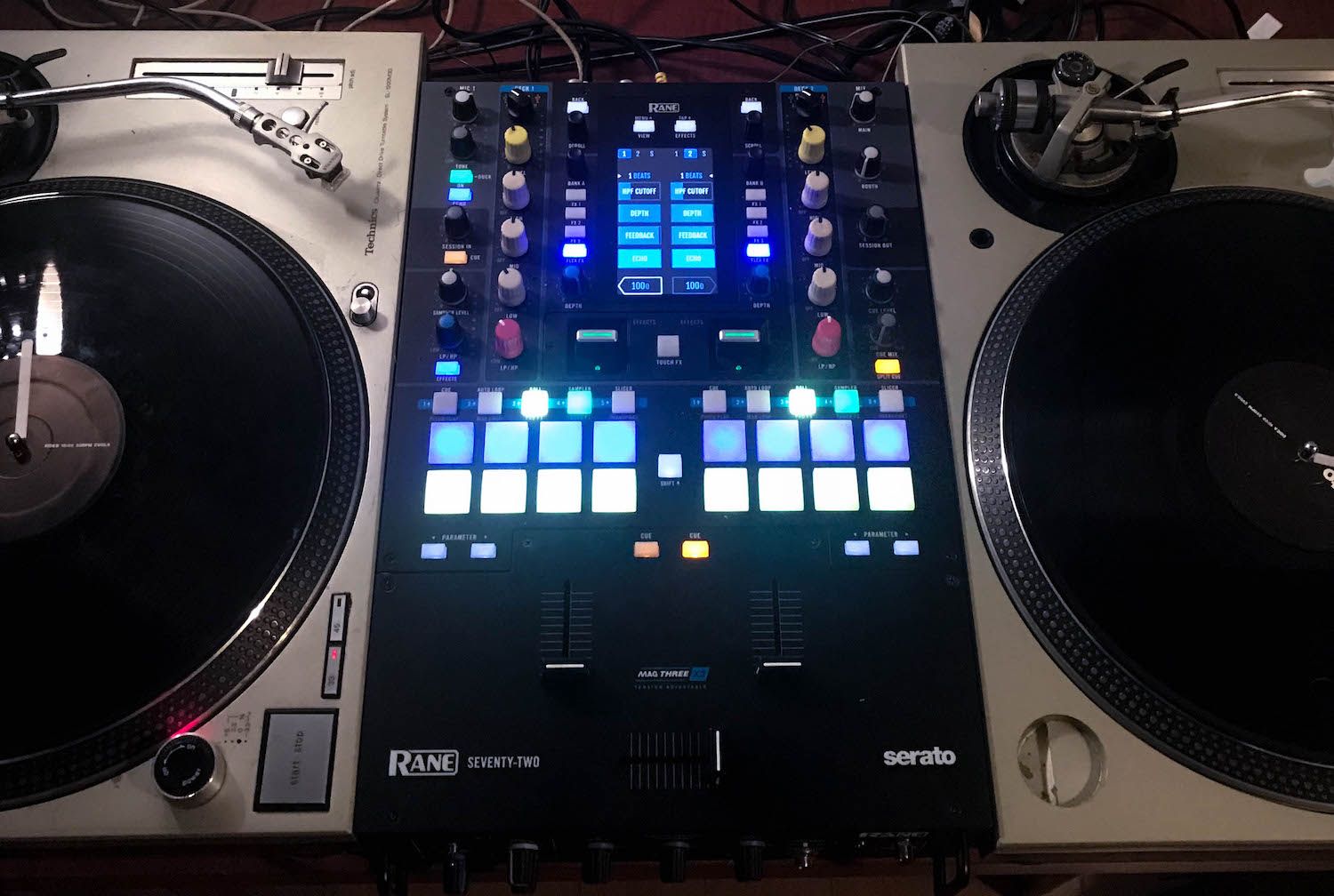 Why Review The Rane Seventy-Two, Now?
Many reviews of the Rane Seventy-Two have been out for six months. But for DJs who use their gear heavily, reflection on the a piece of hardware is even more valuable after a few months. I've used the Seventy-Two for over four months, and know the mixer inside and out. I've put it through some serious paces at every practice session and gig (including weddings, music festivals, and heavy scratch events).
Author's disclaimer: I am an unabashed Rane fanboy. I fell in love the moment I first used a TTM-54 almost 20 years ago and have always enjoyed playing on Rane mixers since. Rane's build quality, sound quality, functionality, and ultra-tight and smooth magnetic crossfader have all kept me on their products. I have owned the 57 and 62 and had extensive experience with the 54, 56, and Empath (my favourite mixer of the 2000s).
However, my Rane love also has given me an ultra-critical lens when reviewing the Seventy-Two. When Rane was purchased by InMusic, manufacturing largely moved to Asia, and then they announced there was a new line of gear coming, I was skeptical but intrigued. InMusic has had major shoes to fill given Rane's previous reputation for quality across the board, and I went in wanting the best, but expecting to be underwhelmed.
What I Love About This Mixer

Best-of-Rane Build Quality:
The term "built like a tank" is casually used, even about the most plastic-y feeling DJ gear. But the Seventy-Two really does feel tank-level in build quality. Housed in an all steel casing, it feels like the most solid mixer of theirs, and possibly one of the most solid mixers I've used in recent memory.
It felt like Rane's build quality took a hit in their last generation of products, the Sixty One/Two/Four/Eight line. That era of Rane gear felt a little lighter, and like more corners were cut. Cheaper material seemed to be used and some spotty design and manufacturing led to frequent issues – mainly the buttons, knobs, and the fader carriers. It still stood the test of time and sounded fantastic, but they never felt as solid as the older 57 line.
Anyone wary of the manufacturing being moved to Asia should be happy to hear that the Rane build is still there - and may have even improved.
The Seventy-Two, however, feels like a return to form. Anyone (myself included) who was wary of the manufacturing being moved to Asia should be happy to hear that the Rane build is still there – and may have even improved. The only major issue I have with it in terms of build are the knobs construction (more on that later)
The pads are lifted straight from the Akai MPC line and feel very responsive. They have a little more give to them, and you can feel and see the pads actually depress. This is different from most Pioneer DJ mixer pads which are more firm and don't "sink" into the unit when hit. I'm fine with both types of pads, but this may make a difference for some DJs.

The faders have that familiar, satisfying Rane magnetic fader feel that they've had for decades. The clicky buttons seem solid and responsive for now, although Rane's track record with those types of buttons hasn't been the greatest. We'll see how they last over prolonged use. The effect paddle controls also feel incredibly well-built with their all-metal construction.
A Complete Set of Serato DJ Controls:
The Seventy-Two is the closest thing to a full controller layout in a DJ mixer on the market. The DJM-S9 came close, but felt a little neutered due to not being able to independently change pad functions for the left and right sides, and lacked in software effect controls. Most mixers need an OSA (Official Serato Accessory) device of some sort to get the 72's level of control. The most comprehensive choice for this is the Pioneer DDJ-SP1, which is starting to show its age.
the closest thing to a full controller layout in a DJ mixer on the market
Almost everything you'd would find on a standard controller is built into the 72:
independent pad functions for left and right decks
controls for all the standard features like Cues, Loops, Rolls, Sampler, Slicer
controls for software effects
some user-mapped controls to add anything that might be missing. Currently, three of the Pad Modes can access a 3rd mode on either side that can be custom mapped to anything you can map within the software. For instance, I've used it to map the key shifting controls for Serato's Pitch'n'Time expansion
While hardly innovative, the paddle controls feel lifted directly from the DJM-S9, and are just as functional and enjoyable to use. Worth noting, it is a little more complicated using them with 4 effect banks and not a single like the S9.
Warm Rane Sound:
I've always loved the Rane sound and this mixer definitely lives up to the great reputation in terms of sound quality. Apparently they are using the same internals as the much-lauded MP2015 rotary mixer!
a warmer, richer tone versus the more clinical, bright sound of Pioneer mixers
The Seventy-Two has a well-rounded and warm sound to it that I generally prefer in my gear. It's a warmer, richer tone versus the more clinical, bright sound of Pioneer mixers. The unit especially shines with bass reproduction that sounds rich and full. Although sound quality is subjective, anyone who enjoyed the Rane sound will love this mixer.
Useful, Frequent Firmware Updates:
Since launch in May 2018, Rane has already released two firmware updates. These aren't only bug fixes or under-the-hood improvements – they are actively adding new features and refinements with each update. Best of all, these tweaks and refinements seems to be straight from owner feedback.
The 1.2 firmware update added a heads-up display on the screen for pad functions, as well as offering alternatives to some awkwardly placed controls (like the tap tempo button). 1.3 beta added new auto loop controls,  much-requested post-fader software effects, useful library controls, and more.
improvements seem to be based on real DJ feedback - not backroom decision-making
That the mixer can continue to improve via firmware updates really adds to the value of the mixer, especially when improvements seem to be based on real DJ feedback – not backroom decision-making.
Advanced Customization + Options:
The mixer offers many options / customization features that are directly accessible within the mixer's menu, allowing DJs to tailor the mixer to their preferences. For example:
Don't like the touch-activated library encoders that bring up the library screen when you brush against the knob? You can turn it off.
Don't use all the hardware effects? Turn off the ones you don't want.
Want to adjust effect parameters or filter resonance? Adjustments can be made directly on the mixer without having to plug in a laptop and make changes via a utility or secret boot mode.
My favourite option is setting the Main outputs to mono. This allows me to mix stereo in headphones while keeping the outputs mono (as opposed to flipping the software to mono which affects all outputs). The mixer even sports a complete Left/Right channel swap feature for those old-school turntablists that prefer a full hamster style setup and not just a simple fader reverse.
The Mag Three Faders: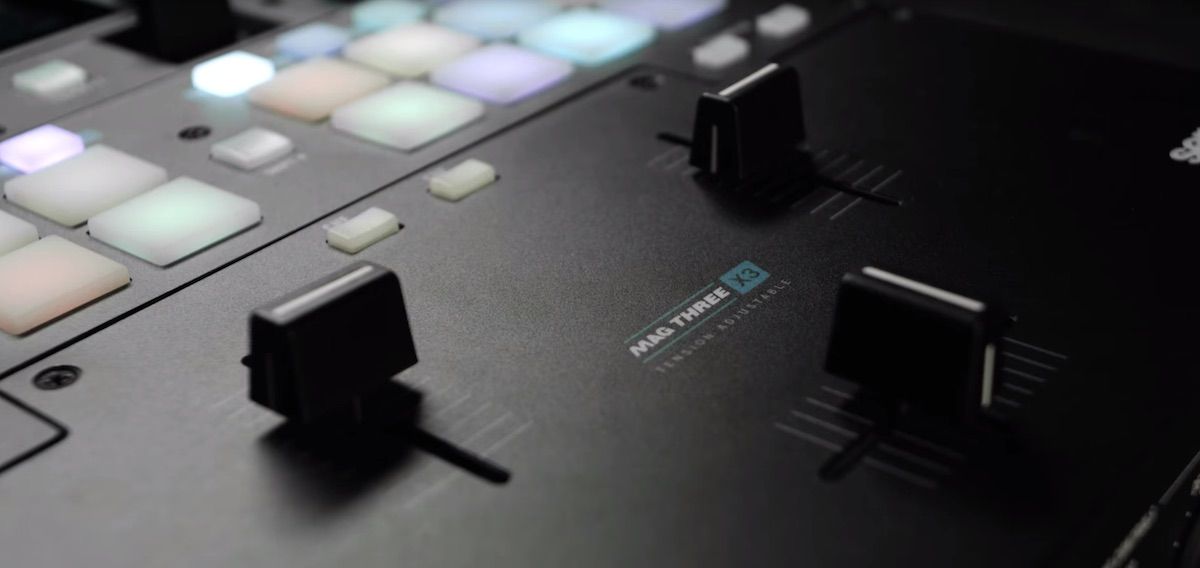 This is a newly designed fader specifically for the Seventy-Two. While the internals are all new, it has that familiar Rane magnetic fader feel that scratch DJs fell in love with 20 years ago. While the second generation faders in the Sixty series of mixers had their fair share of problems, InMusic claims they are using much stronger materials than before, so they theoretically should last longer. (InMusic also remade the old Sixty fader carriers – which were prone to breaking – with this new same material – and can be purchased direct from InMusic.)
Rane uses magnetic faders for all three faders – as opposed to other battle mixers that only use their nice fader tech on the crossfader.
When compared to Pioneer DJ's Magvel Pro fader found in the DJM-S9, I still prefer the lighter Magvel feel – not to mention the extreme customization of all three faders available to the mixer. I am still very happy with the feel of Rane faders; they are a little heavier and much noisier – with a very noticeable "clunk" heard when cutting, but still feel very smooth. I had no problems pulling off any scratch techniques on it. The fader cut can be adjusted digitally from the touch screen in a very user-friendly way for all three faders, as well as through the familiar curve adjust knobs and reverse switches.
Delightfully Excessive Inputs and Outputs:
Rane generally never skimped on I/O, and the Seventy-Two is no different. Output-wise, you have XLR, 1/4"/TRS, and RCA – each with a discrete volume knob. This has been the standard for the majority of Rane mixers since the 57.

The inputs offer a pair of RCA jacks per channel, with one set switchable from phono to line and the other being a straight line input. This is actually a bit of a downgrade from the Sixty line, where every set of inputs could be switched from phono to line.
Also, unlike the Sixty series where all 4 inputs could be used for DVS, on the 72, only one set of inputs per side can be used as a DVS input. Not a huge loss, but I liked being able to have one set permanently set to phono for turntables and the other set to line for CDJs.
Note the two USB-B jacks for easy changeover between DJs. This has thankfully fairly standard in high-end DJ gear!
There's also an RCA auxiliary input with its own volume knob, and the pair of mic inputs can be switched to line level. This allows for one extra stereo (or two mono) inputs in the mixer.
USB Hub
The built-in USB hub is a godsend. While designed mainly with the connection of the Rane Twelves in mind, it essentially acts as a USB hub for your laptop. It disappointingly doesn't provide enough power to run a USB bus-powered hard drive, it has no problems powering external MIDI controllers, USB keys, or even charging your phone. For users with Rane Twelves, this hub also allows seamless handoff of deck control between laptops.
My main setup these days uses a pair of old Denon SC3900s, so the built-in hub has reduced messy cables and external hubs, and freed one of my precious Macbook Pro USB ports for other uses.
Where The Seventy-Two Still Needs Work
Touch + Waveforms on the Display Screen:
It might come as a surprise, but I find the screen one of the least useful parts of the mixer. This is not the buttery smooth screen used in Denon DJ's SC5000 media players. The scrolling waves feel choppy in comparison – especially when zoomed in. This apparently is a result of Rane choosing a screen with a relatively low refresh rate, so it's likely not something that will improve with a firmware update.
The touch aspect of the screen seems like an afterthought. Those hoping for a smartphone-like interface are going to be disappointed. At most, there are a few panels and options that can be tapped via the screen and a few options that can be controlled by swiping, but overall, the interface doesn't come close to smooth integration found on the Denon SC5000s. Part of me wonders what the mixer would be like if they eschewed the large screen in favour of a knob and button control for the effects like on the upcoming Prime 4, and left just a smaller screen for some BPM information. That said, some DJs have a found a clever use for the touch screen:
I find the scrolling waveforms to be more gimmick than anything and often leave the screen set to the effects mode. The waveforms aren't large enough to see much of the track, the scrolling is choppy and difficult to track. For turntablists, the waveforms likely won't replace stickers on records for scratching and juggling. They also lack some standard information from the Serato UI – mainly the scrolling transient window that many people like to fine tune their beatmatching visually.
Effects Controls:
It's great that the 72 offers full control over the Serato software effects (and the recent post-fader update in the beta firmware makes it even better), the actual control scheme is lacking to say the least. Here's Rane's overview:
All 4 effect banks (3 software, 1 hardware) have independent buttons to turn on and off the effects, but the three software effects – as well as the BPM settings for both hardware and software effects – share one encoder to both control depth and change effects. This requires a clumsy amount of screen tapping, knob twisting, button pushing, and screen staring to make sure you're adjusting the correct parameter. Anyone used to straightforward effects controls like you'd find on a typical MIDI DJ controller will likely be frustrated using these controls.
(DJs) used to straightforward effects controls like those on most DJ controllers will likely be frustrated using these controls
Having a single encoder to control 9 functions is unruly, to say the least. At this point, I've relegated the software effects to more on/off effects like flanger/filter sweeps, brake effects, and reverb hits. Any software effects that work better using a depth knob to control just don't feel convenient enough to use. Switching effects using the mixer is so inconvenient that I generally never change them – it requires tapping the effect on the screen, depressing the encoder, and then scrolling through a list of effects one by one. That's a long combination of controls compared to the DJM-S9 – where there are 6 buttons, requiring a single button press to swap out effects that share a single depth knob.
The additional Touch FX mode – which offers a Kaoss Pad-like interface to control a filter and the currently assigned hardware effect via an X-Y pad is cool, but nothing groundbreaking.
Plastic Knob Stems + Color Scheme:
One of my complaints about the Rane Sixty mixer series was the decision to move to plastic knobs from ones with metal stems. This lead to a worrying amount of wiggle and looseness after a while on my old 62. Plastic knobs are becoming more common in high-end gear, but it's still a decision I disagree with. An $1800 mixer should try to spring for knobs with metal stems.
While all knobs – even metal ones – experience some loosening due to wear, the plastic knobs on the 62 definitely felt worse than most, so I hope the components chosen for the 72 are of a higher quality.
That said, my Seventy-Two knobs feel fine after a few months, we'll see how they hold up after long-term use.
Bundled Cables:
Previous Rane mixers included some high quality, heavy gauge USB and IEC cables in the box. For the 72, the cables simply feel a little cheap. Early on, I experienced some disconnect issues where the mixer would simply lose connection to my laptop. I tracked the issue down to the included USB cables – surprising for a mixer of this price point. After I replaced my USB cable with a higher quality one, those connection issues disappeared. I would highly recommend using better USB cables instead of the bundled ones – or even DJTT's Chroma Cables.
Nitpicks + Important Things Buyers Should Know:
Size: This is one of the biggest two-channel mixers I can remember seeing. At a full 17.5 inches deep and 11 inches wide, it is over an inch and a half deeper than the S9 and nearly an inch wider (see side-by-side image below). The practical effect of this is that you will need to buy a new case/bag to transport the unit – S9 or 62 cases will most likely not fit this mixer. The only mixer I can remember being this long was the Roland DJ-1000 mixer from 20 years ago.
View this post on Instagram
Complexity: The 72 is a robust mixer, but as a result it is complicated to learn. There are several pages of controls to memorize and 3 different screen functions, each with their own controls – some of which cannot be accessed anywhere else. The heads up display in the 1.2 firmware update helps with the copious amount of pad functions, since each side has 10 different pad functions as well as 3 user-mapped modes. I feel like anyone coming to the mixer from a controller setup like a DDJ-SX2 should feel fairly comfortable with the pads, but anyone coming from an older Rane mixer or even the DJM-S9 might feel a little overwhelmed at first.
Mics: As mentioned, the 72 sports a pair of XLR/1/4" combo jacks, which allows for a pair of mics to be connected simultaneously. While having a 2nd mic input is very handy, I found myself missing the a few features that were available on the 62:
The EQ for the mic has been replaced by a simple, one-knob tone control – a little less versatile than even a 2 band EQ.
The FlexFX option – which routed the Mic input through hardware effects – has been removed. In its place is a dedicated delay, the only effect the mic can run through. I really enjoyed running the mic through some of the other effects like flangers or the robot filter on the 62, so this feels like a big change..
Fader tension adjust: While the MagThree faders allow for a tension adjust via a magnet that creates resistance, the faceplate needs to be removed to adjust the tension (video below). This is not the most convenient method, especially when compared to the S9's dedicated tension knob. It's not a huge deal because generally, DJs find the tension that works the best and leave it as is. If the mixer is shared between many DJs (like in a club), this could become a bigger issue.
Lack of and effect send/return loop: For me this isn't a big deal. I haven't used an external effect module since the days of the Pioneer EFX units back in the early 00s, and I find the built-in effects in conjunction with the software effects more than enough for what I need. That said, I'm sure there are still a few holdouts with an old EFX, RMX, or Kaoss pad unit that would be irked due to the lack of a send/return loop.
Knob Colour Scheme: This is small, but the grey/dark blue knobs with the black rubber on a dark faceplate makes it very difficult to discern knob position in a low-light environment like a club. The short line that denotes knob position is very small and difficult to see. After a few sessions in a gig environment, I quickly replaced the EQ knobs with a set of light coloured Chroma Caps and it has improved my experience greatly.
Metal bumpers on the front plate: Having bumpers is important for protecting the front-side knobs in transport. Many gear backpacks have a design that rest mixers on that end, so having them included on the 72 is very useful. That said, I find myself preferring the rubber bumpers on the S9 – for whatever reason, the Seventy-Two's metal bumpers tend to get loose after a while and there's no easy way to access the screws to tighten them.
Overall Thoughts on the Seventy-Two
I went into buying wary of how Rane's products might change with their new owners. Despite DJ technology feeling cutting edge, DJs themselves tend to be a conservative lot, many of whom balk at change. As a 20 year vet and someone who adored the Rane of old, I will have to say that the new team knocked it out of the park with this mixer.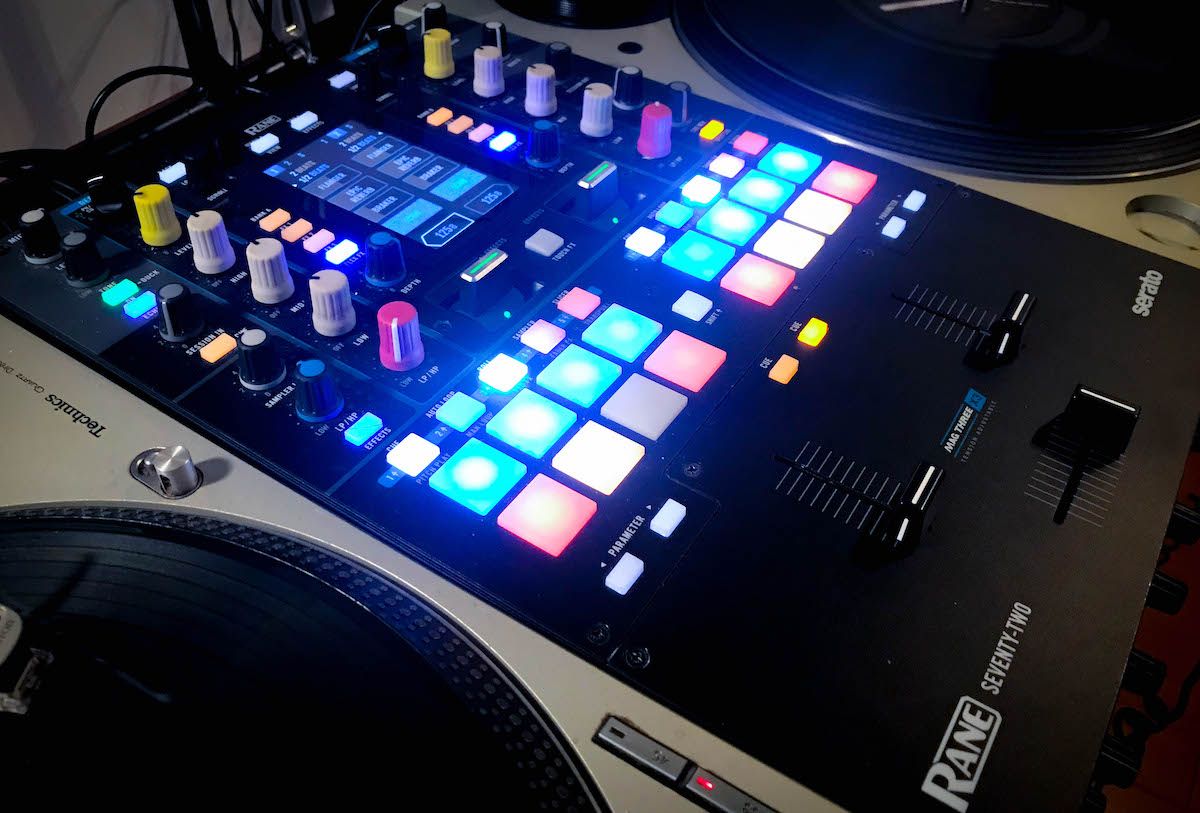 Is it perfect? No, it is not. There are some issues – for me, mainly the screen refresh rate and the clunky effects control scheme. But in terms of absolutely falling in love with a mixer, I haven't experienced this type of instant comfort in a very long time. Not with the 62, not with the S9, not with the 57. Every previous mixer I've tried and even loved took some time for me to really get used to and I had to learn to enjoy it over the course of a few weeks or months.
This mixer does a great job of combining the performance pad paradigm (first found on the classic Novation Twitch) and the more traditional, high quality battle mixers of old. The fact that the mixer continues to improve via firmware updates is just the icing on the cake. I feel like my "dislikes" section would have been larger if I was reviewing the first release version of the mixer, but Rane has addressed issues and changed functionality via firmware updates.
I've had this mixer for 4 months and have used it at literally every gig since I got it. I think I've only touched a different setup once in that time. Even for the smallest, most low-key, lowest paying gigs, I've lugged out the 72 and at least one of my Technics or Denon 3900s because I've been so enamored with playing on this mixer.
Up next, I need to get my hands on a pair of Rane Twelves to get the full experience.
Have questions about the Rane Seventy-Two mixer? Leave a comment and I'll share my thoughts!