Mine S: Customizable Modular MIDI Controller Has Successfully Crowdfunded Their 2019 Redemption Campaign
Every once in a while there are DJ technology products that give us flashbacks here at DJTT. Modular MIDI controllers are one of those topics – many people have come to the conclusion that a build-it-yourself MIDI controller that can be re-assembled on the fly is a great idea. But it's rare to see these concepts move beyond prototype and into a real product.
Mine S is a modular MIDI controller project that allows users to swap out five different modules on a base station. It feels a bit like what would happen if the Xone:K1 were modular.
If you're getting deja vu, there's a really good reason for it. The team behind the Mine system – Italy's Specialwaves – launched a $167,000 Kickstarter campaign in January 2017 after an initial preview that we covered in November 2016. The Kickstarter fell short – by a lot – only raising around $25,000. The campaign was for two versions of the controller – one smaller and rectangular and one larger and square:
The Redemption IndieGoGo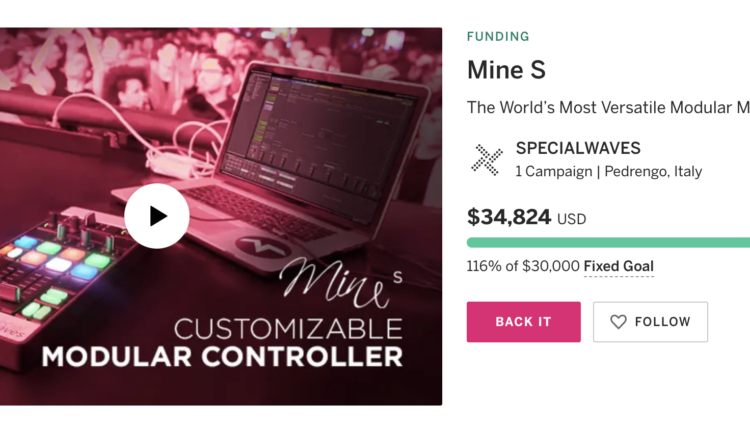 For such a great idea, the Mine modular system deserved a second chance. So this time, Specialwaves consolidated their campaign to just the Mine S rectangular controller, and set a much lower goal, $30,000. Their IndieGoGo campaign has just passed the goal mark – and there's still 17 days left.
With a production timeline of units being delivered to customers in November 2019 and a price for the Kickstarter just at $285 for early bird customers, it's an attractive option for someone looking for a more-configurable MIDI controller.
All the features from the original Kickstarter are still there – including hot-swappable components that recognize their positioning, MIDI I/O ports, and the ability to send information to MIDI, HID, OSC, DMX, and Art-Net.
Learn more about the Mine S on the official Specialwaves website or on their Indiegogo page, here.