When the industry golaith Pioneer DJ dropped their massive news (a new CDJ-3000 teaser) yesterday, it stood to reason that Denon DJ would want to hint at a new product coming out, too. Meet the new screenless Prime player/controller – teased this morning on Instagram.
Laidback Luke – one of the biggest artist evangelists of Denon DJ's Prime series – "accidentally" revealed the new player – which appears to be a Prime style player without a screen. I say accidentally in quotes simply because the timing is perfect. If the CDJ-3000 turns out to not have dual layers, this is the perfect time to remind every DJ that the Prime series players do.
What could the SC1000 (my own best guess at a name) be used for? There's a few different thoughts:
as control hardware for dual layers on SC5000/6000s – dual layers is by far one of the most exciting things about the Prime series – it's two decks in one. But having to toggle back and forth to control both decks is a pain, right? What if there were a cheap-but-quality deck you could add to your setup to control the secondary decks on your two media players? That's exactly what this could be for.
as a HID deck / single jogwheel MIDI controller – DJs have been asking for a great jogwheel controller without a lot of other features for years. A sibling InMusic brand to Denon DJ is Numark – and they made the most successful jogwheel controller in recent memory, the Numark V7 (pictured below)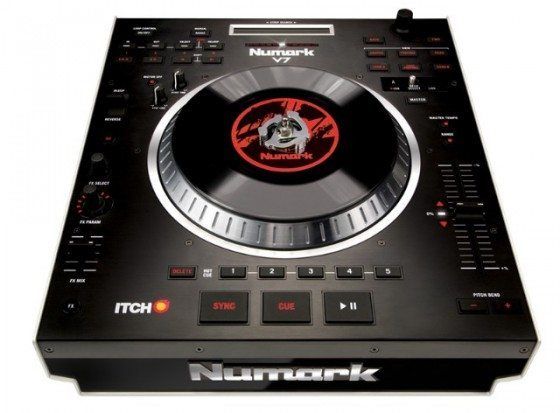 One other option – this new unit could actually be a budget-minded media player. We speculated about this a few months ago, with contributor DJ Glitch's mockup of a SC4000 that could fill a sub-$500 price tag in the Prime lineup. See all of the features of that hypothetical player here.