The DJ equipment industry has been in a state of change for a while, not least because the traditional paradigm for club DJing has been turned on its head and shaken until it no longer knows which way is up. Digital music and the advent of controllerist techniques have changed what DJs need and expect from equipment – but without, as yet, any standardisation in the market, manufacturers are left to their own devices to experiment. Numark are no strangers to experimentation, and the Itch based NS7 was their first foray into the world of media-less controllers (update: Numark have kindly pointed out that they did of course release the Total Control in 2006, and even preceding that, the DMC1 dual load way back in 1998 – now that's forward thinking!) . Now we have the V7 and X5, which take some of the key technologies developed for the NS7 and expand them into standalone products. How does the V7 stand up against CD decks and DVS solutions, and where does the X5 fit in the endless pile of two channel mixers?
Reviewed: Numark X5, Numark V7 (Serato Itch v1.7)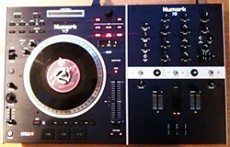 Price: Numark X5 – $449/£299, Numark V7 – $799/£499
Communication: MIDI over USB, 2x stereo RCA outs (Deck A/B)
Available: Now
Ships with: Serato Itch
THE GOOD
Both products boast tank-like construction and crisp, thick sound. They look great, and that extends to very intuitive ergonomics. Straightforward to set up, the V7 also benefits from Itch integration; you'll have no need to touch anything other than the deck and mixer for your whole performance.
THE BAD
Despite looking the business, the brushed metal fascias can leave fingernails prone to the 'blackboard effect', leading to a couple of toe curling moments. Cue point buttons are a little small for controllerist heaven; in that vein, whilst Itch is great the lack of compatibility with Traktor is a thorn in the V7's side. No send/return loop on the X5 might also put some off.
THE BOTTOM LINE
V7 is an excellent alternative to a DVS system or CD deck for the DJ that likes to play music whilst incorporating elements of turntablism and controllerism. Expandability and customisation is an issue, as Itch doesn't support additional controllers. The X5 is a great mixer, ideally suited to turntablists and no nonsense two channel mix DJs, with a straightforward feature set that impresses.
BLACK BEAUTY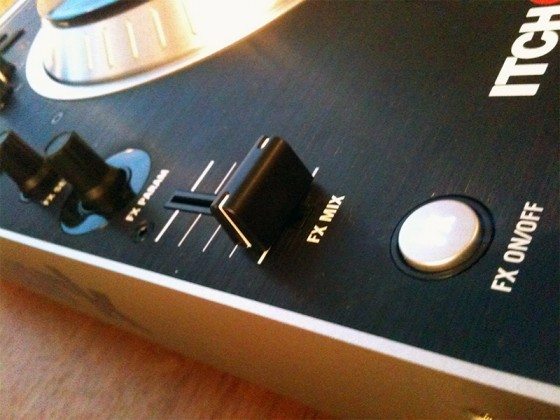 Numark has really pushed the boat out on build for the two products – there's conspicuous rise in quality from its mid-range products, and the stylings leave behind the rubber and plastic aesthetic of TTX era devices – adopting a more sophisticated matt black metal look with red backlighting.
Despite the units obviously making an attractive couple, there's nothing to stop you using each product individually; the X5 is as at home between two traditional turntables as the V7 is connected to your favourite mixer. In fact, aesthetics aside there isn't any other advantage to pairing the two – so the rest of the review will focus on each product in turn.
V7: AN INDIVIDUAL
There's genuinely not much in the way of simile for the V7 – what exactly IS it? What we're presented with is a media-less controller and audio interface, with a direct drive HID platter and dedicated controls for most creative DJ functions, all tied to a customised software interface which powers its playback and effects. So, what does the V7 want? Simple: it sees your turntable, DVS, and CD decks, and it wants their place on your table.
The V7 is the same size as a CDJ1000, but has an advantage in that without a screen to worry about, it can space everything out across its fascia. The buttons on the V7 are a lustrous rubber, with a short travel and a click to assure they've been pressed.
Looping, cues, effects, and transport are all sensibly placed; there's no danger of any anatomical pileup to worry about when flexing your controllerist muscles. The only real issue with the design is that the hot cue buttons are perhaps a little smaller than would be ideal.
V7: TWISTS AND TURNS
A large part of the V7's appeal is down to its high torque, motorised mini-deck. Whilst a 7" platter will never give the same level of control as a 12" turntable, V7 does an admirable job of vinyl emulation. The platter assembly consists of a genuine metal platter, a thin slip mat, and a custom 7" vinyl, which attaches to the spindle and allows the movements to be read.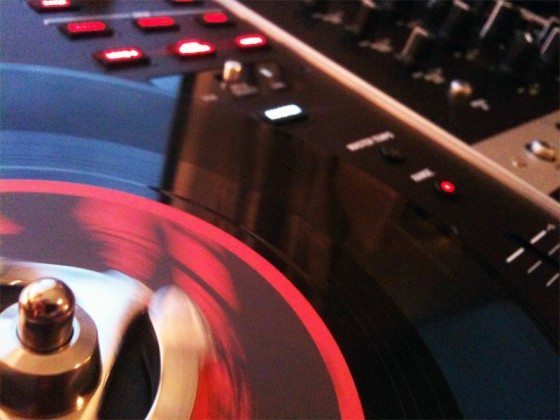 There's a torque setting via a switch on the back of the unit, with the option of selecting the nail filing TTX style torque or a more gentle, SL1200 modeled spin. Traditional mixing tricks like gripping the spindle and rubbing the platter behave as you'd expect, and the resolution of the movement reading is really high – the quality of sound from Itch is just as high as Traktor Scratch when it comes to slow drags and there is absolutely zero sticker slip.
There's also the option to switch off the motor in order to make the platter function as a pitch bend, appealing to those used to CD decks too.
V7: MULTIPLE PERSONALITIES
One of the standout features of the V7 is that whilst it might look like a single deck, it's actually two sharing a common interface. Glimpsing at the back of the unit reveals two sets of outputs, and a switch at the top right of the fascia switches between deck A and deck B control. This is a great feature and works really well in practice; simply flip the deck select switch from A to B to move from channel one to channel two.
There's a visual indicator in the form of a letter by the switch, backlit white (easily distinguishable at a glance against the rest of the red lights), the platter switches speeds immediately, and the FX dial is a rotary encoder that automatically switches to the selected deck's value. The wet/dry slider and pitch work via pick up, changing the value only when the fader position is first moved to its original position. Stanton's motorised fader approach is more elegant, but this way works fine.
Of course, you can always buy two V7s and connect them with an Ethernet cable for total, hand holding compatibility and a 'complete' setup.
V7: MIND CONTROL
V7 is nothing without a computer running Itch (indeed without Itch connected, the platter even refuses to start). Thankfully, they're a great pairing – and as Itch is becoming more broadly adopted, it's starting to look familiar. It sounds great, responds very accurately to play head manipulation, and has very good key lock algorithms.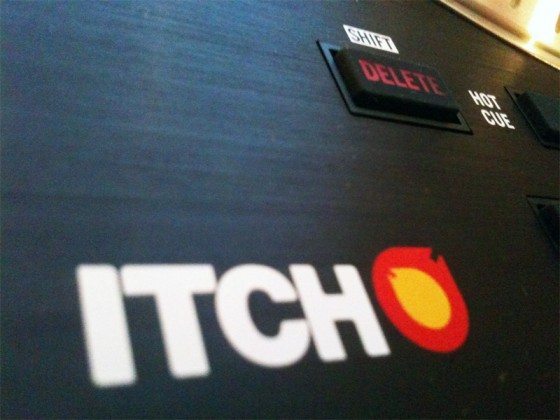 Itch itself is always customised to suit the controller it ships with, though, and so some versions are more equal than others. The V7 edition of Itch is two deck, comes with a bunch of effects (Low and High Pass Filters, Delay, Echo, Reverb, Flanger, Phaser, Bit Crusher, and Repeater) and of course, all of V7's buttons refer directly to Itch commands. File loading is a cinch, and the freshly released v1.7 of Itch has added beat gridding to tracks, allowing really tight, Traktor-alike syncing – complementing Serato's proprietary 'stalagmite/stalactite' transient view.
X5: …IT'S A MIXER
The X5 is a two-channel 'battle' mixer, in the standard 12" form factor. For a mid priced mixer it's furnished fairly generously with two inputs per channel, one of which is phono/line switchable, a combined mic/aux channel with EQ, and both balanced (TRS) and unbalanced outputs as well as a booth out and S/PDIF and co-axial digital outs. All it's really left wanting for is an effects send/return. The switchable input is a nice inclusion all too often left out of this kind of mixer, allowing line level audio devices such as turntables with key lock and CD decks to play nice with DVS systems and still have a pass-through output going into the mixer.
X5: CONTROL
All three of the faders in the X5 are Numark's own CP-Pro, which is by any standard a great fader. Light and smooth, it's a digital conductive plastic design that has very short cut lag and a smoothly adjustable cut in time from linear all the way to more or less instant on. Despite being very long life in the first place, it's nice to have the ability to rotate faders to ensure maximum longevity, and all faders being equal leads to a nicely coherent feel and slope adjustment. The fader caps are a comfortable shape, but should you prefer another feel, the stems are a standard 4mm so it's possible to pop on Vestax or other caps.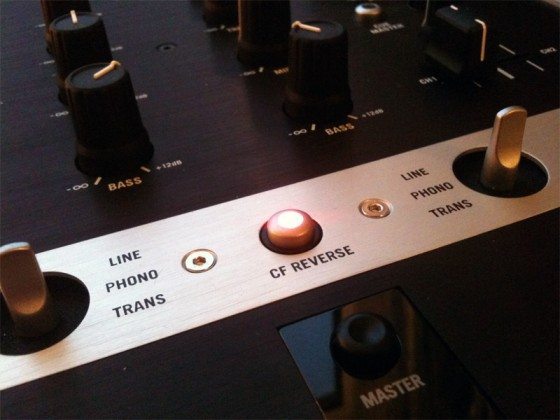 Despite rarely factoring into most DJs' mix arsenal, it still seems odd to encounter a mixer with no pan adjustment. There's a standard three band EQ, the knobs for which are nicely spaced and smooth, as well as gains which are smaller to help them to stay out of the way.
X5: THE BRAIN
The meters on the X5 don't display gain levels, simply lighting up a single deep red. Numark's reasoning for this is down to the signal chain including a look ahead limiter which automatically squashes audio rather than letting it clip and distort – a feature which really does work, and allows fairly extreme EQ boosting with much less manual gain reduction. However, it would be nice to see a pre limiting gain level to ensure that sound is still maintaining some semblance of dynamics in a loud environment where monitoring's not great and ears gradually lose the fight against fatigue. Sound quality is very good in general, however – and fully 24 bit circuitry does help to maintain dynamics of the audio. EQs will fully kill, and have a useful, musical frequency band – subtler than Pioneer but not as musical as Ecler.
X5: THE DEVIL'S IN THE DETAIL
Little touches that some mixers still don't include, like EQ adjustable mic/aux in, selectable pre/post fader cue, rotatable input select switches, and the aforementioned switchable line/phono channel and digital outs all count in the X5's favour.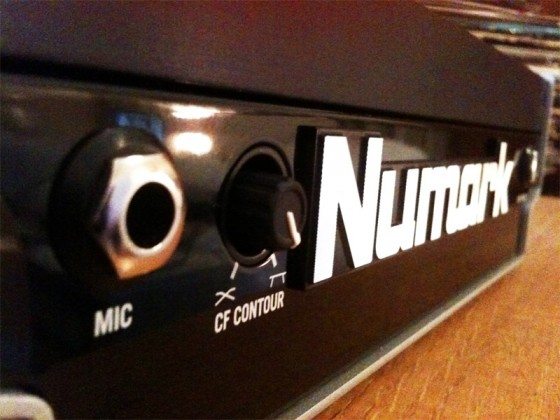 It's not destined for any innovation awards, but the X5 from the pack does have a couple of neat features rarely seen elsewhere. In order to minimise clutter, some of the pots can be depressed and left to hug closer to the faceplate. Even so, the faceplate itself is admirably neat, with no screws or clutter around the faders and plenty of space around the EQ knobs. Another clever feature is the headphone cue's 'tone' knob, which allows you to find a frequency that'll best cut through the sounds of the main speakers as they blast into your ears.
WRAP UP
There's no point in pushing the V7 into direct, box-ticking competition with the things it's vying for the space on your work surface for – it's not as simple as that. The combination of its features is what makes it a strong product, and in that regard it stands alone. The X5 can't make the same claim, but it certainly holds its own in the crowded two-channel mixer market and the CP-Pro faders are excellent.
Whilst I realise this entirely a matter of taste, I'll go on record as saying the V7 and X5 are gorgeous. I certainly appreciated Numark's inclusion of a microfibre cleaning cloth in the package, as these are two lumps of gear I imagine you'll be proud to show off.
About the author: Chris is a writer, artist and DJ who runs ohdratdigital.com, an online magazine for music and the arts.