Welcome back to the "what the heck happened to that company?" department. This time, Technics has really outdone themselves – adding a new model of SL turntable called the SL-100C. They're promoting it as "low cost" and affordable, but the reality is, this new Technics turntable is expected to cost, at retail: £799 / €899/ (about $1,110 US).
Audiophile gear, not DJ gear
Look, we already know that Technics is moving heavily into the hi-fi market – we've know this for years. They even made the slightly nicer SL-1500C in 2019, which similarly was missing a pitch fader but still was well received by the hi-fi / audiophile market.
The SL-100C still has the direct drive iron-coreless motor of the other newer SL models, and an S-shaped tone arm, and a sound dampening insulator. This model is missing the phono stage, and like the other "C" model, lacks a pitch fader. It comes with an Audio-Technica VM95C cartridge, which has a tapered needle that's more likely to fit the needs of an audiophile than a DJ. But would you pay more money for a less-featured model than their leading DJ turntable (more on that below)?
Author's note: I'll be the first to admit that I don't know enough about audiophile gear to "get" the feature set that high fidelity enthusiasts crave. I'm sure someone will explain to us in the comments what about the 100C is worth lusting over.
Let's be real, Technics are masters of the concept of price discrimination, "a microeconomic pricing strategy where identical or largely similar goods or services are sold at different prices by the same provider". In other words, make largely the same product (a nice SL turntable) and add or remove features to price it differently for different audiences. In this case, Technics have found a way to improve some of the components while removing others and selling the turntable as an affordable audiophile model… despite costing more $100 more than their DJ-ready turntable.
Wait, what? There's a $999 Technics DJ turntable?
You might even not know that the Technics SL-1200MK7 actually got a re-release in 2019 and now sells for $999. It's easy to forget that when Technics' first relaunch of the SL series in 2016 (the GAE) ran four times that price.
It's also easy to have glossed right over Technics' MK7 model when there are so many other more DJ-centric models out there – like Reloop's RP-8000MK2, which is $699 and has MIDI controls right on the unit, or the Rane Twelves, which ditch the tonearm and records entirely.
In fact, Technics also announced today that they're releasing a silver colorway of the Technics SL-1200MK7 – available in May 2021 for that same $999 price. Here's what it looks like – a nod to the class color design of SL-1200s: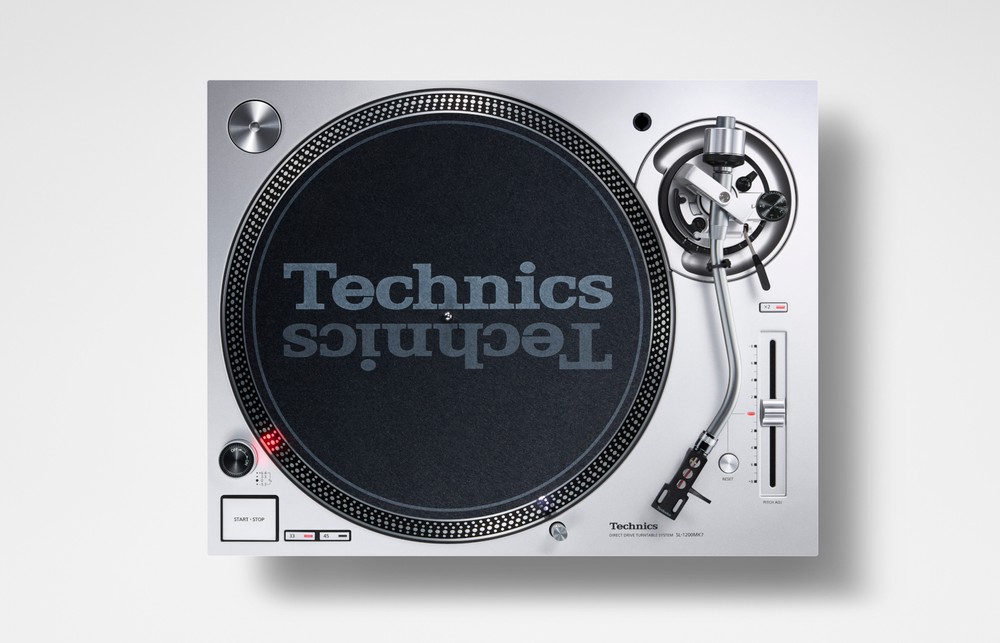 Never the less, we expect the SL-100C will be well-received by a completely different market than the DJ world. Hi-fi audiophiles have completely different sets of priorities and budgets than DJs, and it's fascinating to see this once-DJ-focused brand really have moved on in terms of where they spend their R+D dollars.
The SL-100C is expected to be released from June 2021 – and if you're looking for a really, really nice turntable to listen to records on but never mix on, this could be exactly what you're looking for.