Well, I wish I could have told you about all this stuff months ago when it was in pre-production but many exciting products are finally being unveiled to the public this year. Its official, 2008 will be hence forth known as the year controllers became the status quo. Everyone is jumping on the bandwagon and several companies are releasing more polished sophomore products after their first try at midi controllers. Here are a few key things that we will take a closer look at later:
This is the big one. Serato teams up with Vestax to build a seamless software/hardware combo. If it performs as well as it looks this could really kill the Xponent with a good sound card and properly sized interface all in one. Ready for the kicker, its not MIDI. Serato has developed their own proprietary mode of communication that means more accurate control and much lower latency. Other companies could be years away from that holy grail.
Numark is not waiting around. They have also released an integrated audio/controller release that will work with all programs including the new Serato itch (Serato scratch for midi controllers)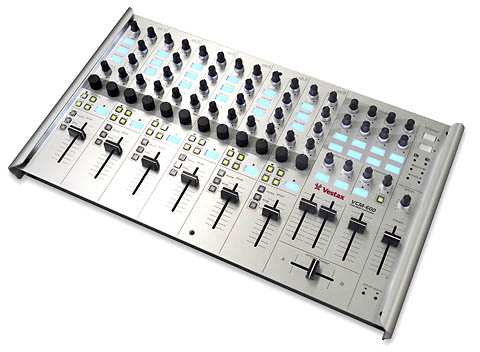 Vestax also released the VCM-600. An Ableton targeted controller with every control you could ever want. Looks good!
Pioneer has also jumped into the game with turning the classic CDJ line into a midi controller/cd player with the CDJ-400 More info here
Thats all for tonight. I need to go to bed, but there are even more controllers to write about so i will update this post with a full list tomorrow. Even our dj tech tools community was represented with Vestax prominently featuring the new "Ean Golden" edition of the vci-100 with a controllerism layout. Check out the photo of me with the plates package bellow: