In 2008 Dj midi controllers are finally breaking free of their more conservative constraints and officially becoming completely bad ass. The biggest development, as I predicted several months ago, is the appearance of motorized platters in the midi world. Stanton, Numark, Denon and Vestax all premiered midi controllers that are using spinning platters in place of jog wheels. Not only are they spinning but several companies have duplicated the real feel of a record by incorporating real records and slip mats on top. Every one seems to be headed in the same direction but the way each company actually implemented these concepts in term of technology vary dramatically. We will do a full expose on all of them later, comparing the performance and technology to find out who has best replicated the turntable in midi land.
In the mean time take a look at what each of the new controllers brought to the table:
A European Upstart
One of my more interesting discoveries at NAMM 2008 was pulled out on the final day and shown to a few select people. Its an incredibly futuristic take on midi controllers from a small Finish company called EKS that released one of the first digital dj controllers in 2002. They have remained far out the spot light until now but that may all change at MusikMesse 2008 when they release the "Otus". There is not too much to tell about it as all I saw was a plastic mock-up but it will boast some very cool features including; Ribbon-style pitch control, X/Y pad built into the surface, 4 mini jog wheels with integrated buttons, built in 2/3 channel sound card and motion sensors- all in the coolest packaging we saw by far at NAMM this year.
Upside: Was built to fit on a turntable. High tech design promises lots of totally unique control surfaces.
Downside: we don't have any idea how well it will actually work.
Estimated Release Date – March
Street price- unknown
Serato Goes Digital
Well they were always digital but still kept one foot firmly planted in the analogue turntable world. That all changes now with the release of "itch" Serato's new program built to be natively controlled by 2 dj controllers, The Numark NS7 and the Vestax VCI-300. Why not let every-ones controller work with their software? Simple, because midi wont work at all- they have developed a new control surface protocal that promises better resolutions and higher performance. I suspect its the same way the TTM-57's control section also communicates with the Serato Scratch software today. The other reason was explained best by Serato head Sam Gribbon " Things should work perfectly together out of the box. When you take it home from the store you want to plug in your new toy and play- not figure out a lot of complicated assignments." So by working with the hardware manufacturers to design and connect their devices to itch natively Serato can guarantee that everything will work as you would expect it. That's music to a lot of ears and a fundamental reason behind the un-deniable success of Serato Scratch Live. Hardly content with ruling the DVS market the Serato camp is now ready for a shot a new title in the pure digital dj division.
So what is different about Itch from Serato Scratch Live? Almost nothing- they are essentially the same software but designed to be controlled by different tools. You may know that you are unable to access all the features in Scratch live without having the Rane/Serato box connected to your computer via USB. The same will be true with Itch, as you must have one of the 2 supported controllers connect in order to run the program.
Upside: You don't have to buy turntables and a mixer and you get reliable hardware/software compatibility.
Downside: No major upgrades to the software which means you might miss some features you got used to like on-board effects. no support now for the scratch video plug-in but that may change in the future.
Release Date: Unknown- first demo in march
Price Point: Included with the controllers and no prices now on those.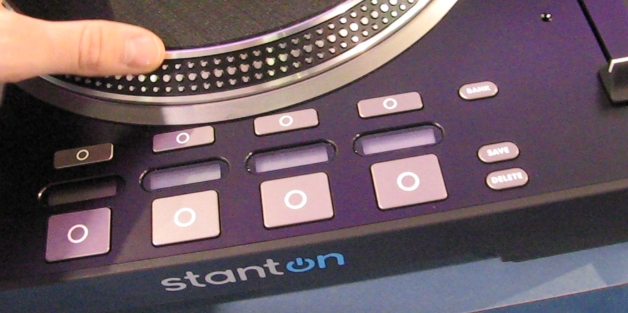 Everybody wants to hate on Stanton.
After the final scratch debacle and a history of less than solid gear its going to be a long uphill battle to convince the public to try them out again. This year at NAMM 2008 they released a Digital DJ mixer/player combo package and at first glance, the product looks decidedly Stanton. There-for many people have written it off as a toy and not looked any deeper. After Jim Mauzer from Stanton gave me a personal run through of the product I left with a completely different impression. Although it does not look terribly pro, there is some seriously cool technology under the hood. The plastic housing belies the solid construction and well made components. Many people will look at the scooped rubber faders and laugh but apparently they will be replaced by the more standard square fare (same as the SA-5) upon release. The platters will send out midi data but if software will support it they can send out resolutions of up to 1000 points per revolution. Stanton has also tried to restore their image by bringing in an entirely new engineering team led by Alen Zack who was the head engineers for Line 6.
Pros: 4 velocity sensitive drum pads beneath the spinning platter. Push button endless encoders with LED displays to show relative position. Large high Torq jog wheels with the same Torq and platter wheel (although 10″) as the STR-2150 . Very configurable and will feature many pre-set configurations built into the unit. motorized pitch fader that follows deck selects- a first to my knowledge. Both Pitch fader and the platter are temporarily assignable to multiple functions on the unit.
cons: heavy and a bit large for a single player/ Also expected to be quite pricey. Around $2100 with a matching mixer or $1200 for a single player. Firewire connection uses up your only firewire port
Release Date: may 2008- some units are already manufactured.
Estimated street price: $1199 for the player SES1-E and $899 for the mixer SES-1M
The Denon that does everything
Denon has been steadily making good cd players for many years trying to carve out a piece of the Pioneer market share. They have built up a lot of experience and technology in the process and all of that has been applied to their new CD midi controller. To just call it a midi controller does the piece disservice though because it is so much more than just that. Many pieces of gear are very focused on specific tasks in the dj world but this one certainly offers the best flexibility out of all of them. It can essentially do what almost every product out there can do and in some cases better. Like the IDJ2, you can use a single Denon to effectively mix 2 songs from single USB source. Perhaps you also want to play burned cds just like a CDJ, with a modular design you can easily place a CD drive in the front bay and it becomes a fully functional cd player. In place of the CD bay you could even install a hard drive and permanently load your entire dj music collection in the device and never touch a laptop. Then of course it appears to work well as a midi device with loads of options for some very advanced control. Don't be surprised if this Denon becomes the third official controller that is approved to work natively with Serato Itch.
Pros: Very flexible, does almost everything you could ever want in multiple formats. internal FX.
Cons: record overhang causes user error when pitch bending with the side wall.
Estimated Release Date: Shipping mid feb
Price: $949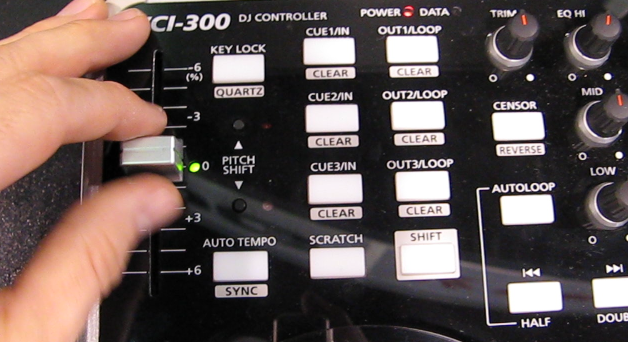 Serato + Vestax = Torq Killer
The question on every-ones mind last year was if they should go with the Xponent or the VCI-100 as each one brought different strengths to the table. The VCI-300 essentially takes all the best features of each product and blends them together. This dynamic duo promises to be a fantastic combo and a very popular product in the coming year. The team at Serato worked closely with Vestax for the past year to develop a more compact controller that would effectively control all of the options offered by the new Itch program. With a built in sound card, all you need is a pair of headphones and your off and running.
Pros: Reactive buttons borrow from my arcade mod to provide very good action.
Cons: if you really want motorized platters, this one is equipped with jog wheels but they are much more tactile and larger than the VCI-100.
Estimated Release date: Summer 2008
Street Price: unknown
Finally, something for the Ableton guys.
Staying in line with their motto "we give djs what they want" Vestax showed off their impressive VCI-600, a controller designed to be used with Albeton Live. I saw the drawings for this controller in Japan and made several suggestions for design changes, they were kind enough to include almost all of them and as result this wide and robust midi device offers almost every control you could ever want for driving Ableton live in a club. It remains to be seen how well people react to this mixer style layout but it certainly a very unique controller that will fill a much needed niche.
Pros: master tempo fader and pitch bend buttons offer dj style control for Ableton.
Cons: a midi only device, you will still need to purchase a sound card.
Estimated Street Price: Unknown
Release date: Summer 2008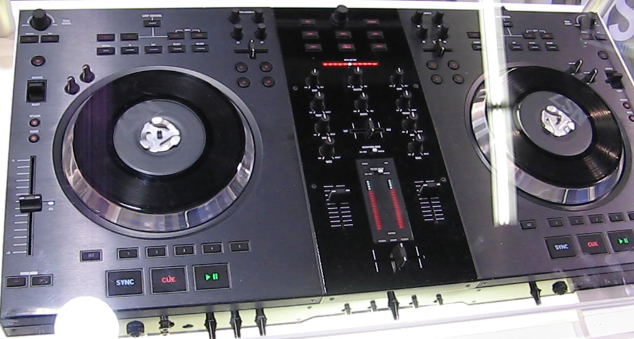 Numark 's all in one
Numark is trying to follow their IDJ2 success with another new product this year called the "NS7". Squarely aimed at the mobile dj and bedroom dj that want an all in one controller, mixer, sound card package. The NS7 offers everything you could expect in a package you are already familiar with. The size is what will catch you off guard, as it comes off smaller in pictures. Far from compact this device takes up a huge footprint that will absolutely need a flight case if you want to cary it around. That being said the large 10″ motorized jog wheels and ample space around the mixer will not leave you feel like your flying coach on a dj controller. One of the interesting features about this controller is that it was also developed with the team at Serato scratch to control their new software "Itch". So not only is every function in the software covered by a analogue counterpart but you know that lots of thought went into the design from both camps.
Some notable facts:
High speed midi. 3600 point Resolution faders. 2 Torq settings on the platters @ 1.2 & 4.5 pounds. They might be using an Alesis sound card. Roughly the weight of 2 TTX turntables.
Upside: Hi torq moving platters and lots of space to get wild.
Downside: Its very big
Estimated Release Date: Late 2008
Street Price: Mums the word.
Pioneer CDJ-MIDI
Although many people associate Pioneer with cd players and may not give their new cd/midi device much consideration. Remember that their CDJ line is industry standard for a reason- they work well. So if they have managed a way to port that reliability over to the midi realm then it may make for a good product.
Notable features: Plays mp3's off CD or flash drive media. Speed based jog wheel technology gets velocity info to the computer by paying attention to how fast your spinning the platter.
Downsides: Unable to play 2 songs off a single flash drive. They have no midi maps for any dj software.
Available: Now
Price: $599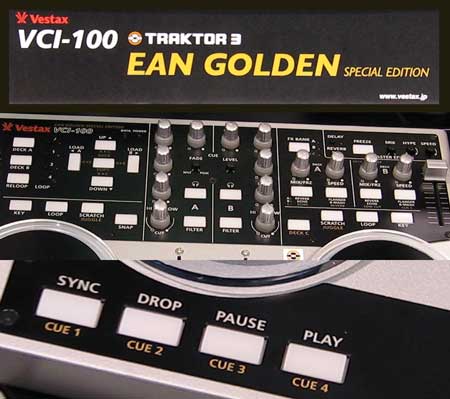 "VCI-100" – for Controllerists
I forgot to mention our own controller! This new version of the VCI-100 is an update that brings better performance, controllerism style layout and a complete re-engineering of the VCI-100. The unofficial word on this release is as follows, and the official release will be forthcoming. This edition will be in all black (like the Japan release- the one in the picture is just the black plates placed on the older silver vci) and will only be available in very limited quantity (about 100 pieces). You may be able to place advance orders here on djtechtools.com within the next month and they will be shipping in March.
Notable features: by engaging a foot switch or other midi control all the transport buttons and jog wheels become cue points triggers for cue juggling. Simple and easy deck copy implementation. Direct FX single button access not only selects each effect directly but automatically positions all the fx parameters for the best sound. All you have to do is select the button and turn it up for easy performance. Each FX knob not only engages the fx, mixes it in but when turned to 100% reverses or freezes the effect as well.
Pros: Completely engineered by a dj for dj use in clubs. Will feature all the improvements of the black vci-100
Cons: does not include arcade buttons or foot switches.
Estimated Release date: March 2008 (in very limited quantity)
Estimated Street price: Same as the VCI-100 ($5-600) unless they start going on Ebay for much more 🙂