Rane has announced the brand new Serato Scratch Live 3 package, a long awaited update to the original SL 1 audio interface that addresses some of its common problems. Along with a new axillary input and output (which replaces a mic input) the new SL3 boasts 24 bit converters and high speed 2.0 USB.
read on for all the details.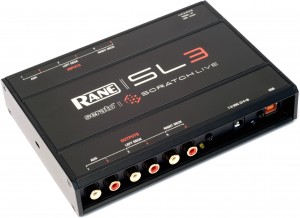 The new SL3 hardware has a number of improvements including:
USB 2.0 high speed audio interface.
Improved dynamic range (104 dB).
Improved audio performance (24-bit converters).
Higher output improves ability to easily match levels of various source types.
Galvanic isolation prevents computer noise from interfering with audio path.
Aux Input for Live Mix Recording or LiveFeed.
Aux Output allows use of the Sample Player as a Virtual Deck.
Aux Output opens the door for future expansion and creative con?gurations for DJs and electronic musicians.
High-grade phono preamps upgrade the performance of most mixers.
Software switchable Direct Thru connections for simplicity.
Independent Line / Phono-level selection for each input for greater ?exibility.
Includes international power supply to insure optimum performance and easy transfer between DJs.
Soft carry case included.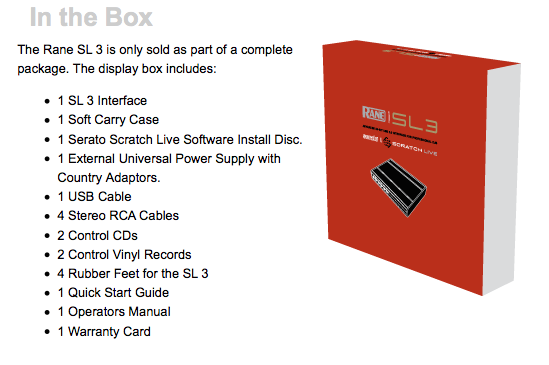 It was mentioned in a previous post that Guitar Center already has these boxes in stock so they should be shipping very soon. No word on price yet but It should be about the same as the current SL1 package, +/- $500. What about those Aux inputs? how are they planned to be used? Well, here are a few potential examples:
recording the master output of the mixer back into the computer.
Recording audio sources and sampling inside serato
Routing the mysterious third deck which is supposed to show up sometime soon out to a mixer