The fever is coming a little early this year.  Wednesday is looking like it will be a fun day to keep an eye out as a number of interesting things may come together.
Rumor has it Ableton will be doing something special
Serato has called a Press conference for the same day
Big woopity doo right? Well, Serato rarely calls a press conference unless they have something really special to show off, so chances are high they may be introducing something big. Ableton, one the other hand has Live 8 coming out any day now so they could also have something up their sleeve. Finally, don't forget that both of these companies announced they are working together late last year.
Perhaps tomorrow is the day when we will see just what that combo might be? Check back as Dj TechTools should have news first thing in the morning. Normally, we dont focus on dj news around here but Messe is always a fun time to jump on the hype bandwagon for a week. Care to join?
Going to Frankfurt
Dj TechTools will be in Frankfurt on Friday and Saturday so you can catch us at the following locations.
Friday Day: Musik Messe
I will be there shooting some film and talking to other manufactures about their new products so look for a post Friday night on the scoop. Friday afternoon you can also check me out at the Vestax Booth where i will be talking about controllerism and demonstrating a few new ideas.
Friday Night: Digital Dj Battle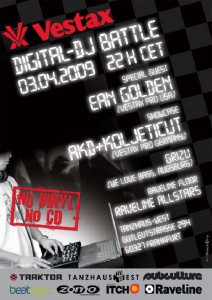 Vestax has been hosting an online digital dj battle and the finals will be held in Frankfurt at Tanzhaus West. I will be on hand to judge the event and play a set later on that night in the club.
Saturday Afternoon: Musik Messe
Back at messe for a few sessions at the Vestax booth. Come by, say hello and I will give you a free Press Play laptop sticker 🙂