Welcome to a new monthly series of articles where we sit down and talk with successful artists that are a part of the DJ TT community. Since this website was first created a remarkable amount of people have used the mappings, techniques and support to help launch successful careers around the globe. By looking at each of them, we hope to show how they did it and what you might do to follow the same path. This month, we will talk to the up and coming producer/dj, Sticky K about how he got into DJing and what led to regular club gigs and a signing with Dubsided records.
Sticky K is Rod Kashani, a 22 year old producer/DJ from California recently signed to Dubsided Records. Known for his "donald duck" basslines and "laser synths," he quickly developed a following playing house parties in Isla Vista, the college beach town adjacent to UC Santa Barbara, where he just graduated with a major in Film Studies. Proud owner of a VCI-100 Arcade Edition, Phil sat down Rod for a quick Ichat interview.
What got you into producing music and DJing?
Sticky K: Having been in a band since grade school it was very natural for me. In college I just started making beats for fun in GarageBand. It was totally just for fun and myself, but then my roomate "acquired" Reason and I started producing more legit hip-hop beats, like Native Tongues style stuff. All my friends were responding well to it so I decided to try and pursue it professionally by passing demos to artists that came to UCSB.  Not a ton of great artists came to Santa Barbara, and a lot of people said my stuff was too crazy for traditional hip hop beats. So I started making dance music, especially as it became more popular and mainstream within the past 4 years…DJing was the natural next step.
What kinds of parties did you first DJ at?
Sticky K: In Isla Vista, there were two kinds of parties. The typical house party where I'd spin mostly hip-hop, top 40 bullsh*t for 2 hours and then maybe sneak in some dance at the end. And then there were more electro/house parties which I much preferred. I got to play my own tracks and the energy was way higher. Isla Vista had a big electro house revolution going on that was taking over the traditional jam band scene.
What was your very first DJ setup?
Sticky K: My first DJ setup was literally my 12″ Macbook and Traktor 3.  No controller, no soundcard, no headphone cueing, just the trackpad. I didn't know what the proper way to do it was, so I just kind of figured it out myself, using a lot of loops. Plus I knew all the songs so well that just straight mixing them wasn't very difficult.
DJTT: At some pont you must have realized that Traktor 3 with no controller or sound card wasn't quite cutting it. What led you to purchase a VCI-100 Arcade and what is your current DJ setup?
Sticky K: Actually a friend of mine got a VCI-100 Arcade Edition and we spun some parties together. He let me try it and I liked it waaay better than a mouse and keyboard! Also, compared to what the other DJ's were lugging around from house party to house party (turntables etc.), it seemed really hassle free.
I'm currently playing gigs with a Black 15″ Macbook, Traktor Pro, a Numark DJ I/O sound card, and a VCI-100 Arcade Edition with all green buttons. It looks awesome…I get comments about it all the time.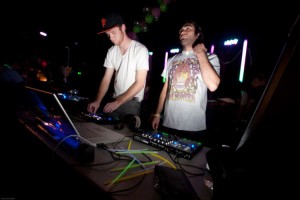 What led to paid club gigs instead of college house parties?
Sticky K: After hustling my demos around all over MySpace and any big name show I could get to in San Francisco or LA, I finally got picked up by Switch and Dubsided, and it's been a huge gateway into getting paid gigs. I recently did a show at LA's Cinespace, and have an upcoming residency in San Francisco.
I have to say that I started off just producing music before I was a DJ, and most of my songs are actually not very "DJ friendly" in terms of structure for mixing. I believe that if you can make your own music that people like, you will have a much easier time making a name for yourself. I also owe a lot of success to friends at school who supported me, bought my first EP, and continue to come to my shows. By playing at friend's house parties as a favor, I was able to gather fans and make a little name for myself in the "underground" of Isla Vista electronic music.
What do you use to produce?
Sticky K: I still just use Reason and am starting to mess with Ableton, but in general I like to keep it simple. It's all about mastering your software.
What do you like about the VCI-100 Arcade with Traktor Pro?
Sticky K: For me..the portability and durability are great…I've had champagne spilt on it and it still works fine. Some argue that it's easier to just to go in with your CDs or laptop and use the club's Serato setup, but using your own midi controller is way more comfortable in my opinion. You sometimes run across a sketchy mixer or deck at a club, but with the VCI + laptop + soundcard setup, you just take the RCA's into the back and avoid all that.
W
hat's in store for Sticky K as a producer/DJ?
Sticky K: I have a remix for the first release of an artist named Maluca on Diplo's label Mad Decent, and I'm finishing a follow up release for Dubsided. Right now I'm working with some local artists in San Francisco on a label we're starting up there, and I have a residency at Triple Crown beginning July 11th. I'll also be opening for Jack Beats this August in SF.
Who do you think is doing great stuff right now?

Sticky K: Well first of all, Foamo from the UK…very young and very talented, we're working on some stuff together. Also Jaime Fanatic…guy is nuts, he has like 100 tracks on Beatport and he just put out an EP on Mad Decent that rocks. Check his track "Programmed." I feel like this year is gonna be a big one for Jack Beats too.
Check out Rod's "Bandari Funk" EP on Beatport and iTunes.
Here are a few remixes he created for you to enjoy:
Larry Tee – Let's Make Nasty (Sticky K Remix)
Major Lazer ft Superhype – Jump Up (Sticky K Remix)