About 3 months ago the boys over in Auckland took a small step forward with their ubiquitously conservative software, Serato Scratch. Along with a host of bug fixes and tweaks version 1.9 added 6 samplers, and the ability to record directly into those samplers from a MIC. While the demand for more air horn and cowbell never seems to let up, 6 simple samplers stopped just short of something great and I was happy to open my big mouth and tell them so. "Hey guys, just support deck duplication to the samplers and you have opened up a whole new world!"  One step at a time, I was told by the 7 foot tall zen dj master known as Sam at Serato.  Well, I  am happy to report they took that extra step with a brand new beta version and made their nice little samplers into something more- 6 additional decks.

Deck Duplicate
Serato Scratch version 1.9.1 (Public Beta) adds in time duplication of either deck into a sampler.  With deck duplicate to a sampler, you effectively now have 8 decks in Serato. Admittedly you cant do much with the extra 6 decks besides play loops but its super easy to:

Beat match 2 loops
Dump one into a sampler (loop continues to run in time)
free up deck and beat match another loop
dump that into a new sampler
rinse and repeat….
So assuming that your loops and beat matching is rock solid, you could quickly build up a nice little layer of sounds or just work between 2 real and 1 virtual deck for extended mixes. Effectively using this technique is going to require some hot keys at a minimum and ideally a midi controller with faders for volume control. Each samplers audio is sent out over the same channel as a decks 1 and 2 or the master output so audio adjustments must be done with a midi controller or the mouse.
Full Deck Features
As one of our eagle eyed readers pointed out there is a tiny expansion button that allows you to reveal a host of additional features on these samplers.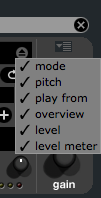 With everything checked you get nearly full deck control over each of the samplers!

The functions are:
Volume
Gain
+/- 8% pitch
Play
Play Modes (Sample and Hold, Sample direct play, Sample Play/Pause)
Pitch bend
KeyLock
Loop On/off
Which cue point to start from
A Small Hitch
The only problem we can find is that there are no midi or hotkey commands for duplicating decks into each sampler. To accomplish this in the current beta (that may change) you need to drag and drop a deck with the mouse- hardly a performance oriented method.  Those small inconveniences aside, this new feature marks the start of Scratch Live's transition away from a simple 2 deck interface. I suspect that while the features will be welcome they may wield a dangerous double sword. As die hard Serato users start to get a taste of the possibilities in controllersim they may get worked up and want more, more more!
Serato Scratch Version 1.9.1 with the new SP6 sampler is available as a public beta.