Up until this point, Serato Itch has been the little brother of Serato Scratch and had a hard time getting any attention, but that may all change very fast with a powerfull new version of Itch and matching Xone DX controller announced today by Serato.
2-PLAYER GAME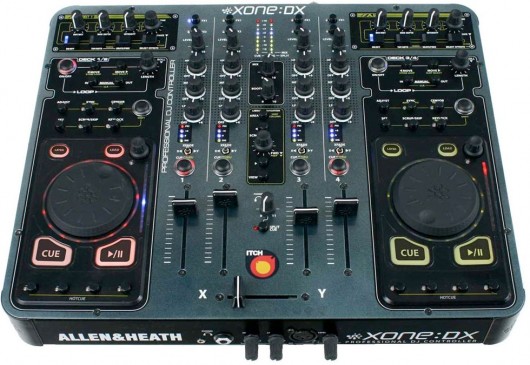 With the addition of four decks, FX and beatgrids, Itch is officially going after the Traktor market.  If Serato can iron out the bugs, make the beat grids work and fully integrate a great controller, then Itch may offer the first good competition Traktor has seen. With this announcement, Allen & Heath may take Itch a step beyond Traktor, offering the first professional four-deck controller on the market=- something our readers have been asking for a long time.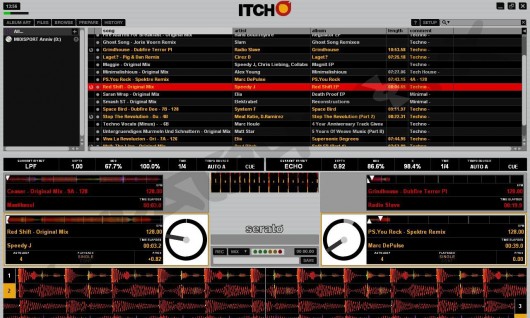 Critital Info
Suggested Retail Price: £ 999.00/ $1600
Release Date: Now Shipping? One online retailer is taking orders and is reporting your order will ship within 4 day.
Pros
The first practical controller designed to deal with 4 decks
good layout
allen and heath makes high quality equipment
all 4 mixer channels are fully functional
There will be full integration with Itch
The FX section is stand alone and does not switch with the decks
full sized proper mixer section
Cons
Many of the components look the same as the xone series which dont have that great of a feel
the Xone jog wheels in particular are fairly outdated and not touch sensitive
the small cue jump buttons are some of my least favorite buttons on a controller
how do you pitch bend? there is a visual reference but is it controlled by a encoder? If so, are djs ready to give up their pitch faders?
only 2 groups of FX
Our Take
Allen and Heath is a mixer company and it clearly shows here. The emphasis is on the mixer section, which is lovely and well balanced. Unfortunately I think they stopped short of what was possible with the decks. The layout, workflows, and concepts are all solid and everything you need to mix is essentially accounted for but we wish they had either developed some new performance components (buttons/jog wheels) or defined a few innovative ways of doing things.
This is a great controller for the market, not only because it may work for a lot of people but this will really ratchet up the competition between Serato and NI resulting in better products for you!
here is all the info we have from the official Serato press release:
September 30, 2009

The Xone:DX is a new performance audio controller for electronic DJs and is the result of close design collaboration. The DX has been co-engineered with new Serato ITCH DJ software, that now offers 4-decks and DJ FX.

The "Allen & Heath Xone:DX with Serato ITCH"(DX:ITCH for short), is making a debut appearance at the BPM Show in the UK over the next few days.

Allen & Heath is the fourth major manufacturing partner to co-engineer on the Serato ITCH platform. Using their 40 years of experience creating world class mixers and specialty controllers, Allen & Heath now provide for the future of electronic music performance.

The DX:ITCH system arms a breed of electronic performer that wants precise control and manipulation of more audio with their DJ performance, in the club and everywhere they travel.

Built with over 100 preset performance commands and some serious audio processing, the 4 channel mix control is routed to a massive 20 channel 24/96k USB sound card. This means loads of extra inputs and outputs for integration with other audio tools or simple blending of your existing external audio gear like a turntable, drum box or sound module.

The 4 virtual decks exist in a clean uncluttered environment on the ITCH software interface. ?Using the DX library navigation control, you can quickly make selections from your crates. You can then accurately mix 4 audio tracks on the virtual decks along with other external sources. Each of the virtual decks can be assigned multiple Serato DJ FX that are hosted in ITCH software.

The DX:ITCH encourages performers to remix, rework and make new music on the fly. With 4-decks in action and BPM based effects, Serato have adopted new synchronization options for this next generation of ITCH. An additional beat grid has been added to make quick work of more complex mix arrangements.

The collaboration has resulted in a portable piece of digital DJ technology, absolutely brimming with features and high end specification. Because the DX is official ITCH hardware, Serato made sure it simply works out of the box.

There has simply never been a more ergonomic controller with this many extreme options at your finger tips. It fits in a bag, but has everything you need to melt a superclub.
This week has clearly been taken over by product announcements, so I promise next week we will be getting back to the classic TechTools material:  using equipment creatively, not just talking about it.