From busted old-school turntables in '89 to advanced controllers 20 years later, Charles Feelgood has come a long way in his stellar DJ career. Along with partner DJ Scott Henry, Feelgood founded the legendary Baltimore club night Fever in 1992 and helped define the bangin' Baltimore/D.C. house sound during the halcyon rave days of the '90s. And he's never slowed down; Feelgood has launched labels, opened a lounge bar in Baltimore to support local DJs and delivered a steady stream of remixes and original productions that reflect his diverse sound of funky, tech-y, electro-y house. Now, after more than a decade and a half of inter-continental  touring, Charles Feelgood has truly seen a million faces, and he's rocked them all.
Recently, DJ Tech Tools caught up with Feelgood and friends in LA between gigs to talk about their experiences using controllers. Afterwards, we followed up with Charles for this interview, where he reflects on what he's seen and learned while rising to and staying on top.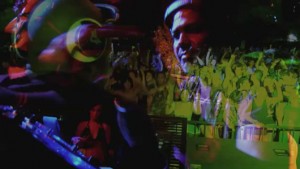 WHEN DID YOU START DJING?
I first started DJing around 1989 (in my bedroom) with turntables that didn't have pitch control. That was a challenge to say the least!
HOW DIFFERENT WAS IT BACK THEN?
Back then, the scene in Baltimore consisted mostly of dance music being played in gay clubs. We used to go to a club called Odell's where Yazoo 12-inches and disco was being played  early into the morning.
DO YOU HAVE ANY TIPS FOR UP-AND-COMING DJS?
It seems these days you need to get into production to make a name for yourself, so I always recommend getting a program like Pro Tools, Logic or Abelton Live and practice producing!
WHEN YOU FIRST STARTED, DID YOU IMAGINE YOU'D EVER PLAY FOR THOUSANDS OF FANS AT COACHELLA?
Well, Coachella started around '99, and I'd been on the road quite a bit before then. But it definitely was an honor playing the Coachella stage. There was so much energy in that place I didn't mind the 120 degree weather!
HOW HAVE YOU EVOLVED MUSICALLY AS A DJ OVER THE YEARS?
I've always been influenced by all kinds of music and really don't care about what genre a track has been labeled beyond EDM. I honestly feel I play the same as I always have; if I like it or it's got at least a tiny bit of funk in it, I'll play it. Right now if you were to look at my iTunes playlist, you would see everything from The O' Jays to The Killers.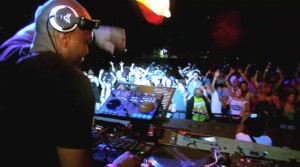 WHY THE CHANGE TO DIGITAL DJING AND CONTROLLERS, AND HOW HAS IT AFFECTED YOUR SOUND?
I've definitely come to embrace technology, and traveling with your laptop and a controller is waaay easier than with 100 records that sometimes don't even make the flight. You can also get really creative on the fly with controllers and really take your performance up a couple of notches. For the first time in a long time I've found myself practicing to see what I can come up with next with my VCI-100 SE!
HOW DO CROWDS AND FELLOW DJS REACT WHEN YOU'RE ROCKING THE ARCADE BUTTONS?
It's so funny, I've gotten so many emails asking "what in the world were you DJing with last night?" It's great to see people so interested in the technology behind the VCi. I'm still learning, and it's definitely put the fun back into DJing.
WHAT ARE YOUR FAVORITE TRACKS RIGHT NOW? ANY HOT REMIXES YOU'VE DONE THAT WE SHOULD LOOK OUT FOR?
I have so many, I can count right now! I just did a new CD "Live from the How Sweet It Is Festival" on Moist and I've always got some funky stuff up on my site www.djfeelgood.com or Beezo.net to download. And some of my favorite producers are Lee Mortimer, Aniki, Santiago & Bushido, Charles Feelgood (oh wait, that's me), Mowgli, Bart B More, Hervé, Switch, mom and dad.
YOU'VE PLAYED EVERYWHERE FROM UTAH DESERT RAVES TO IBIZA BEACHES. DO YOU HAVE A FAVORITE ENVIRONMENT TO DJ IN?
I like playin' the "no drama" spots where anyone and everyone can get in without all the lines and bottle service and crap. I just want everyone to be on an equal playing fields when they get in the door, let their guards down and just have a good time!
WHERE CAN FANS FIND OUT ABOUT YOUR WORK AND UPCOMING GIGS?
I have quite a few newer singles on Beatport.com right now, and you can always check out tour dates on www.myspace.com/charlesfeelgoodmusic , for bookings contact matt at amonly dot com.