The Traktor team at NI has released a handy software tool that allows Serato users to convert their dj collections, including cue points and loops, into the Traktor format. For many djs, switching or even trying out other software has been impossible with so much time invested into cues and loops that would not transfer. I have previously written that the industry should adopt a universal system of storage so that tracks and collections can be freely transfered between users and systems. This type of a standard would stimulate competition between companies and encourage music creators to distribute feature rich tracks. While a universal standard is a long shot- this new program from NI at least solves a very common problem: Serato users that want to try out the Traktor scratch system.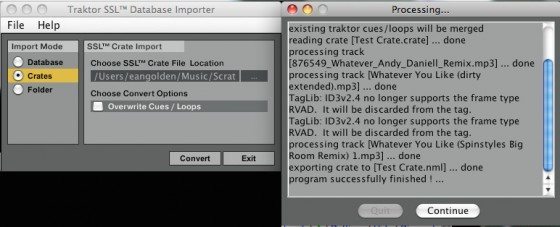 This simple, but very helpful tool has been a long time coming. We have been talking about making one for years and just never got around to it. Luckily NI took a break from their hard work and built it themselves. Purely utilitarian, this simple software its not going to win any design awards but it does the job. I took a fresh MP3, tagged it in Serato with cue points and wave forms and then converted the file to Traktor's format. Voila: check out the results bellow:
Its important to note that this program is just converting serato's ID3 tags into tags that traktor can read. You will still need to import music and set up playlists seperately unless they were first created in Itunes. My test, which was limited to a few songs, worked perfectly but users moving over full collections may run into some ID3 problems. Curious what the wave forms above mean exactly- read our waveform guide.
Serato Converter Tool
Platforms: Mac and Win
Available : Download from the NI forums
From: Native Instruments Forum
Who: Everyone can download this free software
THE LAST HURDLE

Serato gained a huge market share early on due to the instability of the Final Scratch System. By the time Traktor Scratch showed up, Serato had a sizable chunk of the industry and most new djs chose Serato for a simple reason: that was what everyone else was using.  These days the performance gap between the two is very close and Traktor Scratch boasts a number of important features that have been enticing some djs to make the switch. The major obstacle to trying out a new system, let alone switching, is the loss of countless hours in cue point and loop preparation. By removing that obstacle,  its now much easier for new djs to try out Traktor's offerings but we not-so-secretly wish for a unilateral tool that would open up the market even more.